Friday: Opening Ceremony for Polk Contra-Flow Bike Lane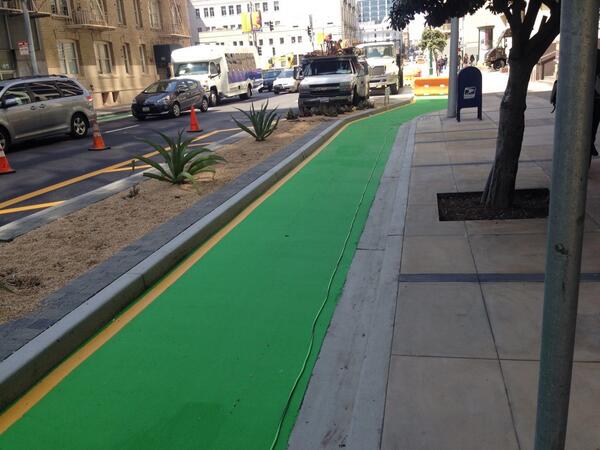 The Polk Street contra-flow protected bike lane connecting Market Street to City Hall is set to be unveiled at a ribbon-cutting ceremony on Friday at 11 a.m.
City officials will follow the event with a bike tour of recent streetscape projects, hitting various neighborhoods before returning to Civic Center. Get one of the few available spots while you can.
In addition to the contra-flow bike lane, the Department of Public Works has been painting the existing southbound bike lane green, as well as the northbound bike lane connection to McAllister Street in front of City Hall. The angled parking spaces along Civic Center plaza on that block were also converted to angled back-in parking. SFMTA staff said the agency couldn't make that stretch of bike lane protected by placing it curbside (similar to the planned bike lane for two blocks of Bay Street) because electric car ports installed by former Mayor Gavin Newsom are in the way.
The ribbon-cutting will take place at Market and Polk Streets.