SJ Bike Party: Rocky Horror Ride
From San Jose Bike Party: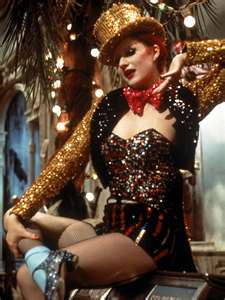 Before we get to the Theme of this months ride We need to explain what a ghost bike is as we will be visiting the site of one this month.  A Ghost Bike is a bike that is painted white and decorated as a Memorial to a Fallen rider. This month our route will be passing a ghost bike. If you want to bring a candle or a flower to leave at the bike you should.  You can find out more about ghost bikes by visiting ghostbikes.org….
This months Theme is the Rocky Horror Picture show. Dress as transilvanian transvestites and do the time warp like they did in the show.
Be safe, legal, and courteous (see How We Ride!). We share the road with other traffic. Helping cars move through smoothly makes the ride more enjoyable for everyone. Do your part to encourage good behavior! Also, please remember to turn down the volume when riding through residential areas late at night.
BIRDs
BIRDs are our wonderful volunteers that attempt to keep everyone on our rides safe. Please be respectful of their directions and thank them for all of the effort they put into the ride. If you want to help out and make your mark on Bike Party, please join the BIRDs at the volunteer cicle prior to the start of the ride.
Ravens
Ravens are the elite group of BIRDs that make sure we leave no trace behind by cleaning up after the party at regroups. They are essential to keeping the party going and they can't do it by themselves. When you see any of them with a trashbag collecting your trash, please thank them! They are a really cool bunch. Please bring trash bags and help us leave no trace.
How We Ride
If you follow these simple rules, Bike Party will be safe and a positive place for riders, drivers, pedestrians, and our community.
Stop at lights
Stay to the right
Pack your Trash
Roll Past Conflict
Ride Sober
Be nice