BART
BART to Study Feasibility of Running Later Weekend Trains
12:19 PM PST on December 16, 2010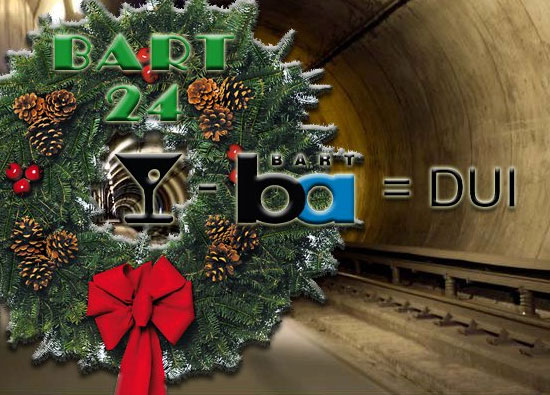 Anyone who has tried to go out on Friday or Saturday night to a concert or a show across the Bay from where they live understands the challenge posed by BART's relatively early closing hours. Some people try to find a couch to sleep on, some don't go out as long as they'd like or find themselves rushing to get that 12:15 am train. Still others choose to drive, and if the late-night swerving traffic on the Bay Bridge is any measure, some of them are partially intoxicated.
On the other hand, BART runs trains as long or longer than many systems in the world, with the notable exception of New York City's subways. The few hours each night that BART isn't operational provide maintenance staff with invaluable time to do the necessary service on facilities to keep the agency's excellent safety record in place. If there were fewer hours for fixing the system, the conventional wisdom goes, breakdowns and mechanical problems would compromise service and safety.
BART's new board president Bob Franklin announced today that he would like to revisit that conventional wisdom and have a public discussion about whether the system could run later on weekends without hurting performance. Franklin, who was elected today to serve a one-year term as president of the board, enumerated his many priorities and said the agency hadn't seriously examined its service hours policy since it started running 4 am trains following the Loma Prieta earthquake in 1989.
"I'm sure people are driving when they shouldn't be because there isn't a fast, reliable transit option open late," Franklin told Streetsblog. He also noted that he gets questions from the public all the time, asking why trains can't run longer hours. Franklin said the Facebook group "Make BART Trains Run 24 Hours" has over 22,000 fans, though he acknowledged it would be impossible to run trains around the clock and keep the system safe.
One solution, according to Franklin, would be to see if the agency could move the 4 am start time on weekdays to 5 am, applying the extra operating hour from that change to either or both nights on the weekend. He also wanted to see if the agency would consider not running certain late night trains to the terminus stations, if that would improve the feasibility of the concept.
"The only way we could potentially explore that is if we were to start later," he said, though he admitted pushing the starting time back will impact a different set of riders in the morning.
According to Franklin, there are 2400 people getting on and off BART during 4-5 am hour on weekdays, many of them going from further flung stations to the Financial District to coincide with the opening of the New York stock market (compare that with 78,000 at the 7-8 am peak hour, he said)
"[Our opening hour is] an outlier of the transit industry," he said.
BART hasn't done a rigorous study on changing operating times in several decades, but they will convene a meeting of staff and board members to discuss the matter further, said BART spokesperson Linton Johnson.
Johnson reiterated Franklin's assumption that the early morning riders were primarily financial sector workers, who he noted are some of BART's most loyal riders.
"There's no question there are lots of people who would love to see all-night BART, me included, but as somebody who works for the agency, I know why we don't have it," said Johnson. As for the shift in early morning trains, Johnson said, "It would jeopardize our bread and butter commuters. We have to get our commuters to work so that they can be at work when the New York Stock Exchange opens."
Johnson also noted a list of other complications for changing the start and end times, including maintenance schedules, coordination with Muni to staff shared San Francisco stations for longer hours, changes to connecting bus service, union contracts and whether the late-night ridership numbers would compensate for the early morning loss.
Johnson also questioned the early morning numbers Franklin provided to Streetsblog, suggesting that they don't capture all the people who benefit from the early service.
Both Franklin and Johnson agreed that much more data is needed and the planning meetings will help resolve some of the outstanding questions.
For Franklin, there is value just in the process of debating the merits of the schedule in a public format.
"I'd like to see if we can make some minor changes," he said. "If we can, I think it will be a winner for BART. If we can't, I think it will be an opportunity to explain to the public why not."
Stay in touch
Sign up for our free newsletter