Mayor Lee Unveils 5-Year Plan to Improve Safety at Up to 265 Intersections
Today Mayor Ed Lee and city officials announced a five-year plan to implement pedestrian safety upgrades at 170 priority intersections. The city also launched its "Be Nice, Look Twice" PSA campaign today.
The 170 locations in the WalkFirst Capital Improvement Program [PDF] were determined using injury data and public input. These improvements will be funded by $17 million set aside over the next five years, according to the SFMTA. If voters pass the three transportation funding ballot measures proposed by the mayor's Transportation 2030 Task Force in November, the city will have an additional $50 million and could pay for safety fixes at 265 intersections.
"We've been saying 'sorry' for" pedestrian crashes, "when we ought to be saying, thank you for yielding. Thank you for not running red lights. Thank you for not speeding," Lee said in announcing the WalkFirst plan and pedestrian safety awareness campaign.
The awareness spots, which can already be seen on Muni buses, come in several different versions, with text saying, "Drive like: your [friend/mom/family] is in the crosswalk." Some versions show drivers yielding before the crosswalk, and at least one, posted by a Twitter user, depicts a truck driver violating the crosswalk and slamming into a pedestrian.
"I'm asking my officers to not be so nice when they see persons not yielding, when red lights are run, and when speeding occurs," said Lee, pointing to a recent 12 percent increase in the SFPD's Traffic Company staff. "Enforcement is about that discipline that we have to have for people's behavior."
"Year-to-date, we've had more people killed on the streets of San Francisco in vehicle collisions than we have by homicide," said SFPD Chief Greg Suhr, noting that in February, the city saw no homicides for a month for the second time in 50 years. Suhr attributed improvement in that area to police efforts, and said the department "intends to attack" traffic violence "in the exact same way that we did in trying to get a handle on gun violence and violent crime."
"That's through smart strategy, use of technology for deployment of a finite amount of resources, and certainly enlisting the help of our community," said Suhr, pointing to the SFPD's Focus on the Five campaign to prioritize traffic enforcement on the five most common violations cited in pedestrian crashes, all driver violations.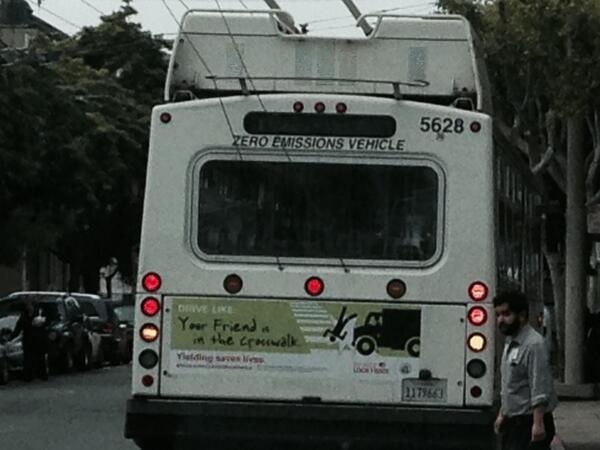 The SFPD, along with District Attorney George Gascón, has announced policy reforms under the rubric of Vision Zero, the goal of eliminating traffic deaths within ten years. Supervisors Jane Kim, John Avalos, and Norman Yee introduced a Vision Zero resolution which was approved today by the board's Neighborhood Services and Safety Committee.
"We are looking to forward to showing Sweden that we can achieve Vision Zero," said Walk SF Executive Director Nicole Schneider, referring to the first country to adopt the goal.
The WalkFirst plan targets the 6 percent of streets where 60 percent of the city's pedestrian injuries occur, most of which tend to be designed for high vehicle speeds and lie in Districts 3 and 6, the city's densest areas. Lee highlighted a few spots included in the five-year plan: Sutter Street will get bulb-outs, signal timing changes and continental crosswalks at Polk, Larkin, Taylor, and Stockton Streets. Ninth and Folsom Streets will get bulb-outs, a closed crosswalk will be re-opened at Pine and Stockton Streets, and Mission and Silver Streets will get bus bulb-outs and "roadway striping changes."
Supervisor John Avalos, the chair of the SF County Transportation Authority Board, said that to streamline the city's traditionally slow delivery of improvements for safer streets, "We need new ways of doing business."
"We have been tied, held back by dysfunction, not being able to work collaboratively together," said Avalos. "That can no longer happen."
Below this image, see the full list of the 170 intersections funded in WalkFirst, categorized by supervisorial district. Locations that fall on the border of two districts are listed in both.
District 1
1 30TH AV GEARY BL
2 GEARY BL ARGUELLO BL
3 GEARY BL 6TH AV
4 GEARY BL 15TH AV
5 GEARY BL 33RD AV
6 POINT LOBOS AV 42ND AV
7 TURK BLVD MASONIC AV
District 2
1 BEACH ST HYDE ST
2 DIVISADERO ST SUTTER ST
3 DIVISADERO ST LOMBARD ST
4 FRANKLIN ST GEARY BL
5 FRANKLIN ST BUSH ST
6 FRANKLIN ST PINE ST
7 GEARY BL ARGUELLO BL
8 LOMBARD ST STEINER ST
9 LOMBARD ST SCOTT ST
10 TURK BLVD MASONIC AV
11 VAN NESS AV CALIFORNIA AV
12 VAN NESS AV BUSH ST
13 VAN NESS AV PINE ST
14 VAN NESS AV BROADWAY ST
15 VAN NESS AV POST ST
16 VAN NESS AV PACIFIC AV
17 VAN NESS AV JACKSON ST
District 3
1 5TH ST MARKET ST
2 BAY ST KEARNY ST
3 BROADWAY ST SANSOME ST
4 BROADWAY ST BATTERY ST
5 BUSH ST POLK ST
6 BUSH ST HYDE
7 CALIFORNIA ST HYDE ST
8 CALIFORNIA ST TAYLOR ST
9 COLUMBUS AV VALLEJO ST
10 COLUMBUS AV BROADWAY ST
11 COLUMBUS ST STOCKTON ST
12 EDDY ST MASON ST
13 GEARY KEARNY
14 GEARY ST LEAVENWORTH ST
15 GEARY ST TAYLOR ST
16 HYDE ST PINE ST
17 KEARNY ST CLAY ST
18 KEARNY ST WASHINGTON ST
19 MARKET ST 4TH ST
20 MARKET ST 2ND ST
21 OFARRELL ST STOCKTON ST
22 OFARRELL ST POWELL ST
23 POLK ST PINE ST
24 POLK ST SUTTER ST
25 POLK ST HEMLOCK ST
26 POST ST POLK ST
27 SACRAMENTO ST KEARNY ST
28 STOCKTON JACKSON
29 STOCKTON ST PACIFIC AV
30 STOCKTON ST POST ST
31 STOCKTON ST SUTTER ST
32 STOCKTON ST SACRAMENTO ST
33 STOCKTON ST UNION ST
34 SUTTER ST LARKIN ST
35 SUTTER ST TAYLOR ST
36 TAYLOR ST NORTH POINT ST
37 TAYLOR ST PINE ST
38 VAN NESS AV CALIFORNIA AV
39 VAN NESS AV BUSH ST
40 VAN NESS AV PINE ST
41 VAN NESS AV BROADWAY ST
42 VAN NESS AV POST ST
43 VAN NESS AV PACIFIC AV
44 VAN NESS AV JACKSON ST
District 4
1 19TH AV ORTEGA ST
2 19TH AV NORIEGA ST
3 19TH AV JUDAH ST
4 SUNSET BL QUINTARA ST
5 SUNSET BL VICENTE ST
6 TARAVAL ST 19TH AV
District 5
1 DIVISADERO ST SUTTER ST
2 DIVISADERO ST GEARY BL
3 FILLMORE ST GEARY ST
4 FRANKLIN ST GEARY BL
5 GEARY BL WEBSTER ST
6 IRVING ST 7TH AV
7 MARKET ST GOUGH ST
8 MARKET ST VANNESS ST
9 MASONIC AVE HAIGHT ST
10 MCALLISTER ST WEBSTER ST
11 MCALLISTER ST VAN NESS AV
12 OAK ST MASONIC AV
13 OCTAVIA ST HAIGHT ST
14 POST ST WEBSTER ST
15 TURK BLVD MASONIC AV
16 TURK ST WEBSTER ST
17 VAN NESS AV POST ST
18 VAN NESS AV GEARY ST
District 6
1 10TH ST MISSION ST
2 10TH ST HOWARD ST
3 2ND ST BRYANT ST
4 4TH ST KING ST
5 4TH ST BRANNAN ST
6 4TH ST BRYANT
7 5TH ST MARKET ST
8 6TH ST HOWARD ST
9 6TH ST STEVENSON ST
10 6TH ST TEHAMA ST
11 6TH ST MISSION ST
12 8TH ST HOWARD ST
13 9TH ST MARKET ST
14 EDDY ST POLK ST
15 EDDY ST MASON ST
16 EDDY ST JONES ST
17 EMBARCADERO SOUTH HOWARD ST
18 FOLSOM ST 6TH ST
19 GEARY ST LEAVENWORTH ST
20 GEARY ST TAYLOR ST
21 GEARY ST LARKIN ST
22 GOLDEN GATE AV HYDE ST
23 GOLDEN GATE AV JONES ST
24 GROVE ST HYDE ST
25 HARRISON ST 3RD ST
26 HOWARD ST 9TH ST
27 HOWARD ST 5TH ST
28 HYDE ST GEARY ST
29 JONES ST ELLIS ST
30 JONES ST TURK ST
31 LARKIN ST GOLDEN GATE
32 LEAVENWORTH ST EDDY ST
33 MARKET ST GOLDEN GATE AV
34 MARKET ST GOUGH ST
35 MARKET ST VANNESS ST
36 MARKET ST 4TH ST
37 MARKET ST 2ND ST
38 MARKET ST 7TH ST
39 MCALLISTER ST VAN NESS AV
40 MISSION ST 8TH ST
41 MISSION ST 1ST ST
42 MISSION ST MINT ST
43 MISSION ST 9TH ST
44 MISSION ST 11TH ST
45 MISSION ST DUBOCE AV
46 MISSION ST 7TH ST
47 MISSION ST SOUTH VAN NESS
48 MISSION ST 5TH ST
49 NEW MONTGOMERY ST MISSION ST
50 OFARRELL ST JONES ST
51 OFARRELL ST POLK ST
52 POLK ST TURK ST
53 POLK ST GEARY ST
54 POST ST POLK ST
55 TAYLOR ST ELLIS ST
56 TAYLOR ST EDDY ST
57 TURK ST TAYLOR ST
58 TURK ST HYDE ST
59 TURK ST LEAVENWORTH ST
60 VAN NESS AV GEARY ST
District 7
1 19TH AV ORTEGA ST
2 19TH AV NORIEGA ST
3 19TH AV JUDAH ST
4 19TH AV JUNIPERO SERRA BL
5 CIRCULAR AVE BADEN ST
6 OCEAN AV PLYMOUTH AV
7 OCEAN AV MIRAMAR AV
8 TARAVAL ST 19TH AV
District 8
1 16TH ST GUERRERO ST
2 18TH ST GUERRERO ST
3 BOSWORTH ST DIAMOND ST
4 CASTRO ST 18TH ST
5 MARKET ST 14TH ST
6 MARKET ST CHURCH ST
District 9
1 16TH ST HARRISON ST
2 17TH ST SOUTH VAN NESS
3 22ND ST SOUTH VAN NESS
4 24TH ST POTRERO AV
5 BACON ST SAN BRUNO AV
6 BAY SHORE BL PAUL AV
7 CESAR CHAVEZ ST MISSION ST
8 MISSION ST 23RD ST
9 MISSION ST 16TH ST
10 MISSION ST 19TH ST
11 MISSION ST VIRGINIA AV
12 MISSION ST 22ND ST
13 MISSION ST 18TH ST
14 MISSION ST 14TH ST
15 MISSION ST DUBOCE AV
16 MISSION ST 29TH ST
17 MISSION ST 21ST ST
18 SAN BRUNO AV SILVER AV
19 SOUTH VAN NESS AVE 16TH ST
District 10
1 24TH ST POTRERO AV
2 3RD ST PALOU AV
3 BAY SHORE BL PAUL AV
4 BAY SHORE BLVD BACON ST/EGBERT AVE
5 BAYSHORE BL SILVER AV
6 BAYSHORE BL ARLETA AV
7 ESQUINA DR GENEVA AV
8 GENEVA AV BROOKDALE AV
9 WEST POINT RD MIDDLE POINT RD
10 WILLIAMS AV 3RD ST
District 11
1 19TH AV JUNIPERO SERRA BL
2 ALEMANY BL NIAGARA AV
3 GENEVA AV BROOKDALE AV
4 GENEVA AV MISSION ST
5 MISSION ST PERSIA AV
6 MISSION ST EXCELSIOR AV
7 MISSION ST SANTA ROSA AV
8 MISSION ST ACTON ST
9 SAGAMORE ST/SICKLES AVE SAN JOSE AV
10 SAN JOSE AV FARALLONES ST
11 SILVER AV MISSION ST