Bay Area Bike Share
To Expand Bike-Share on the Peninsula, Cities Will Have to Support It
4:50 PM PDT on April 7, 2015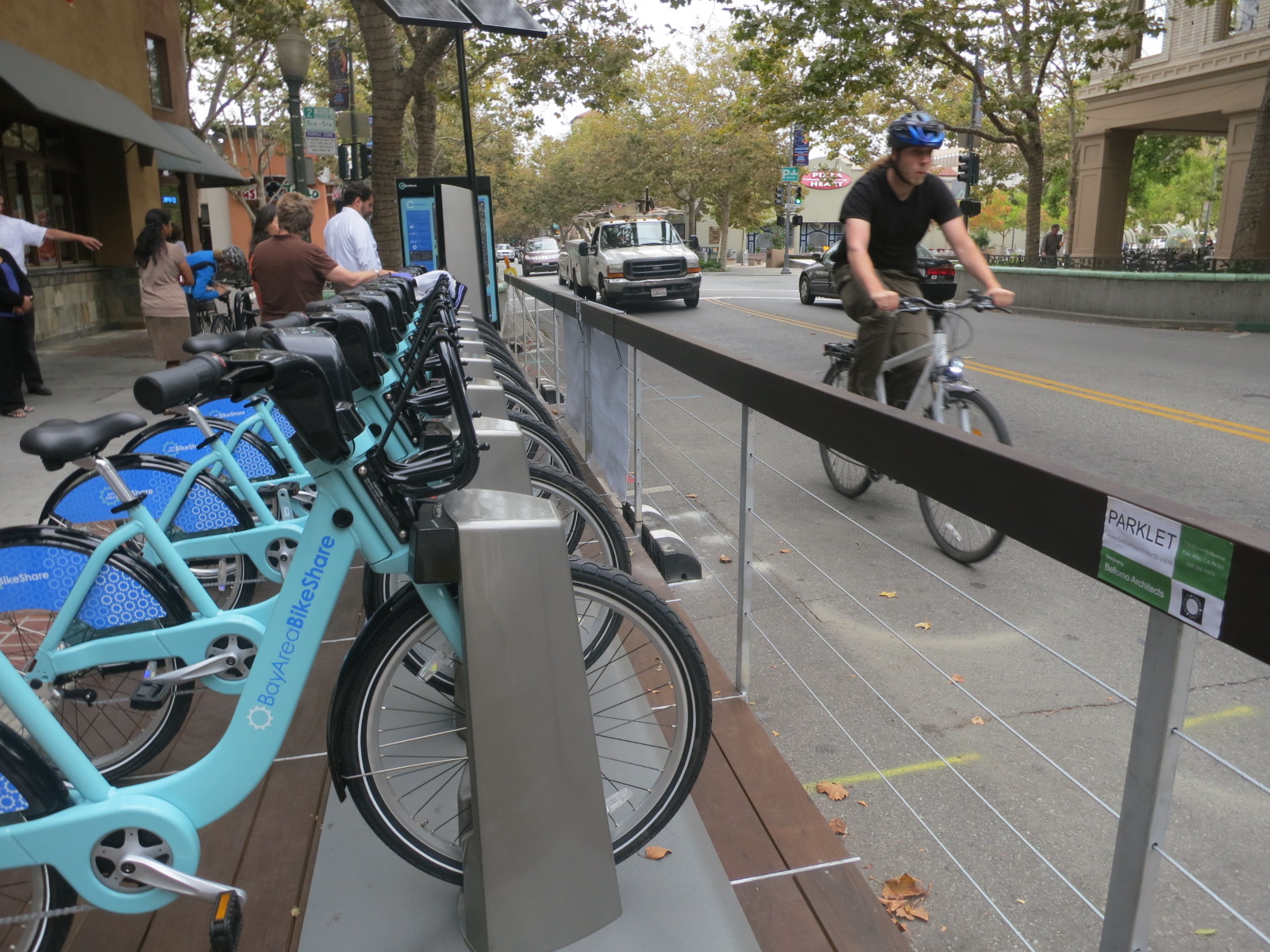 Bay Area Bike Share's ten-fold expansion announced last Thursday will vastly increase the usefulness of bike-share in SF, the East Bay, and San Jose at no cost to the public. Peninsula cities, however, won't be sharing in the bounty unless they chip in some of their own funds. Without public support, the 20 existing stations in Mountain View, Palo Alto, and Redwood City are in jeopardy of being relocated.
None of the Peninsula cities which received bike-share stations as part of the initial pilot program are slated to get new bikes under the terms of the draft contract with Motivate, the bike-share operator [PDF]. However, the contract does keep the door open for those cities to negotiate expansions with Motivate.
Motivate plans to expand the current Bay Area allotment of 700 bikes to 7,000 by November 2017, with 4,500 bikes in San Francisco, 1,000 in San Jose, 850 in Oakland, 400 in Berkeley, and 100 in Emeryville. The contract says those cities were selected because that's where ridership is expected to be highest. An additional 150 bikes will be sited somewhere in the system, according to the same criteria, with 50 of those reserved for the East Bay.
It will be up to Motivate to decide what to do with the existing bike-share stations on the Peninsula. "The proposal does not call for the removal of any bikes from the Peninsula cities," said John Goodwin, spokesperson for the Metropolitan Transportation Commission, which took over public administration of the program last year from the Bay Area Quality Management District. "Upon the execution of an agreement however, Motivate could choose to remove bikes from those cities."
The new Motivate proposal will also render moot a plan to expand in San Mateo, which was previously included in a 2,500-bike system envisioned under a now-defunct MTC agreement last year. According to an MTC staff report [PDF], that plan included Oakland, Berkeley, Emeryville, and San Mateo.
Advocates see the value in expanding elsewhere in the region but hope the Peninsula cities don't get left behind. "We're excited for the expansion in San Jose, the East Bay gets the expansion they've long deserved, and San Francisco's high demand warrants a major expansion there," said Silicon Valley Bicycle Coalition Deputy Director Colin Heyne. "But we regret that the Peninsula cities are not included, especially since it could end up undoing what is now a low-cost first-and-last-mile commuting solution."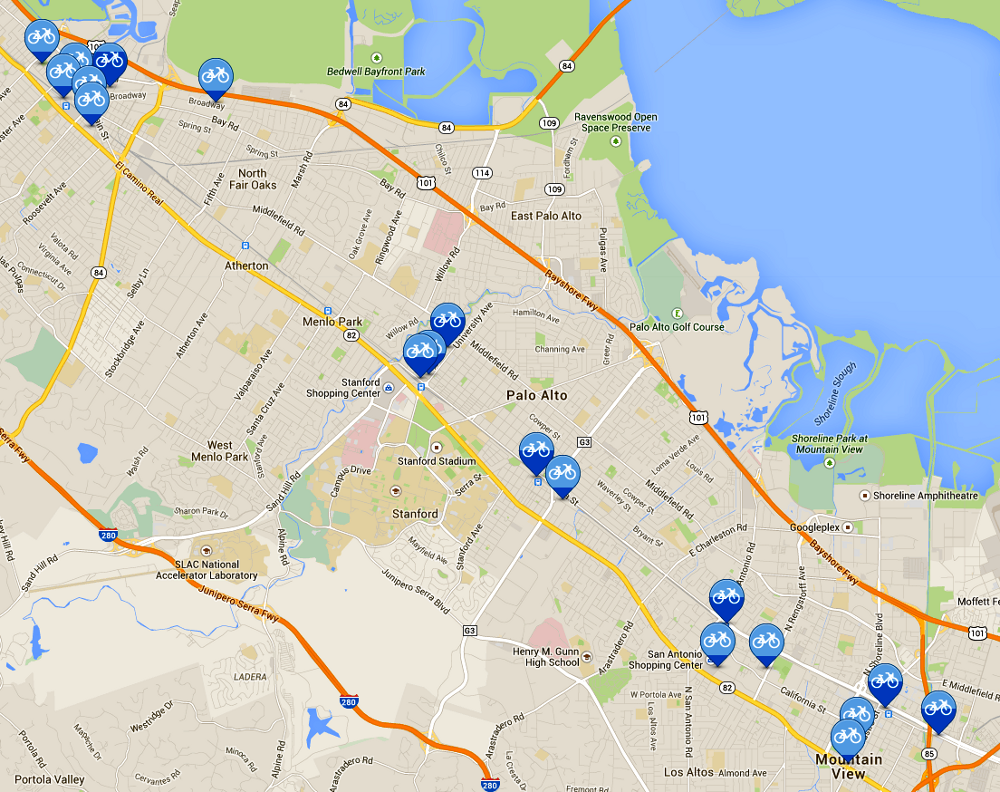 Currently, bike-share on the Peninsula is more like a series of disconnected nodes than a real network. Consequently, usage is low, with no Peninsula city averaging more than 0.5 trips per bike per day. (San Francisco, by comparison, gets an average of 2.6 trips per day, a number that is likely to increase a great deal after the expansion.)
Peninsula bike-share would be more successful if the station network was denser, covered more ground, and connected to more major destinations. To make that happen under the terms of the new contract, Peninsula cities will have to pay into the system.
The contract lays out an arrangement where Motivate (formerly Alta Bicycle Share) can operate in the Bay Area under a model closer to the successful Citi Bike in New York City, which Motivate also operates. Motivate would be granted exclusive sponsorship and advertising rights to Bay Area Bike Share's bikes, stations, and website in exchange for expanding and operating the system.
The five cities that negotiated the expansion with Motivate won't have to subsidize their new stations, but Peninsula cities would have to pay a "to-be-negotiated, per-dock fee" in order to participate in the expanded Bay Area Bike Share, according to the draft terms of the contract. "Existing pilot cities other than San Francisco and San Jose that want to continue and/or expand existing system operations after the expiration of the BAAQMD contract can engage in negotiations with Motivate after term sheet signing to develop a new agreement using public funds," the contract states.
In other words, Peninsula cities will be able to expand their bike-share networks, if they decide it's worth public funds.
The proposed ten-year bike-share contract between MTC and Motivate will go up for approval by the MTC's Administration Committee on April 8, and the full MTC on May 27.
Andrew Boone covers the Livable Streets Movements for Streetsblog in San Mateo and Santa Clara counties. Andrew's claim to fame is once having bicycled more than 12,000 miles of smiles in one year. nauboone@gmail.com
Stay in touch
Sign up for our free newsletter