BART
It's a Go for Caltrain Electrification
3:59 PM PDT on July 7, 2016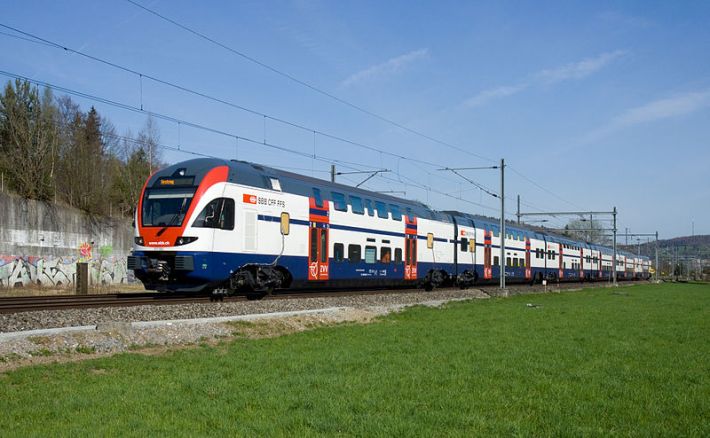 This morning, during its regular meeting in San Carlos, the nine-member Caltrain board voted unanimously to dedicate $1.25 billion towards electrifying Caltrain. If all goes according to plan, electric services will begin in 2020.
"The total program is $2 billion. That includes money for the advanced signal system, which we're already installing today," said Jayme Ackemann, spokeswoman for Caltrain. "But the $1.25 billion is the lion's share for electrification."
Included in the contract is an order for 96 rail vehicles, with an option to buy an additional 20. And "we are considering an additional purchase of more electric vehicles," added Ackemann.
According to the Caltrain staff report issued during the meeting, the new electric multiple unit (EMU) trains will be built by Stadler, a Swiss company, and stringing the overhead wire and additional infrastructure for the electrification of the tracks will be done by the British firm Balfour Beatty.
The advocacy group Friends of Caltrain, explained it this way in a release sent out before the vote:
The Caltrain board will make a momentous decision to put money down for electric trains and electrification construction. The decisions are limited pending confirmation of major elements of funding from High-Speed Rail and the federal government later this year. Preliminary commitments of $41 million would start the train car purchase and $108 million would start the construction purchase.
But the Board is taking a bit of a risk awarding these contracts, as explained in the San Mateo Daily Journal:
The costly modernization project's funding draws from a patchwork of local, regional, state and federal sources. However, not all of the money is in hand — its plans include relying on $713 million from high-speed rail and nearly $647 million in federal funds that have yet to be awarded.

But Caltrain officials expressed confidence things will line up in the near future after receiving support from federal transportation officials as well as the Obama administration. A local legislator also recently proposed a bill to unencumber high-speed rail funds to support projects such as Caltrain's electrification.
The newspaper also reports that the contacts are limited in scope, in case things don't pan out with the rest of the funding.
This video from Caltrain, meanwhile, explains the modernization and electrification plan the board approved:

"When you look back to 2004 with the Baby Bullet...when you look at it today, it was absolutely the right thing to do," said Adrienee Tissier, Supervisor for district 5 of San Mateo County and a member of the Caltrain Board, before the vote. "Our ridership is up over 240 percent. Our revenue is up 360 percent. That's huge, but it took risk and change for those things to happen. Today is another one of those days where it's time to make that change, to make that shift so we can once again increase our ridership, increase our revenue and make for a much smoother rail system."
What will it mean for commutes between San Francisco and the South Bay? In a previous post, Caltrain official Casey Fromson said because of the improved acceleration, a trip that diesel baby bullets do in 60 minutes will take 45 with a train of EMUs. Electric trains are also quieter, more reliable and non-polluting.
Electrification is also an essential step towards fulfilling the California High-Speed Rail plan, revised in February of this year. HSR trains need electrification so they can share Caltrain's tracks to get from San Jose to San Francisco.
Ratna Amin, Transportation Policy Director for SPUR, spoke during the public comment period of the board meeting. "I'm here to express our support for awarding electrification contracts," she said. "Now we're looking forward to having a larger conversation about how to make Caltrain a frequent, reliable, convenient service for all the people in this corridor and how it can best function together with High-Speed Rail."
EMU, meanwhile, is a catchall-term referring to any electrically powered trains that are self-propelled (requiring no locomotive to pull or push them), powered by motors mounted on or adjacent to the wheels. Caltrain decided on EMU technology because each car has its own motor, providing better acceleration than a normal locomotive-hauled train. EMU acceleration remains consistent regardless of the length of the train, which makes it more efficient to provide shorter trains for late-night service. It also increases reliability because a number of the motors can fail without significantly impacting the train's performance. BART trains are EMUs. So are all subway systems, although the term EMU is usually only used when speaking about commuter and intercity trains.
From a passenger perspective, that means electrifying Caltrain and switching to EMU technology should make the services operate and feel like BART. As SPUR's Amin put it in an earlier conversation with Streetsblog, "People say they prefer BART to Caltrain, but that's because they know Caltrain as it is now, not what it can be when it's modernized."
Questions remain, however, about finding funds to connect Caltrain from its current San Francisco station at King Street, to the new Transbay terminal in downtown. However, since electrification is a key step to running trains to Transbay's underground station platforms, this is also a major step towards that goal.
Stay in touch
Sign up for our free newsletter