Bicycling
Remembering Victims of Road Violence
4:15 PM PST on November 21, 2016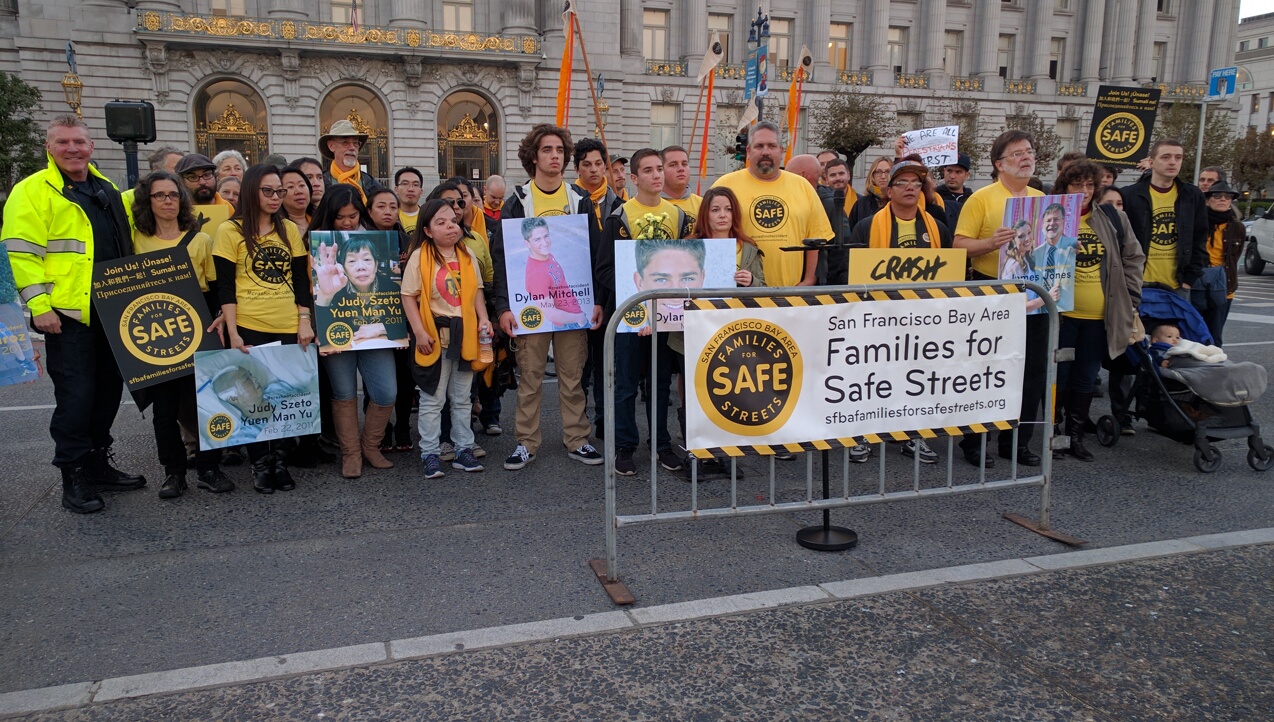 Yesterday afternoon, advocates from Walk San Francisco joined the newly formed "Families for Safe Streets" and others, for a walk of remembrance for traffic victims. The walk, with a crowd of nearly 100 participants, started at 16th and Mission and followed a circuitous route through some of San Francisco's most notorious intersections, concluding with a vigil in front of City Hall.
From Walk San Francisco's release:
At a time of year when most people are making plans to spend time with family to celebrate, other families will face empty seats at their Thanksgiving tables. On November 20, these families announced their newly formed group: the San Francisco Bay Area (SFBA) Families for Safe Streets. Members of SFBA Families for Safe Streets have lost loved ones, care for loved ones severely injured, or suffer from nearly life-ending traffic violence themselves.
Family members from across the Bay Area affected by traffic violence led a walk through a number of San Francisco neighborhoods alongside City and State leaders, doctors and nurses, and community members all wearing yellow to honor victims and call for safe streets. They carried signs with "Crash Not Accident," to shift both public and policy-maker thinking that erroneously assumes traffic crashes are inevitable. Family members and friends held pictures of their loved ones to bring awareness to the real lives ended or affected by traffic crashes.
Jim Jones, seen below at the start of the walk at the 16th and Mission BART station, was crossing the street in Napa nearly three years ago when a truck hit him in the crosswalk. As he related it, witnesses said the truck was speeding and dragged him down the street. He was so badly injured his heart stopped, but emergency responders were able to resuscitate him. "I was lucky," he told Streetsblog. He eventually recovered and was able to attend his daughter's wedding. "I got to walk her down the aisle." he said.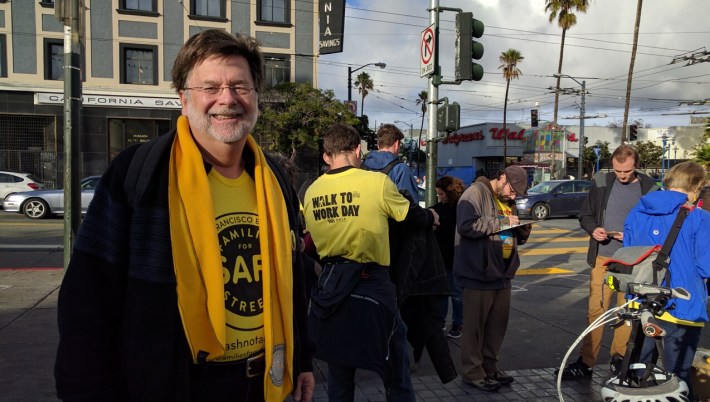 Jones considers himself lucky. Sadly, Elijah Alvitre wasn't so fortunate. He was just three when he was killed by a motorist in San Jose. The driver was not cited or charged for failing to yield. His aunt, Cassie Alvitre, was walking to honor him. "The driver only spent a month in jail, even though Elijah was in his stroller in a crosswalk" when he was hit, she explained.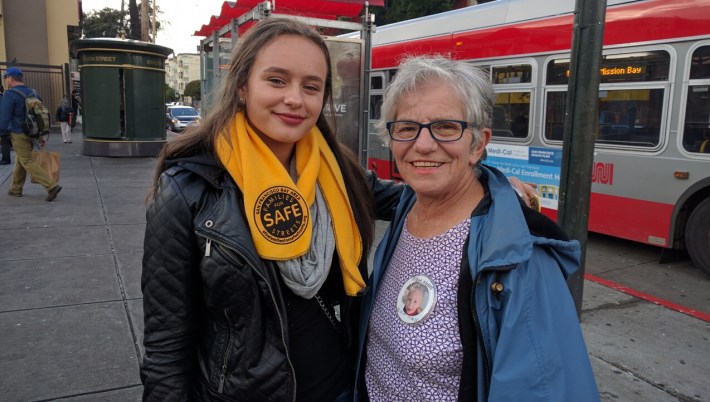 Julie Mitchell was at the walk and event too. Streetsblog readers will recall her son Dylan was killed while riding his bike on 16th Street. She is one of the founders of SFBA Families for Safe Streets. The walk, as planned, attracted advocates, some lawmakers, and members of the general press, including several TV and radio crews.
The mainstream press attention was helpful, because a main goal of the advocates is to build support for Automatic Speed Enforcement (ASE) cameras in San Francisco. Captain Tim Oberzeir with SFPD said that could make a big difference, since the ASE cameras are a significant tool in enforcing speed limits. "We've got a ways to go," he said, "but we're focusing on speed enforcement and the high injury corridors" and ASE would help. The presence of ASE, going by experience in Portland, New York, and other cities, shows that they deter speeding and save lives.
However, privacy laws in the state of California prevent their implementation. Assemblyman David Chiu was one of the participants in the walk. "We still need to invest in safety infrastructure," he said. He is working with state and city lawmakers on trying to pass legislation to allow a pilot program in San Francisco for ASE. "These can help address preventable deaths and I support it."
Meanwhile, Tom McGuire, director of the sustainable streets division of SFMTA, was there with his wife and daughter. He said it's important for city staff to attend this kind of event to "meet the families--and the victims--and see that it's not just numbers, it's people." He added he hopes it strengthens resolve.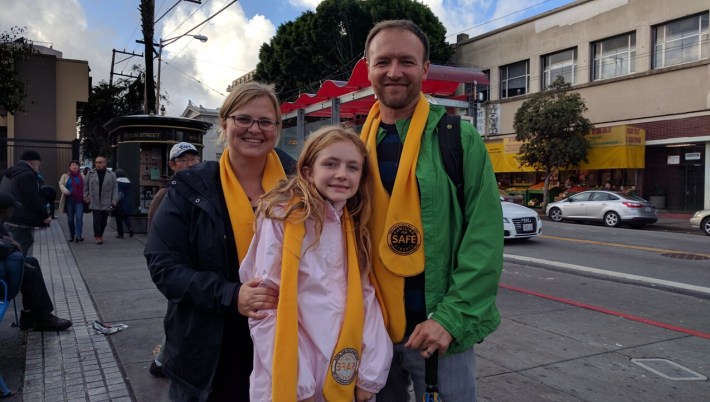 Walk San Francisco, in their statement to the press, reviewed those numbers. "Every day, at least three people are hit by cars while walking," they wrote in a prepared statement. "One in four patients at San Francisco General Hospital's trauma center are people hit by cars while walking." The advocates also stressed that these injuries and deaths are entirely preventable, through better engineering, better enforcement and better education.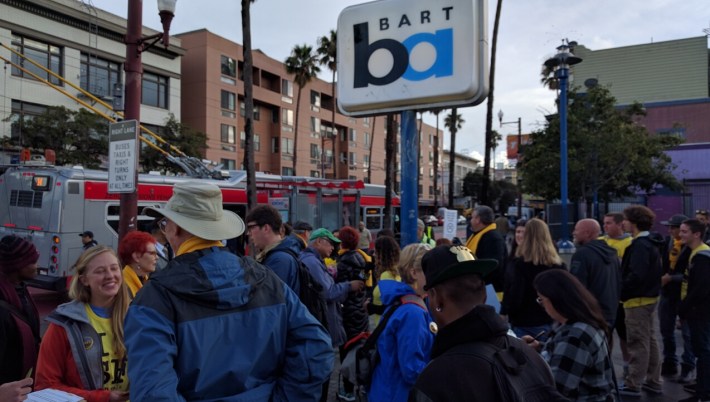 After the participants assembled at the 16th and Mission BART station, they were given yellow buttons, t-shirts and scarves with the "Families for Safe Streets" logo. They started some time after 3 p.m., and continued on a circuitous route, turning down Valencia away from City Hall, and then making their way back via Guerrero and Market. SFPD motorcycle officers stopped cross traffic as the demonstration passed. One walker remarked that it's the first time he can remember crossing Octavia without fearing for his life. "I wish the police were always here to escort me," he said.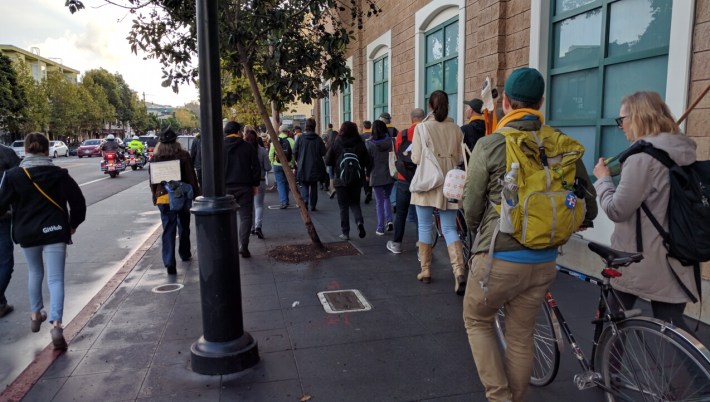 Once assembled at City Hall, around 5 p.m., participants held a vigil.
"We are fighting to put an end to all serious and fatal traffic injuries," wrote the founders of Families for Safe Streets, in their outreach materials. "Join us to demand an end to preventable traffic crashes."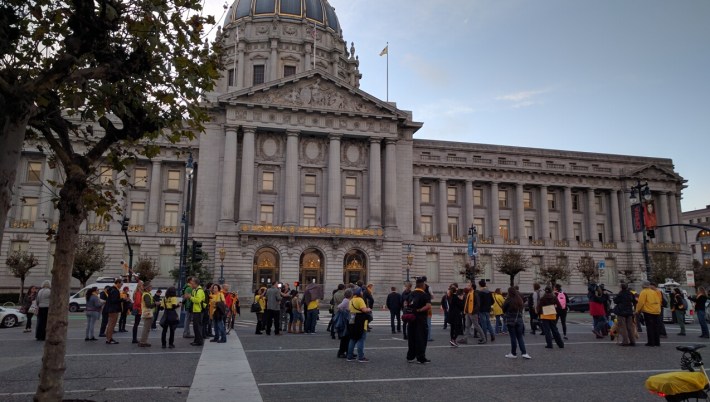 Stay in touch
Sign up for our free newsletter