Light Rail
SFMTA Board Approves $32 Million Contract to Repair LRV 'Piles of Rubble'
5:02 PM PDT on September 13, 2010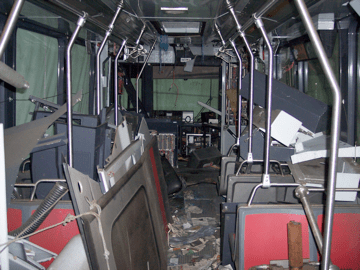 The SFMTA Board last week approved a $32 million, six-year contract (PDF) with AnseldoBreda to repair and rebuild seven damaged light-rail vehicles, including four LRVs described as "piles of rubble." At least one board director, however, Malcolm Heinicke, wanted to know if the agency would be better off buying new LRVs, instead of spending all that money to repair damaged cars.
"The additional thing that concerns me about this is six years. That's six years or up to six years with seven of our...LRVs that it could take to repair versus buying them new. I realize you don't just go down to Cal Worthington's LRV lot and drive seven home," said Heinicke.
Carter Rohan, the director of SFMTA's capital program and construction projects, responded by saying a new LRV might cost about $4 million, but only if it were part of a bigger deal. Minneapolis, he pointed out, recently approved a $153 million contract with Siemens to build 41 LRVs at its light-rail manufacturing plant in Sacramento. SFMTA Chief Nat Ford said purchasing only seven LRVs wouldn't make much sense, and might even cost more and take longer, considering the RFP process, the design and the engineering.
"You really don't get the economies of scales on these rail cars until you get to the 40, 50 and above number. So, we're in a very difficult situation here as it relates to these seven cars," said Ford, who added that he also wanted to make sure the agency had enough vehicles in time for the 2018 opening of the Central Subway.
The LRVs sent in for restoration include two vehicles involved in last year's West Portal crash that injured dozens of passengers, one damaged in a June 15, 2008 collision at 4th and King streets than sent 12 people to the hospital, an M-line LRV involved in a crash with a garbage truck on April 20, 2006, two LRVs that collided on the M-line on June 3, 2004, a J train involved in a September 23, 2003 crash, and two LRVs that collided at St. Francis Circle in 2002.
Rohan said three of the LRVs will be repaired for $2 million each and should return to service "within 20 months." The remaining four vehicles could take up to six years to rebuild. At least two of them will get new propulsion systems.
"The main reason is the propulsion system in the old generation of cars is no longer made. Parts are no longer available. That makes it extremely difficult to restore something and put it back when you know that a product is no longer in line or being tooled out," said Rohan.
Added Director Cameron Beach: "These seven cars have to still be able to couple and train-line with the existing fleet. You couldn't do that with new cars at any kind of an economical spot. As you know, I've always opposed sole-source contracts. In this case, I think this is the best way to go with this."
The board later approved the contract in a unanimous vote. Since the contract is over $10 million, it will require further approval by the Board of Supervisors and the Civil Service Commission.
Last year, the SFMTA Board approved another contract with Breda to upgrade 143 LRVs at its Pittsburg facility in the East Bay.  Ford said at any given time eight to ten LRVs are out of service getting their doors, steps, couplers and other components overhauled. One year ago, the agency also approved $217,000 in funding to repair two other damaged LRVs.
"We're also not rebuilding in-kind. We're going to take this as an opportunity to look at new technologies for the next fleet of vehicles for this system. There's also that piece of this program, which is to look at what the new design is in terms of piloting these cars for the future," said Ford.
Muni's current fleet of 151 LRVs has a life span that doesn't end until 2020, which means the agency cannot use state or federal money to purchase new cars until then. Muni has had a troubled history with Breda, whose cars were too heavy and too wide for the system.  Advocates like Tom Radulovich of Livable City have been encouraging the SFMTA for years to consider what its next fleet might look like.
"It's our understanding that these Breda cars may not be good through 2020. At the rate that they are aging and breaking down, we could need to replace them sooner," said Radulovich. "I think that makes it all the more urgent to be thinking about what the next generation of rail cars look like."
Bryan Goebel is a reporter at KQED Public Radio in San Francisco. A veteran journalist and writer, he helped launch Streetsblog SF in 2009 and served as editor for three years. He lives car-free in the Castro District.
Stay in touch
Sign up for our free newsletter