AC Transit
Despite Cost, Clipper Card Promises Convenience
10:22 AM PDT on September 15, 2010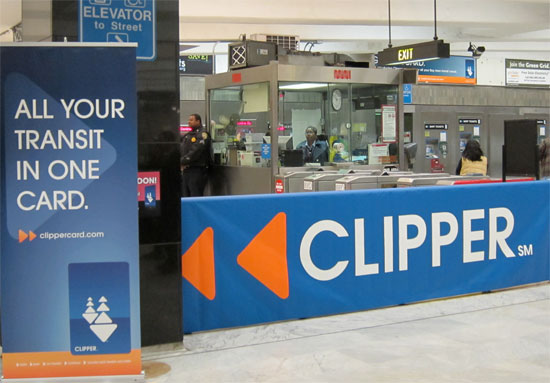 As the Bay Area's larger transit agencies transition away from paper passes to the universal fare payment smart card, Clipper, transit operators and planners insist the card will lead to greater convenience and simplicity, which they hope will increase ridership and enhance the attractiveness of transit. At its simplest, in theory, a transit passenger would pair a credit card with Clipper, set it to auto-fill whenever the balance on the card goes below a set dollar amount and never again have to consider how to pay or when to pay for a transit trip.
Despite these hopes, transit advocates and neighborhood groups have decried problems with Clipper's early outreach and implementation, and they fear the complete roll-out of the program will be mired further.
"The promise of electronic payment technology is huge. I'm really happy to see it moving forward, but the implementation so far is pathetic," said Dave Snyder of the Muni Transit Riders Union.
Snyder said there were already too many problems with unreliable readers, which he said degrades the public's perception of the transit operators and the program in general. He said even when Clipper works perfectly, it will be slower than flashing Fast Passes to Muni operators, so transit delays could increase if the readers malfunction. He argued that all-door boarding would help address potential delay.
Despite those concerns, and considering the large capital expenditures and net annual expense to operators participating in Clipper, representatives from various transit operators believed Clipper would prove, on balance, to be superior to the current array of fare instruments at each individual operator and would hopefully entice new riders to the systems.
"For a lot of people, their life is just going to be a lot better. That's the win," said Randy Rentschler, spokesperson for the Metropolitan Transportation Commission (MTC), the regional transportation planning entity administering Clipper.
"We want to make transit as simple and easy and friendly as possible," said BART spokesperson Linton Johnson. "Carrying 16 different tickets is ridiculous. I think this is a wonderful idea and certainly is going to benefit our riders."
"We certainly think it's worth it. There are some real clear benefits to using a card like this," said Clarence Johnson, AC Transit spokesperson. Among the benefits Johnson listed were reductions in fraud, faster boarding times and ease of payment. Johnson noted the only complaint they had heard was the need for more Clipper vendors in North Richmond.
AC Transit is nearly finished rolling all of its old passes over to Clipper. According to Johnson, youth passes have already been converted, while adult 10 ride and 31 day passes will no longer be sold in their old format after October 31 and no longer accepted after December 31st.
"It's good for our customers. It makes riding our system easier and allows for a better regional commute," said Muni spokesperson Paul Rose. "Our number one goal is to look out for our customers and this does just that." Rose said Muni will begin phasing out paper A Fast Passes by November, followed by student and senior passes and finally all Fast Passes by March 2011.
Convincing the riding public that Clipper is as beneficial as the operators believe will require hard work, particularly those who don't have easy access to computers and those whose primary language isn't English. Advocates in San Francisco's Chinatown and Visitation Valley have been upset and disappointed with the limited outreach in Cantonese. They also note the Clipper customer service center hasn't had a full-time Cantonese speaker.
Marlene Tran of the Visitation Valley Asian Alliance said Muni and MTC were failing her constituents by not providing more information in the language their customers understand. She said she was upset the "Chinese" line through Clipper's customer service number was in Mandarin, not Cantonese. Given the large senior population, who she said wouldn't be able to access the Clipper website, a customer service line had to be intelligible.
"If you don't have the key, how are you going to get inside to know what you're looking for?" she asked. "I feel this is very disrespectful. They should provide the language needs for the people."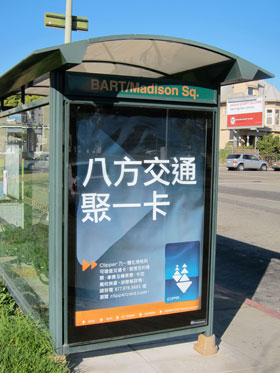 In addition to the language concern, which MTC has said it is addressing, advocates in San Francisco's Chinatown were upset with the reduction of vendors in Chinatown selling Clipper cards versus Fast Passes.
"I think there is a distance between what they're saying and what we're seeing," said Deland Chan, a planner at the Chinatown Community Development Center (CCDC). Chan noted the MTC and Muni had met with CCDC, but she was concerned they were not fully addressing the effect the transition will have on Muni customers in the neighborhood. After raising concerns with Muni in a previous Streetsblog post about the agency's failure to reach out to the Chinese language media in the area, Chan said they had advertised in some papers, but the translation "has been really terrible."
Chan was pleased to note the MTC planned to set up a booth at the August Moon festival in Chinatown this weekend to conduct demonstrations of Clipper fare machines and card readers, but CCDC's request that Muni pilot all-door boarding on Stockton corridor buses as Clipper is rolled out has not been addressed. She said given the early concerns, the full transition to Clipper in the beginning of 2011 had the potential to be very problematic.
"I want to express appreciation that we've met," she said, "but I want to see more action."
Snyder of Muni Transit Riders Union echoed Chan's concerns and further argued the MTC and operators were not thinking about the longer term benefits that could be realized by smart card systems. Snyder said if the region were serious about convenience to the customer, operators should figure out a better fare policy for riders who use multiple systems. Clipper could, he argued, lead to a regional fare system that did better to facilitate increased transit use.
He also said Clipper should copy London's Oyster Card price capping policy, whereby operators charge only the equivalent of the cheapest ticket option over a given time period. For instance, if  a Muni customer decided not to buy a Fast Pass in October, but traveled more than expected and spent the equivalent value on single rides, Clipper would automatically default to the Fast Pass and stop charging for additional rides in that period.
Though none of the transit agencies interviewed for this story were actively considered such fare options, all agreed they could add convenience (because BART doesn't have a monthly pass, Johnson said it was hypothetically interesting, but politically much more challenging). MTC said Clipper technology could facilitate such a policy, but each agency would have to adopt such a business model independently.
As to the criticism, Rentschler acknowledged the concerns and said characterized them as growing pains. He also acknowledged that issues like the proper translation were being addressed. "It's a new thing for us to be running this big retail fare instrument," he said, but he argued the customer would ultimately be pleased with the result. He also pointed to the sharp uptick in Clipper usage over the past few months and said it would continue.
"We've had a great deal of success on Clipper so far."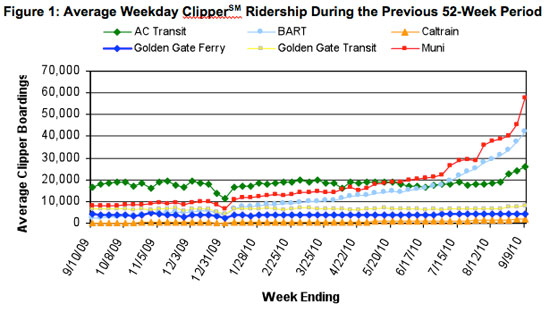 How Much Does Clipper Really Cost?
Coming up with a comprehensive price tag for Clipper is difficult and some depends on the volume of users projected over the length of the contract. According to documents provided by MTC, the capital costs of Clipper (and Translink, before the re-branding) from inception in 2003 to the terminus of the current memorandum of understanding (MOU) in 2019 is expected to be $141 million. To date, the region has spent more than $100 million installing fare equipment with the participating operators. Most of the funding comes from regional toll money, coupled with some federal and state grants, though the MTC didn't provide a more specific breakdown detailing the sources.
In addition to capital costs, the system will require a net annual outlay from participating transit operators, even after the savings associated with the elimination of printing paper passes, vendor payments, fraud, etc. MTC holds a design-build-operate-maintain contract with Cubic Transportation Systems, Inc. that lasts for 13 years, concluding in November 2019. According to MTC, under the contract, Cubic provides system operations and maintenance services and MTC oversees Cubic's performance. The contract calls for two types of payments to Cubic, fixed and volume-based. The fixed fees cover basic operations of the system, such as ensuring that the customer service center is open for business no matter what the customer volume is, though payments to Cubic increase as a result of volume-based fees associated with customer use of the system.
MTC and the participating transit operators will divide the costs of operating and maintaining the Clipper system, but essentially, MTC pays all of the fixed monthly costs and operators pay the volume-based costs. Operators will divide the total volume-based costs according to formula: Each operator's share is based on one third of the dollar value of revenue collected by the Clipper system for a particular operator and two thirds on the volume of transactions processed by the Clipper system for a particular operator.
Thus, for Muni, operating costs in 2010-2011 are expected to be just over $2.5 million, rising to nearly $6 million by 2018-2019 [pdf]. For BART, the costs it bears this year will be $1.8 million and nearly $4.8 million in 2018-2019. Adding all the operating costs together, participating transit agencies will pay more than $115 million over the term of the MOU.
Still, this total doesn't include cost savings from switching over to the new fare media. While BART and AC Transit didn't have analysis of the overall cost savings, Muni prepared a report for the San Francisco Board of Supervisors in July that detailed costs and savings from the transition [pdf]. According to the report, over the course of the MOU, Muni will save over $17 million in expenditures due to Clipper efficiencies, while expending over $43 million. The net $26 million over ten years will be paid out of Muni's operating budget.
Stay in touch
Sign up for our free newsletter