BART
Board Challengers Hope to Change Culture at BART
4:06 PM PDT on September 17, 2010
With the anti-incumbency narrative dominating elections this fall, it shouldn't be a surprise that two of the longest-serving BART board directors are facing stiff competition from upstart challengers who claim they have lost touch with the electorate they serve. Far from the anti-government Tea Party rhetoric, however, the two candidates providing the greatest challenge to the incumbents are long-time bicycle and transit advocates whose common arguments are that BART needs to shift its investments away from costly extensions and focus on improving core capacity and access to stations.
In BART District 8, comprising northern, western and southern sections of San Francisco, Board President James Fang faces his most significant challenge from Bert Hill, a former Bechtel administrator who currently runs his own company, Bicycle Commuter Services, and chairs the San Francisco Board of Supervisors Bicycle Advisory Committee. Fang was first elected in 1990 and is now serving his third term as president.
Hill said Fang and BART had put too much focus on extensions to the farther flung communities in the Bay Area, draining operational capacity on the core system.
"We need to grow up, not out. The bedroom communities are no longer supportable. We really need to focus on the growth that is occurring in the inner Bay Area. We need to be beefing up the inner BART, not the outer BART at this point," said Hill.
He said BART's primary focus from a real estate development capacity needs to shift from parking garages to transit villages, that he would push to expedite the plans currently being studied for numerous development opportunities.
According to Hill, his other priorities would include advocating for better bicycle facilities on BART trains, such as the possibility of a bike car, and BART bike sharing to reduce the need to drive to stations. He said he would work closer with the San Francisco Municipal Transportation Agency, which runs Muni, to improve transfers and connectivity to the western neighborhoods in San Francisco
Fang defended his record at BART as his greatest asset and said the biggest issue of the campaign is job creation, which he argued BART does with extensions, managing finances to preserve operational positions, and delivering Bay Area transit riders to their destinations with superior on-time performance.
"The number one issue that every public official should be doing is jobs. How are you helping people create jobs?" said Fang. "The bottom line is are people working?"
Fang said under his management and with his participation, BART has leveraged over $1 billion in grants and loans for extensions, such as Warm Springs and San Francisco Airport. He also pointed to the labor negotiations that averted a strike last year and the current budgetary surplus, which he said "shows good management of money in an atmosphere where public agencies are losing money."
"We've made the tough decisions, they've not been popular," he added.
Hill's campaign is primarily self-funded with a $25,000 personal loan from his retirement fund and $1500 to date in donations. His target budget is $50,000. He has three staff working for him and a solid web presence, though he admitted he's not getting as many donations online as he'd hoped.
As a consistent supporter of the San Francisco Democratic Party, he is taking advantage of his connections to get support from the political circuit. Among his endorsements, he has the Democratic County Central Committee, the Green Party, Sierra Club, the San Francisco Bicycle Coalition, District 7 Supervisor Sean Elsbernd, District 9 Supervisor David Campos, numerous democratic clubs, Amalgamated Transit Union (ATU) Local 1555, which represents BART operators and station agents, and the American Federation of State, County and Municipal Employees (AFSCME) Local 3993, which represents BART's administrative staff. BART's third union, the Service Employees International Union (SEIU) Local 1021, has yet to endorse.
A Possible Referendum on the Oakland Airport Connector
In BART District 4, representing parts of downtown Oakland and Alameda, former East Bay Bicycle Coalition director Robert Raburn is mounting a significant challenge to incumbent Carole Ward Allen, who was first elected to the BART Board in 1998 and has served as its president.
Ward Allen has been a central figure in several high-profile BART dramas, including the aftermath of the Oscar Grant shooting at the hands of BART officer Johannes Mehserle and the long battle over funding the Oakland Airport Connector (OAC), a nearly $500 million elevated tram between the airport and BART's Coliseum Station.
Ward Allen played a significant role in pushing the state to grant BART the authority to set up an eleven-member civilian oversight panel. Though much of the BART board supported AB 1586, there was considerable controversy over how much power the oversight panel would have in police discipline, including a condemnation by Assmemblymember Tom Ammiano for not going far enough in giving the public accountability for BART police actions.
Ward Allen defended the work she's done on civilian review of the BART police, her role in selecting the new Police Chief Kenton Rainey and civil rights compliance.
"I've been tried, I've been tested. I've worked very hard to get those things done," she said. In addition to those issues, she pointed to the OAC as a project that would create employment opportunities for minority- and women-owned businesses.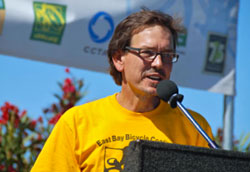 "Jobs, jobs, jobs, that is really the big cry from my community," she said.
Asked whether incumbency would help her, Ward Allen said, "I don't ever take anything for granted. You can be the incumbent, but that can have its pluses and minuses."
Though Raburn noted the police oversight controversy and said it would likely play into the public's opinion of Ward Allen's work, he focused most of his criticism on her championing of the OAC. Raburn keyed in on BART's initial failure to analyze federal civil rights impacts of the tram and said the agency still doesn't understand it's need to be inclusive of public sentiment.
"The BART board is out of step with the community they were elected to serve and with the federal government," said Raburn. "You can't continue to go into debt to build gold plated extensions."
Raburn noted that in spite of its extensions, overall system ridership has decreased. "Spending on mega projects has not resulted in increased ridership," he said. "BART projections for their extensions have always fallen far short of their expectations."
Raburn said his campaign had currently raised $45,000 and had a target of raising $120,000. He has picked up endorsements from the Sierra Club, the California Bicycle Coalition, ATU Local 1555, AFSCME Local 3993 and the City of Alameda Democratic Club, among others. SEIU Local 1021 has endorsed Ward Allen, as have Oakland City Councilmember Larry Reid and Assemblymember Sandre Swanson, among others.
In addition to opposing some BART extensions, Raburn said improving core system operations, maintenance, cleanliness, and connectivity to BART stations would be primary considerations if he were elected. Long an advocate for bicycle access to BART while at EBBC, Raburn also helped develop the framework for Safe Routes to Transit, now a nationally recognized approach to development and transportation to build near transit and provide safe, multi-modal connectivity to nearby communities. Calling Fruitvale a good start, Raburn said he envisioned far more dynamic and integrated communities around BART's stations.
The Lake Merritt station, said Raburn, was a perfect example of the agency's failure to maximize the potential of its facilities. At EBBC, Raburn worked with a coalition of groups to promote Oakland's Lake Merritt master plan, where the city removed "the World's Shortest Freeway" on 12th Street at the southern end of Lake Merritt, replacing it with paths to connect the residents around Lake Merritt with the Lake Merritt BART station.
"I want to carry that momentum right to the fare gates," he said, noting the under-developed property around the Oakland Museum, Laney Community College (where Ward Allen is an adjunct professor), and the Metropolitan Transportation Commission offices. "I can envision buying more than a hot dog and a doughnut around that station within the next five years.
The final piece of what Raburn called "BART 2.0" was support for re-purposing the NUMMI plant in Fremont to build train cars for high-speed rail and BART. Raburn said Representative John Garamendi's trio of Make it in America bills could help boost domestic rail production and the NUMMI factory would be the ideal regional facility for building the next generation of BART rail cars, among other applications.
Raburn said the new Warm Springs station will be near the NUMMI facility and current Fremont trains have significant capacity in the morning peak. "We can have workers taking BART to build BART," he said.
Changing the Culture on the BART Board?
Predicting elections on a down-ballot race will not be easy, said current BART Vice President and District 3 Director Bob Franklin, who thinks success in the race will depend on voters' experience riding BART more than the nuances of expansion projects.
Franklin would know about insurgent campaigns, given his successful bid to unseat Roy Nakadegawa in 2004.
Nakadegawa was a well-respected board director who didn't take the challenge seriously until late in the campaign, according to BART spokesperson Linton Johnson, who described him as a "smart guy, a wonderful guy."
"He really reshaped BART, the MTC and regional planning," added Johnson, saying Nakadegawa and current District 9 Director Tom Radulovich had been significant players in challenging older paradigms in the agency.
"He didn't campaign because he didn't think he needed to," said Johnson.
Franklin said because the BART elections are rarely understood well by voters, his strategy was to be at as many public events as possible, from sporting events to farmers markets to the mundane hours spent at busy intersections. "I don't think people know all the issues," said Franklin. "Only seven percent of people in the Bay Area ride BART."
According to Franklin, he spent $80,000 of his own money and $125,000 in total, but it was his ubiquity in the public eye that won the race. He said he received scores of emails and letters after the campaign from voters who said they had no idea who he was, but they saw him everywhere and figured if he was that tenacious in the campaign, he would make a dedicated board director.
He also said incumbency in a race like this wasn't as significant as in other races, though he noted the challenge by Hill and Raburn had motivated Fang and Ward Allen to get out ahead of the election and mount serious efforts to stave off the challengers.
Johnson listed several other races where long-standing board members had underestimated their challengers, but wouldn't wager on the vulnerabilities of the current incumbents.
"I certainly hope that whoever wins the seat is going to be the best for the agency and our customers," said Johnson.
Director Radulovich, who has often been the solitary dissenting vote on BART extensions and a constant gadfly warning of debt spending and core capacity degradation, said he welcomed the challenges by Hill and Raburn.
"I think having some of the incumbents lose this time would change the culture of BART," he said, noting a change in direction now would send an even more serious message to the five incumbents, himself included, in 2012.
When asked whether victories by Hill and Raburn would change the votes on extensions or whether it would merely be six-to- three, Radulovich believed it would be significant.
"I think it changes the board hugely. I think there are other directors who will start tipping toward the issues. They log roll each other, reinforce each other's worst aspects, which is this kind of boondoggling in their various districts," he said.
"It would finally tip it toward a BART that's concerned about maintaining what we have, rather than these sort of adventures in the suburbs."
Stay in touch
Sign up for our free newsletter