BART
BART Board Member Urges Agency to Consider Unlimited Monthly Pass
1:17 PM PDT on September 21, 2010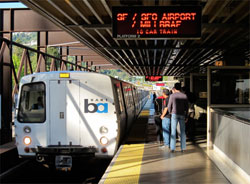 At a recent BART board meeting where directors discussed various options for spending or saving an operating budget surplus, Director Tom Radulovich suggested the board consider the ramifications of instituting an unlimited ride monthly pass, which had been previously discussed but never seriously pursued. The issue came up most recently in 2005 and 2006 when BART's board of directors requested the agency look into the costs and benefits of monthly passes. The staff report [pdf, detailed pdf] recommended not moving to a monthly pass and the board declined to act.
Radulovich wasn't satisfied with the findings then and he currently laments what he characterized as staff's intractability on the issue.
"There's a conservatism in the BART finance group, they're just very attached to the current fare structure," said Radulovich, who noted similar conclusions were drawn when considering a Daly City Fast Pass option. Radulovich pointed to the Muni/BART Fast Pass arrangement that has been in place since 1983 as evidence that monthly passes shouldn't be discounted outright within BART's fare policy.
BART spokesperson Linton Johnson said BART is reluctant to significantly alter its fare structure because it is working well right now. He said the current fares are a large reason why BART realizes 55 percent farebox recovery (e.g. how much of the cost of a trip is paid for by the fare), nearly double the next best Bay Area agency (Caltrain). He also noted the agency had a multi-million dollar budget surplus in a year when most transit operators cut service and laid off workers, in no small part because it charges a distance-based fare.
"We're hesitant because we're so reliant on sales tax and ridership," said Johnson. According to Johnson, 90 percent of all revenue comes from the farebox and the district sales tax assessed in BART counties. "We're hesitant to tinker with things that are working right now."
Johnson pointed to the findings of the 2005 presentation, where BART staff determined offering a monthly pass would only bump ridership by 1 percent, while costing the agency a $2.7 to $5.9 million one-time investment to convert the existing BART fare revenue cards to monthly passes and $5.4 million annually in lost revenue. At the time of the study, 120,000 regular riders accounted for 65 percent of BART's farebox revenue, while 1.4 million annual leisure or non-frequent riders accounted for the remainder. In conclusion, staff suggested when BART converted over to Clipper, the agency could realize gains and offer rewards to regular riders in numerous ways without converting completely to a monthly pass.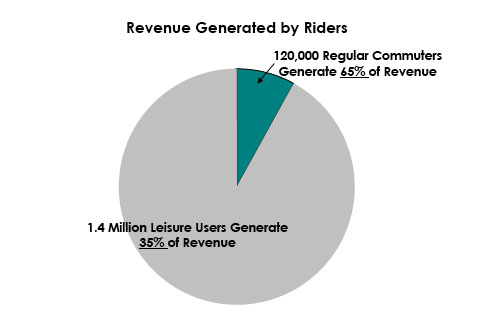 Radulovich said now that BART is ramping up Clipper usage, the one-time BART ticket transition expense is moot and the issue should be revisited. He also claimed that if staff studied a monthly pass option with a consideration of how many part-time or occasional riders would become regular riders, the cost-benefit equation would change.
"There was very little or no assumption made for elasticity, that we'd get new riders as a result of having a monthly pass," he argued. "If you put a monthly pass in people's hands and they change their travel patterns to ride more, then you've vastly increased your ridership by offering a little discount on every trip they take."
Radulovich noted with some frustration that BART has a monthly pass to park at BART-run facilities and he asked why, if such a policy worked for parking, it wouldn't work for the actual transit trip.
"Their logic on the parking spaces is hey, if you buy a monthly pass for parking, you'll ride BART more often. Why that thinking doesn't apply to the ride on the train itself is a puzzlement to me," he said.
Johnson said a trial would be difficult because it would have to be systemwide and there was no guarantee that ridership would spike. Once it was in place, if it became popular with riders, going back to the distance-based individual ticket format would be difficult.
"Your hope is it's wildly successful and it makes you more money or you break even," said Johnson. "If it doesn't work and you try to take it back, there's hell to pay."
Though Radulovich brought the issue up at the August board meeting, if he wants staff to do another study, according to Johnson, he will need to get the issue agendized,. The easiest route is through Board President James Fang, who can simply put the issue on the agenda and ask staff to study it. Another option is to get three board members to agree to put the issue on the agenda.
Fang told Streetsblog he was always interested in options to give back to regular riders. "It's something we can take a look at. I think it's worth taking a look at," he said, but noted he "would like to do more study of it before I put it on the agenda."
For his part, Radulovich said he would "just keep pounding on it. You just have to ask ten times and you'll get a discussion on it."
Stay in touch
Sign up for our free newsletter