Bicycling
What Do You Do When Bike Thieves Get Hip to the Game?
5:15 PM PDT on September 28, 2010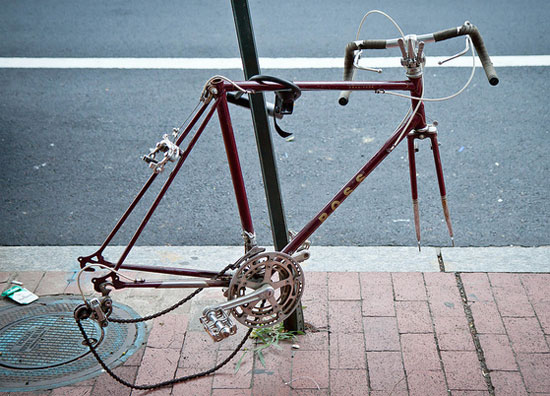 My work routinely requires me to travel to San Francisco City Hall to cover hearings and I would estimate I'm there on average between one and two times a week. I almost always ride my bicycle and in the course of nearly two years writing for Streetsblog, I've never had a problem locking up on the bike racks in front of the building. Unfortunately, that changed last Thursday during a hearing for the CPMC draft environmental impact report.
After living in New York City for eight years and losing every piece of a bicycle that wasn't thoroughly secured to the frame, I'm sensitive to bike theft and had taken most of the necessary precautions I thought I needed. Though I'll admit I had fantastic luck when I made a boneheaded move last year and left my bicycle locked outside the 24th Street BART Station over a long weekend, I still haven't had anything stolen from my bike in three years living in the Bay Area.
Before last Thursday, I was pretty confident with the security measures I've taken with my bicycle. The quick-release skewers on my wheels are clamped tight with hardware-variety hose clamps and my Brooks B-17 is secured to my frame with links of bicycle chain wrapped in an old tube, both tricks mechanic friends in New York City taught me.
I guess I figured if the bike came back to me whole after four days sitting on the street in the middle of one of the more theft-prone intersections of the Mission, surely it would be safe in front of City Hall, with all its security cameras and law enforcement officers, right?
Not so much.
"Are You From Around Here?"
When I left the hearing on Thursday at 4:30 pm, I walked up to my bike and didn't realize my seat and seat post were gone until I had nearly unlocked it. I stood there for a moment, too dumbfounded to be upset. The point of using links of bike chain is that they are strong and squared off, difficult to cut through with a bolt cutter (the same goes for the much more robust squared and hexagonal links on the beefy Kryptonite or OnGuard chains, I presume). So had a bike thief walked up with three foot bolt cutters and clipped the chain in broad daylight in front of the security cameras at City Hall? And no one tried to intervene?
I was going to be late to my next appointment in Oakland if I didn't get to BART in a hurry, but I thought better of leaving without filing a report with the security guards stationed at City Hall's metal detectors, a detail of the San Francisco Sheriff's Office.
When I spoke with one of the officers and explained my predicament, he asked me, straight-faced, "Why'd you leave your bike there?"
"Where? The bike racks in front of your building," I asked, my ire starting to pique. "I had business here and I rode my bike. Where else would I put it?"
"Are you from around here?" he asked.
At this point I was unable to mask my anger and I'm sure my voice rose a few notches. I explained that I'm a reporter who frequents his building weekly.
"Don't you know the kind of people that come in here?" he asked.
"I'm the kind of people who come in here," I hissed at him, though the moment he asked his question, my memory raced to all the less-than-savory people I had seen in and around the building, including a man at the metal detector a few months before who protested when the officer wouldn't allow him to take a half-empty fifth of Absolut Vodka with him past security (the man departed with his vodka rather than accept the officer's offer to check it for him).
I pressed the officer on duty, telling him the theft occurred some time in the previous two and a half hours, and asked him if he could access the security camera feed that would have certainly captured the thief in action. He looked at me blankly for a moment and I feared he was going to tell me the cameras didn't work, as had been the case on several occasions last year with Muni vehicle security cameras.
"What good would that do?" asked the officer.
Now I was upset. "Maybe," I said, drawing out my words, "maybe you'll see somebody on the film who has a pattern of stealing from here."
He shook his head. "The only time we pull up the security feed is if an officer puts his hands on someone during an arrest and they complain of mistreatment, to see if the complaint has merit."
"So you're telling me tough shit?" I asked, raising my voice.
The officer tried to quiet me, saying he would take a report, that he was being candid with me and believed the report would do little to fix my problem. Nor, he said, would it likely stop crimes around City Hall. He explained they would take the same course of action if someone had their car window smashed and belongings stolen. "There is a San Francisco police officer assigned to patrol the area, but if he doesn't see it happen, there's not much hope for you."
Feeling I had exhausted my options, I reluctantly gave the officer my information and left the building, now doubly furious with the loss of the saddle and the perceived injustice of getting no help from the law enforcement paid to protect City Hall.
Outside the building, I was shocked to see two people hovering near my bicycle, one of them an SFPD officer. The person with the officer was reattaching my seat!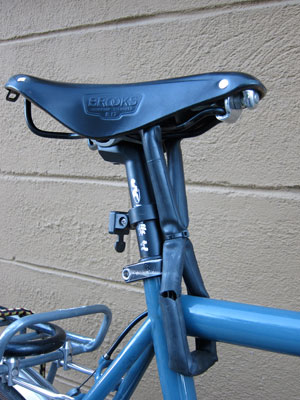 I must have yelped, because the officer looked up and asked me if the bicycle belonged to me, then explained he had caught the suspect as he was stealing other seats, including one the officer held in his hand.
The thief looked to be in his fifties, long gray hair and the deep crevasses and pocked cheeks I associate with Faces of Meth pictures. He wore a blue windbreaker and jeans and carried a red pack, which I discovered was full of handy tools. Using a multi-size hex key, the thief secured my seat, a little bit askew.
When I asked him how he cut through the chain, he mumbled and pointed at it. The pin on one of the links had been skillfully freed with a chain breaker, though he managed to keep the pin with the link, which I assumed he would have used for parts later. The SFPD officer said he had tapped the pin out with the half of an Alien multi-tool he had in his hand, but it was the wrong half of the tool and it would be unlikely he could release the link with anything but the breaker.
"The other half of that has a chain tool," I told the officer, pointing at the Alien, which looked exactly one I own. After rummaging through the thief's bag, the officer couldn't find anything but the multi-hex key. The officer then said to the thief, "C'mon, John, let's go put the other one back on."
Because I needed to get to BART, I didn't ask the officer a number of questions I now wished I had, including how he knew John's name and what he would do with the man. While one part of me wanted him to spend time in jail, another part of me pitied his desperate mien and wanted to give him money. The only thing I could think to ask was the officer's name.
"Cesena," he responded.
As Officer Cesena and John the Thief walked away, I got on my bike and started pedaling. Officer Cesena called out to me as I passed them, "How's that seat height? You want him to adjust it?"
"The Crackheads are Getting Smart"
According to several mechanics at bike shops I canvassed in the Mission, bike thieves with chain breakers are pretty new. The mechanics at Valencia Cyclery said they had never heard of anyone losing a saddle that had been fastened like mine. One mechanic took me in back to show me how he had his Brooks secured with a similar chain set-up, though he had doubled his on one side so a thief would have to undo two links to get it off, a trick he hoped would deter the thief in the first place.
The mechanics I spoke with at Freewheel also hadn't heard of anyone losing a seat that had been fastened with bike chain links. One of them offered a couple options for trying to make the seat more secure without adding a U-lock or other heavy chain, but shy of those measures, he wasn't optimistic.
"If someone wants it that bad, there's not much you can do," said the mechanic. "The crackheads are getting smart."
Of the three shops I visited, only Box Dog had heard of a situation similar to mine. Ian said the only cheap option he could suggest was wedging a ball bearing into the end of the hex bolt on the seat collar and sealing it with rubber cement or candle wax. He said without a lighter, a lot of time (which presumably a thief wouldn't have) and a small screwdriver, they wouldn't get it out. That coupled with the chain could prove too significant of a risk for the thief looking to move quickly.
The other option Ian suggested was to buy an expensive Pitlock or similar security system to secure the seat and wheel skewers. Without keeping the chain on, however, the seat could still be removed from the post, so he suggested keeping as much redundancy as possible.
In the interim, I got the twenty-five cent ball bearing and plan to install the Pitlock set soon. But I won't take it for granted that bike thieves are asleep at the wheel like I did in my post from last year. Some of them are clearly hip to the game.
Stay in touch
Sign up for our free newsletter