Car Sharing
California's Personal Vehicle Sharing Law Could Diminish Need to Own a Car
9:43 AM PDT on September 30, 2010
As more teens wait to get their licenses and young adults drive fewer miles annually, advertisers have begun to point to advances in digital technology to explain the trend. Many younger adults use digital media to connect to their friends virtually, the argument goes, and technological innovations will likely reduce the incentive to own and operate a car.
Now, with the passage of a new law in California that allows current car owners to share their personal vehicles in a car sharing service and make money without voiding their personal insurance policy, the age of owning a car as a rite of American adulthood may be ceding to a new vision of vehicles as a social service.
Because your car spends on average more than 90 percent of the time parked and idle, proponents of personal vehicle sharing argue, why not make money instead of sitting by as your investment depreciates in a garage?
"We feel like this is a historic moment. This legislation basically revolutionizes the idea of the automobile into being a shared service," said Sunil Paul, CEO of Spride Inc, a personal car-sharing start-up company. "We think it can have a huge impact over the next many years about the way we think about the automobile."
On the heels of the announcement that Governor Arnold Schwarzenegger signed AB 1871 into law yesterday, Spride and City Carshare, the San Francisco non-profit that helped pioneer car sharing, announced a partnership to facilitate personal car sharing in the Bay Area. Once AB 1871 takes effect January 1st, the new Spride Share pilot program will allow car owners to loan their vehicles to the more than 13,000 screened and qualified members of City CarShare, offsetting the costs and environmental impact of private car ownership while providing City CarShare members with access to a greater variety of vehicles.
Car owners who choose to participate in the program will outfit their cars with City Carshare's key and lock technology and designate the hours their vehicle will be free through CitycarShare's website. Very little will change for existing City CarShare members, except they will have a wider selection of vehicles, some of them owned by individuals instead of the non-profit. Paul announced he would be signing up his own Toyota Hylander Hybrid as the first personal vehicle in the fleet.
City CarShare's mission has always been in part to mitigate environmental damage caused by excessive driving and they saw the new partnership as one that will expand their reach beyond San Francisco. "By adding Spride Share vehicles to our fleet, we can extend our service to more people in more locations through better utilization of existing vehicles," said Rick Hutchinson, CEO of City CarShare. "Spride's new model brings us one step closer to achieving our mission by helping our communities become transit-oriented while mitigating carbon emissions."
Assemblymember Dave Jones (D-Sacramento), who wrote the law and guided it through the legislative process this year, said the bill had enjoyed bipartisan support because it was both an incentive to business entrepreneurs and because it promised to reduce the environmental impacts of driving. Jones, who is the Democratic nominee for California Insurance Commissioner in this November's election, worked with car insurance companies from the beginning to craft a solution amenable to them. With the passage of AB 1871, he expected a rush of new for-profit and non-profit companies to join Spride and other start-ups in personal vehicle sharing.
"The insurance impediment had really frozen entrepreneurs from getting into the market," said Jones. "I think it could have a very revolutionary impact. It will potentially reduce the need for as many personal vehicles, with concurrent reductions in traffic and parking impacts."
Jones, who said he would sign his own vehicle up to a personal sharing service, was impressed with how personalized vehicle sharing could be as social networking becomes more sophisticated. The stigma of letting a stranger use your car, he argued, could be mitigated by limiting use of your vehicle to a designated circle of Facebook friends, for instance. "The potential to define the social network within which you would share your car based on some of the social media applications is fascinating," said Jones.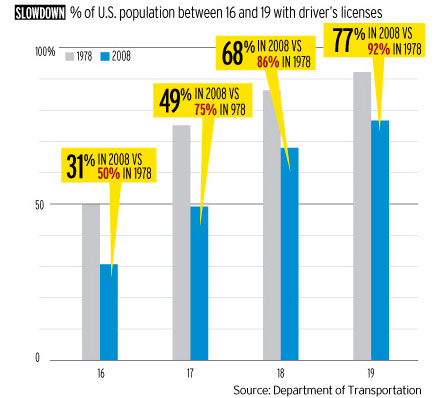 Zipcar, the nation's largest car-sharing company, has yet to make an announcement indicating it would add personal vehicles to its fleet and Jessica Scorpio, a co-founder of the personal car-sharing company Getaround, doesn't imagine they will any time soon.
She noted the traditional car-sharing business model flourishes in dense urban areas, but doesn't pencil out as well in suburban markets, where personal vehicle sharing companies see the greatest potential to entice new customers.
Getaround started as a thesis project by Scorpio and several classmates at Singularity University, an interdisciplinary school based at the NASA Ames facility whose mission is to "assemble, educate and inspire leaders who strive to understand and facilitate the development of exponentially advancing technologies in order to address humanity's grand challenges." Scorpio said reducing personal car ownership and limiting the impact driving has on the planet were two challenges that Getaround hoped to tackle.
The company has been operating for a year and a half in the admittedly gray area of insurance liability that had prevailed until the new law was passed. Though Scorpio declined to provide membership statistics, she said car owners who participated in Getaround were covered by the company's insurance during the rental period. She also noted there could have potentially been questions from insurance companies in the event of an accident, but none had occurred.
"[AB 1871] makes it more black and white. It ensures that insurance companies cannot penalize people who share their vehicles," said Scorpio, who doesn't own a car but occasionally rents one from Getaround. She also thought advances in technology would continue to chip away at car ownership.
"We see smart phones as a huge enabling factor in the whole thing," she said, pointing to the inefficiency of leaving a private vehicle idle for so much of its life as an incentive to switch from owning to sharing. She even imagined a scenario where city governments and car-sharing companies provided a fleet with taxpayer money that would complement more traditional public transportation. "People are hopefully going to use cars much smarter. Having them sit around more than 90 percent of the time doesn't seem smart."
As for those car owners who are too attached to their own car and protest at the thought of sharing it, Scorpio wasn't too concerned. She said there was an enormous market of drivers who would give up their cars if they could reliably use a shared vehicle to meet their mobility needs.
"More and more people are going to access a car when they need it for an activity, rather than owning a car," she said.
UPDATED: 11:06 am
Stay in touch
Sign up for our free newsletter