Bicycling
Commentary: Adding More Bike Capacity on Caltrain Will Benefit Everyone
9:58 AM PST on November 16, 2010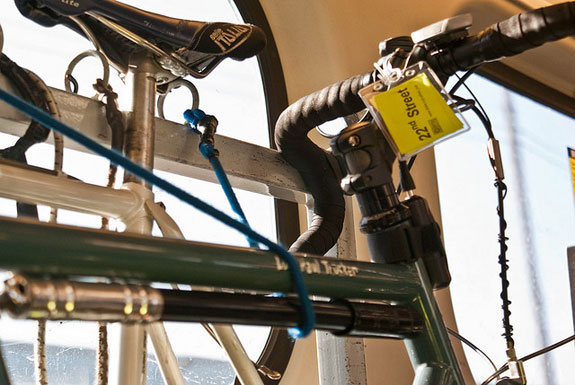 Dr. Shirley Johnson is the chair of the newly formed Caltrain Bicycle Advisory Committee and the head of the Bikes ONboard project sponsored by the San Francisco Bicycle Coalition.
Caltrain recently released a Bike Count and Dwell Time Study, conducted over five weeks during April and May. The study results support bicycle advocates' position that increasing bike capacity will benefit riders, increase ticket revenue, and simplify operations without a negative impact on service.
Caltrain commissioned the study at a cost $93,000 to assess the impact of a 35 percent increase in bike capacity completed in November 2009. The public strongly supported a larger increase in bike capacity, but Caltrain insisted on a modest increase, because staff feared that more bicycles would cause dwell time delays, defined as the time trains wait at stations for passengers to exit and board. In the past, bicyclists have been inaccurately assigned as the cause of dwell time delays, because Caltrain rules require bicyclists to board last.
The study confirmed that higher ridership, not bicyclists, causes increased dwell time. The more people boarding, the longer the train must wait at the station. This finding is consistent with historical data, which shows that on-time performance deteriorates with increasing total ridership, irrespective of the number of bicycle boardings.
Based on the study, Caltrain staff's recommendation is to add more bike capacity. Caltrain operates two different kinds of passenger cars, the older gallery and the newer Bombardier cars. The estimated cost is only $300,000 to upgrade bike capacity so that all fifteen gallery train sets will have 80 bike spaces, but funding has not been identified and a timeline has not been set. Prioritizing this capital expense is prudent, because past increases in bike capacity have been paid back in less than six months with increased ticket revenue, an excellent financial outcome.
Caltrain's recommended upgrade is a step in the right direction, but leaving the five Bombardier train sets each with only 48 bike spaces means that only three-fourths of train sets will have 80 bike spaces. Caltrain could improve its service even more by upgrading the remaining five Bombardier train sets to provide consistent bike capacity, simplifying Caltrain operations and eliminating equipment substitutions as one of the main causes of bicycle bumps (service denial due to insufficient bike capacity).
Cyclists are routinely bumped from trains, documented in cyclists' bump reports made to the Caltrain Board. Essentially all reported bumps occur during commute periods from trains with less than 80 bike spaces (bike capacity currently varies with 40, 48, or 80 bike spaces per train). Caltrain's study corroborates user reports that bumps occur during commute periods on low-bike-capacity trains. Alarmingly, reported bumps have increased by four-fold since the study was conducted.
The study captured 10 trains that either bumped bikes or were over capacity in the bike car, but limited sampling missed some problem trains. If you count the trains for which cyclists have reported bumps in 2010, there are actually 21 problem trains.
Caltrain bicycle commuters have long said that Caltrain needs more bike capacity, consistent with the study findings. However, a recent news article incorrectly claimed that Caltrain does not have a bike capacity problem, an unfortunate conclusion based on how the data were summarized.
The relevant metric is peak demand, but Corey, Canapary & Galanis Research, the firm conducting the study, analyzed the bike count data simplistically by calculating the average for all trains and all stops. Midday trains run largely empty, and all trains carry far fewer passengers at end stations than during peak load. The average drops significantly when these low ridership counts are included, resulting in misleading statistics that mask the peak-load problem.
To their credit, Caltrain staff looked past the misleading statistics to recommend increasing bike capacity. Once Caltrain improves reliability by adding enough bike capacity to eliminate bumping, cyclists who have abandoned Caltrain will return and new cyclists will come aboard. It will be a positive outcome for all – more fare-box revenue for Caltrain, less congestion on Bay Area roads, and a healthy commute for cyclists.
Stay in touch
Sign up for our free newsletter