Mayor Newsom
Leona Bridges' Nomination to SFMTA Board Headed to Full Board of Supes
5:44 PM PST on January 3, 2011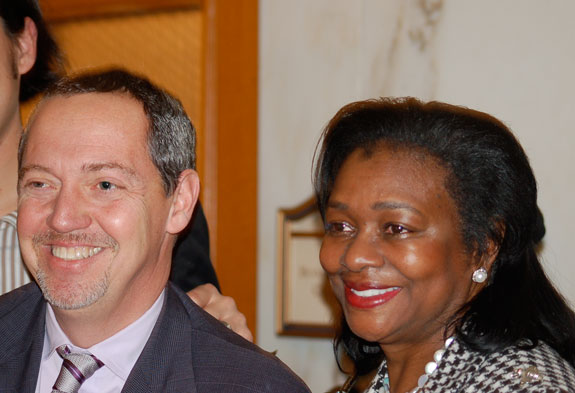 Leona Bridges' nomination to the SFMTA Board is headed to the current Board of Supervisors for confirmation after being approved this afternoon by the Rules Committee. It managed to get through committee on a day when most of outgoing Mayor Gavin Newsom's nominations to commissions were put off because he is delaying his swearing-in as lieutenant governor in a move to prevent the current board from appointing an interim mayor.
Bridges, a former manager at Barclays Global Investors who oversaw $800 billion in assets, described herself as an independent thinker who has been a lifelong Muni rider. She was nominated to the SFMTA Board last month to fill a seat that has remained vacant since May.
While she doesn't have a background in transportation, Bridges was praised by the committee and a number of supporters, including leaders of the African American community, who testified that as an African American with financial expertise she will bring much-needed diversity to the board. The Rev. James McCray, whose term expired last year, was the last and only African American member of the board.
"Growing up in San Francisco, I walked to Benjamin Franklin Middle School, rode three buses to Abraham Lincoln High School and rode three buses to San Francisco State University. I have continued to be a lifelong user of Muni transportation. Additionally, I take taxis and I walk many places," Bridges told the committee. "I have a vested interest in knowing that we have timely, accessible, reliable, affordable and safe modes of transportation and services in this city."
She identified transit accessibility among her six top policy priorities, along with affordability. "All modes of transportation and parking garages must be affordable, and not disproportionally impact low-income communities. We must serve all communities in this city," she said.
Her other priorities include transit reliability, safety, local hiring for Muni contracts and finance. When asked by Supervisor Eric Mar what ideas she had for ensuring adequate funding streams for Muni, she didn't offer any clear cut answers but suggested "possibly issuing bonds" and "if we do that we have to get it right." Bridges said she would also examine the way current streams of state and federal revenues are allocated. "There are some areas in parking as well as in traffic where we have allocations that we could probably streamline," she said.
Bridges, who acknowledged that she would have a learning curve at the SFMTA, could not immediately answer a question from Mar about congestion pricing and would not state what her position on Proposition G was. After the meeting, Bridges declined an interview with Streetsblog, deferring all questions to SFMTA spokesperson Paul Rose.
Transit Advocates Criticized for Lack of Diversity
In public testimony, Elizabeth Stampe, the executive director of Walk SF, asked that the nomination be delayed so transit advocates could get a better feel for where Bridges stands on the issues. Some supervisors had criticized the mayor for making last-minute appointments before he leaves office, putting the Rules Committee in a crunch.
"We would really like to ask, as part of the sustainable transportation community, to have the opportunity to meet with Ms. Bridges about pedestrian safety, about cycling, about public transportation and so we would ask that you would defer...or continue the nomination to give us a chance to do that," said Stampe.
Supervisor Bevan Dufty saw that as an opportunity to criticize transit advocates for a lack of diversity.
"I'm just really intrigued," Dufty responded. "Are there any African Americans on the board of Walk San Francisco?"
"No, it's a very small board. We absolutely support diversity on the MTA Board," Stampe replied.
"Right, but I'm sort of suggesting it's a two-way street. And so what I'm offering to you is as much as you're interested in engaging Ms. Bridges to understand her perspective I think your organization, like so many others in the environmental community, could do a far better job of engaging with the affected communities themselves," Dufty said to a roar of applause.
Campos, the chair of the Rules Committee, said he was prepared to delay Bridges' confirmation, along with the mayor's other nominees, but was so impressed by the public testimony in favor of Bridges that he decided to move it forward. He also criticized transit advocates on the diversity issue.
"I do think that often times transit advocates don't fully get the point that transit advocacy cannot work if the people who are involved in that movement are not reflective of the diversity of our city," Campos said. "As a person of color myself I will tell you that time and time again I have been frustrated that when we have those kinds of policy discussions and conversations that the diversity of our city is not reflected in terms of who is seated at the table."
The Rules Committee vote to move the nomination forward was unanimous and is likely to be approved by the full Board of Supervisors tomorrow.
Bryan Goebel is a reporter at KQED Public Radio in San Francisco. A veteran journalist and writer, he helped launch Streetsblog SF in 2009 and served as editor for three years. He lives car-free in the Castro District.
Stay in touch
Sign up for our free newsletter