Connecting the City
Connecting the City Sets a Clear Vision for Bicycling in San Francisco
11:12 AM PST on January 19, 2011
The San Francisco Bicycle Coalition's (SFBC) bold campaign for a network of connected crosstown bikeways safe enough for an eight or eighty-year-old officially launched this week with Connecting the City.org, a new website featuring detailed visualizations for key bicycle-friendly routes throughout the city.
The goal of Connecting the City is to "provide inviting and safe door-to-door access to shop, commute and play by bicycle" for residents and visitors of all kinds, beginning with improvements to create three continuous major bikeways: the Bay to Beach, North-South, and the Bay Trail routes. If implemented, the vision promises to make safe, convenient cycling accessible to a broad cross-section of San Francisco and substantially increase the number of people who choose to ride each day.
One highlight of the campaign is a series of video stories spotlighting families and residents who would benefit from safer bike routes. The first video, shot and edited by Streetfilms director Clarence Eckerson Jr., features "Stephanie's Story," about a Richmond District family who already loves to bike, but would do it a lot more if they felt safer.
The website offers accessible visual renderings of some of the streetscapes they envision, with separated bike lanes linking the city along vital routes like Polk Street to San Jose Avenue via a cycle track in the center of Valencia Street. Other routes are shown with wide curbside lanes separated by striped painted buffer zones, physical buffers provided by adjacent planters and parked motor vehicles, and mixed-use pathways running through parks.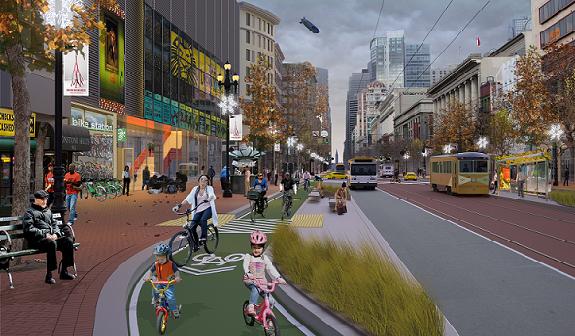 A Call for Political Support
Last Friday, the SFBC sent a letter [pdf] to newly-appointed Mayor Ed Lee, welcoming him into office and asking for his support. "The SFMTA and other agencies are already working on designing and implementing sections of our Connecting the City plan and the support and resources to execute these cost-effective projects are already in place, but we know that Mayor Lee's leadership will be essential in moving these plans forward within the next few months," said the SFBC on the project's website.
The letter calls for a series of improvements that could be implemented early in the Mayor's term, particularly along Market Street. The SFBC hopes that improvements on Fell, Oak, and Market Streets would complete the first Connecting the City route by the end of 2012: a continuous, three-mile Bay to Beach bikeway.
"Converting the outside lane on Market Street between 8th and Steuart Streets into a primarily-bike lane," for example, could be achievable by this spring, according to the letter.
Lee already has a fairly solid reputation with sustainable transportation and livability advocates and having been an active supporter of Sunday Streets, advocates remain hopeful about action from the Mayor's Office.
Another anticipated milestone will be the implementation of a separated, bi-directional path on a 1.5-mile stretch of John F. Kennedy Drive in Golden Gate Park this spring.
"Simple changes on this street will lead to big improvements where a bikeway will provide safe space for the huge — and growing — number of families who want a way to ride bikes to museums, the ocean, playgrounds, picnics and the zoo! It will also provide a key connection for commuters heading downtown from the western neighborhoods," said the website.
The SFBC aims to have all three of the major bikeways completed by 2015, with the entire project culminating in 100 bike-friendly miles implemented by 2020 to facilitate the 20 percent bicycle mode-share goal mandated by that year.
Aaron was the editor of Streetsblog San Francisco from January 2012 until October 2015. He joined Streetsblog in 2010 after studying rhetoric and political communication at SF State University and spending a semester in Denmark.
Stay in touch
Sign up for our free newsletter