Caltrain
Caltrain Riders Plead to Save Stations as Board Declares Fiscal Emergency
4:38 PM PST on March 3, 2011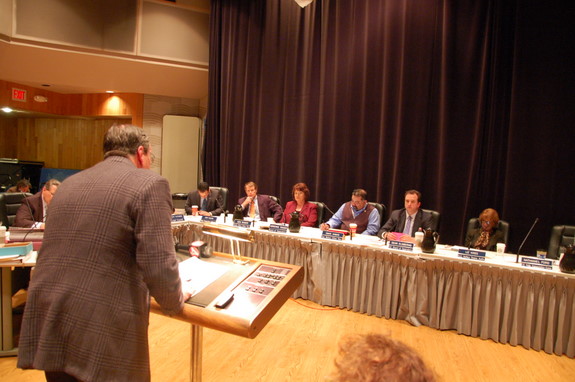 The Caltrain Board of Directors declared a fiscal emergency for the third year in a row today as a step toward enacting severe service cuts to help close a $30 million deficit. At the meeting, dozens of speakers representing Peninsula families, city agencies and organizations plead with the board not to close stations next month.
"For the last ten years, Caltrain has either relied on one-time emergency funding or declared a fiscal emergency," said Shirley Johnson of the Caltrain Bikes ONBoard project of the San Francisco Bicycle Coalition. She criticized the board for relying "year after year" on a fiscal emergency, which grants them the ability to quickly execute service cuts without environmental review. "It's wrong," she said.
If the proposed cuts are approved, service on the system would be reduced to peak-hour trains only, which agency staff says carry 80 percent of its ridership. However, the suspension of service at up to 16 stations along the corridor was heavily criticized as an ineffective means to save operational costs.
"The $30 million deficit has been created by our county governments decommitting from the funding necessary to offset these costs," said daily rider Tom Gormond. "The actions being proposed... will do nothing in terms of reducing the primary problem of all commuter railroads - the high amount of fixed costs that are required to provide service.  In fact, they will have the opposite effect by reducing ridership and increasing the need for greater amounts of government support."
"Obviously, ever increasing amounts of government support will not happen, so the demise of Caltrain is almost ensured," he added.
The majority of the roughly 1,350 public comments received prior to today's meeting focused on station closures. Many speakers argued they would cripple the mobility of Caltrain-dependent communities.
"Without Lawrence Station, we wouldn't be able to have our daughter go to her school, plain and simple," said June Moss, a single mother of two, who echoed the sentiments voiced by many students and parents at the hearing.
"Caltrain is the central component of the transit infrastructure serving our burgeoning biotechnology industry," said South San Francisco Mayor Kevin Mullin, who argued with other Peninsula city officials, developers and employers that station closures would undermine investments in transit-oriented development along the corridor.
"Our city's sole Caltrain station will be critical in servicing" the 6,000 new employees at an office complex planned nearby, he said.
Real estate located within one-half of a mile of Burlingame station is estimated to be worth $100 million more than other development due to its proximity, according to Mayor Terry Nagel.
"I consider Caltrain the aorta, and I consider the rest of these agencies the veins," said rider Victoria Carmona, who praised the vital role of Peninsula transit agencies. "I feel that if you cut them off, the result will be necrosive. You may never get the ridership back."
An increase in the gas tax, parking fees, and seeking advertising revenue were among the suggestions roundly urged by speakers as dedicated funding sources to help close the budget gap. Some riders voiced their willingness to pay higher fares to retain service.
"Isn't this an educative moment for our young students to learn about sustainability issues?" reflected Father Paul Sheridan, President of Bellarmine Preparatory School, which is near the College Park Station. "Isn't it ironic," he asked, "that a lot of press is on the high-speed rail, whereas it's the local service that's being threatened?"
A final vote on service cuts is scheduled for April 7.
Aaron was the editor of Streetsblog San Francisco from January 2012 until October 2015. He joined Streetsblog in 2010 after studying rhetoric and political communication at SF State University and spending a semester in Denmark.
Stay in touch
Sign up for our free newsletter