Bicycle Safety
Fell and Oak Street Neighbors Want Livable Streets, Not Residential Freeways
12:23 PM PST on March 8, 2011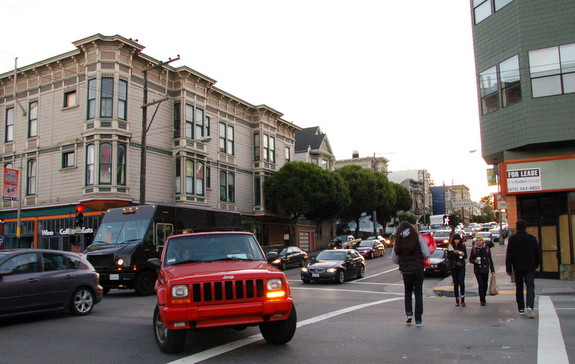 Parents seeking a vibrant, community-filled urban lifestyle filled with chance street corner chats on the walk to the grocery store may find living on Fell Street leaves a lot to be desired.
That is, unless, crossing the street alongside four full lanes of car traffic is your idea of community.
"It's ridiculous," says Daniel, a father of two and five-year resident. "Fell Street is used basically as a freeway - it's not really used as a street."
For decades, neighbors of Fell and Oak have lived with the blight of at least 30,000 motor vehicles [pdf] invited to drive down each of the motorways every day. The one-way arterials were designed half a century ago to give priority to the massive waves of cars barreling through the neighborhood, creating an unwelcoming environment for those walking, riding a bike, or simply existing on the streets.
"If you live in a house on here, you'd better hope you have double-paned windows," said Daniel. "It's very noisy, and the amount of idling cars waiting for lights will make your house a dirty, dusty mess."
Residents say dangerous, noisy, and polluted conditions brought on by the heavy motor traffic can present barriers to access in an area otherwise valued as rich with nearby shops, services, parks, public transportation and friendly neighbors.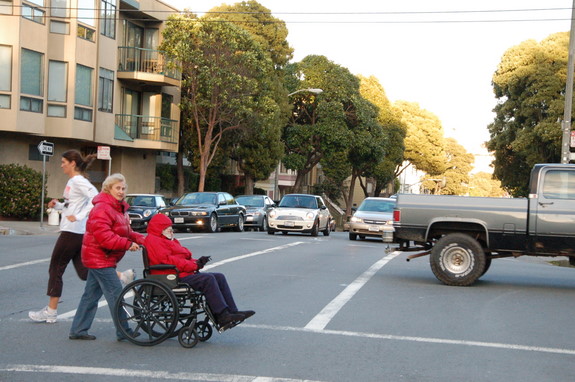 "You want families to stay in San Francisco," says realtor and Fell Street homeowner Bonnie Spindler, who warns that the threat of motor traffic can be restrictive to parents' ability to walk with their children to enjoy the many amenities a neighborhood has to offer.
Walkability is an evermore important goal if San Francisco is to remain a place for children and reduce automobile dependency. "The more accessible a neighborhood is, the less you're throwing your kids in the car," said Spindler.
But with multi-block platoons of one-way motor traffic roaring through residential neighborhoods on a system of synchronized signals, drivers on the Fell-Oak arterials are prone to honk at others or even kill pedestrians with the slightest delay.
"If parents are terrified that they can't get across the street with a stroller to get to the park because of the speed of the traffic, usage goes down," said Spindler.
The playgrounds and green space of the Panhandle provide a "natural meeting place" in the neighborhood that's ideal for families, she said. "But parents are really worried about their children and traffic, and it really reduces the livability."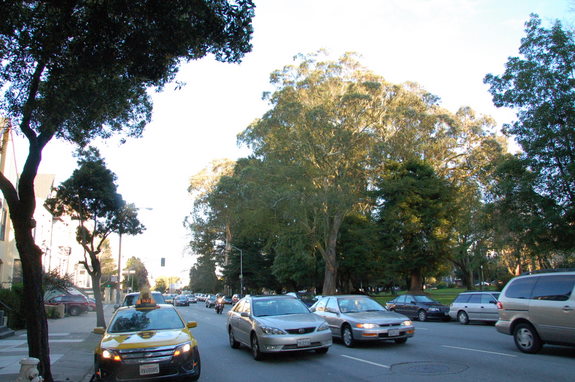 Even able-bodied pedestrians sometimes feel rushed to cross the street, and navigating the area can be particularly risky for the elderly and disabled, noted Daniel. "Although San Francisco may consider itself to be more pedestrian friendly than some cities, I think in a lot of instances they increase pedestrian risk," he said.
That appears to be the case on Fell and Oak Streets, where motor uses take dramatic precedence over those of people. At the cross-section of Divisadero, three gas stations packed into a single block create a machine-dominated environment that's particularly hard to call home.
"Every business that goes in here shuts down almost immediately," said Kelly, a resident living a couple of blocks over just off Fell Street. She's referring to a mixed-use building that houses the only storefronts on the block, which are all currently vacant, save a laundromat.
The current prospective tenants for that building are contending with other issues, but the space's availability and high turnover don't seem to be a coincidence. Any sense of place that might attract business-nurturing foot traffic appears to be destroyed by skinny sidewalks and the overwhelming presence of cars.
"This gas station and the way the streets are utilized are a negative part of living in this neighborhood," said Daniel of the Arco gas station on the corner of Fell and Divisadero. It's notorious for its queues of cars that routinely block the sidewalk and bike lane on Fell Street. "It pretty consistently creates hazards," he said.
Despite the Fell Street bike lane's high traffic demand as part of the vital Wiggle route connecting the eastern and western parts of the city, measures taken to improve safety have so far only amounted to creating a queuing space and highlighting the lane in green, resulting in meager blockage reductions.
Even without the gas station queue, people riding the three-block Fell bike lane are squeezed between parked cars and three lanes of motor traffic with virtually no room to maneuver.
"The only thing I don't like about [living in the neighborhood] is riding home," said Kelly, who, like many in the area, depends on her feet and her bicycle to get around. "On my intersection of Fell and Broderick, I've seen so many people get hit. It's just an accident waiting to happen."
Although the number of commuters willing to brave the gap continues to grow by the month - doubling from March 2009 to 52,000 in September 2010 [pdf] - the number of potential commuters who continue to forego bicycling without a dignified way home remains to be seen.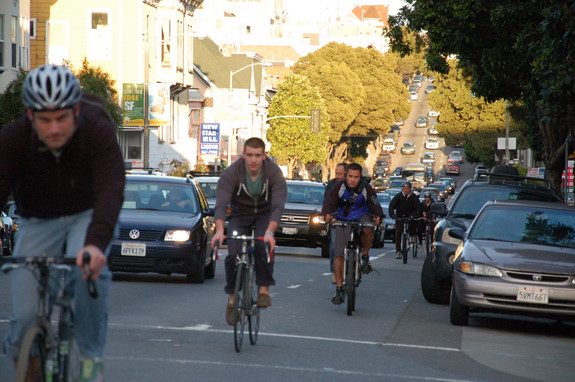 "I'm kind of just waiting to get doored one of these days," said Arjun Bhat, a nearby resident and architect who uses the bike lane. "While I personally am able to navigate the street alright, I would by no means feel safe if I was a less experienced city rider or a parent riding with my children in tow, or a tourist for that matter," he said.
Neighbors and would-be cycling commuters seeking a return to civil, livable streets may soon see progress on the horizon. Recent support by Mayor Ed Lee and the SFMTA Board for a proposal to create physically separated bikeways on Fell and Oak present the potential to calm traffic and invite people of all ages to walk and bike in the neighborhood.
The proposal is a high-priority piece of the San Francisco Bicycle Coalition's Connecting the City campaign for continuous crosstown bikeways. The plan was roundly praised by neighbors and is sparking interest in new ways to transform the streets into better places for walking, talking, and cycling.
"The residents will benefit from improvements by being respected as human beings," said Stuart Chuang Matthews of Fix Fell, an activist group which took direct action last year, calling for the closing of the Arco gas station driveway that encourages drivers to line up in the bike lane and endanger riders.
A physically separated bikeway plan that re-purposes travel lanes [pdf] could help solve the bike lane issues and have a major traffic-calming effect while reducing crossing distances for pedestrians. If it happens, the transformation could be one more step forward in the decades-long fight to return the residential freeways to places for people who live on them.
"They will be able to walk safely and breathe fresh air outside of their homes," said Matthews. "They will be spared stressful traffic and honking noise while trying to relax inside. Their children will be able to play outside."
"These are basic human rights issues."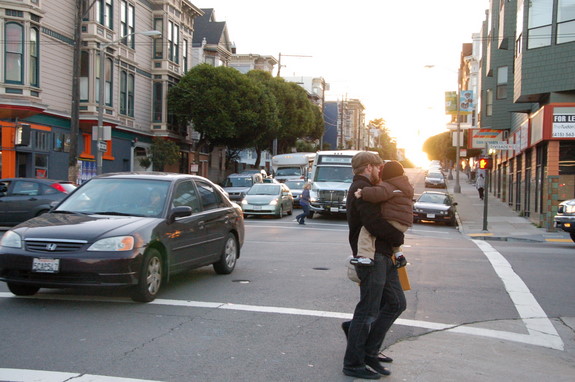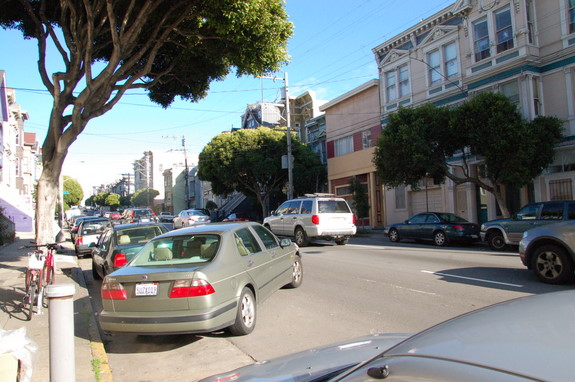 Aaron was the editor of Streetsblog San Francisco from January 2012 until October 2015. He joined Streetsblog in 2010 after studying rhetoric and political communication at SF State University and spending a semester in Denmark.
Stay in touch
Sign up for our free newsletter