Transit
Tech Solutions for Transit Emerge at TransportationCamp West
1:04 PM PDT on March 23, 2011
The potential for technological solutions to today's urban transport challenges was the theme last weekend as bright minds melded ideas at TransportationCamp West, an "unconference" of participant-led discussions held in San Francisco.
"We're trying to bring together people from the tech world and people from the transportation world to think outside of their traditional comfort zones, to share new approaches, to talk about tools, to talk about social and equity issues around transportation," said Frank Hebbert, community planning tools product manager at OpenPlans, which organized the event and is the parent non-profit of Streetsblog.
Transportation planners, advocates, and "data geeks" came from around the country to discuss "where tech and information can support some of those goals," he said.
Discussion topics ranged from how to improve paratransit efficiency, to promoting a positive image of public transportation, to making transit information more widely accessible. Local transit agency officials from the SFMTA, BART, AC Transit, SFCTA and the SF Planning Department formed connections with innovators around "using information to make better software, and ultimately, a better society," said Hebbert.
Excited participants eager to move the discussion on transportation solutions came from around the Bay Area and around the country. Many OpenPlans staffers made it all the way in from New York, where East Coasters converged for TransportationCamp East earlier this month.
Hayley Richardson made the trip down from Seattle, where she works in transportation demand management for the suburban city of Bellevue. "To be frank, I had been feeling rather lonely lately - I work in a city that's very auto-focused," she said. "I wanted a weekend to come and get re-energized and excited about what I do and the possibilities of technology in bringing down the barriers to public transportation use and getting people pumped about other choices besides driving alone."
One discussion, led by Google designer Adam Baker, sought ideas for an iPhone app that would facilitate street life. Participants began by listing the qualities of a street they saw as essential to vitality, forming categories such as "open stores," "community pride,""serendipity," "seating" and "human scale."
Through a deductive process, several creative ideas were presented, including an app that would help streamline the permit process for temporary street uses (think Park(ing) Day), as well as a "Friendly City" app that would help nearby strangers engage in various ways. In the end, Baker crowned an app that would allow users to virtually "graffiti" walls through augmented reality as the most promising idea.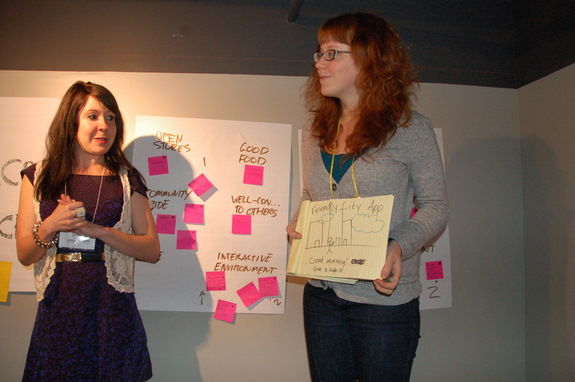 "In this case, I was looking for mass appeal," said Baker. "When it comes to street life, it's about engaging everyone, not just one particularl group of users. So something that's more or less immediately understandable and would likely be accessible to people of different groups, of different ages, is the idea I'd be looking for."
Immediately after, another discussion formed around the more pressing issue of equitable access to transit information. Participants brainstormed a policy platform that would incentivize info technology developers to provide access to transit information to disadvantaged communities without access to mobile devices.
Mjumbe Poe of Code for America, an organization dedicated to using technology to benefit communities in need, suggested forming legislation to require efforts on the part of developers to ensure equitable dissemination of information.
"Start doing research, or look at what research there is out there, on what the needs are of people in underserved communities," he said. "Talk to people, do interviews. Figure out how the ideas [from the American Disabilites Act] can be translated into other ways to help those with difficulty in access."
The discussion concluded with the group forming a contact pool to develop an initiative to campaign for legislation. With a total of 64 similar sessions held on Saturday alone, the volume of networks formed and the potential impact they could have seemed promising.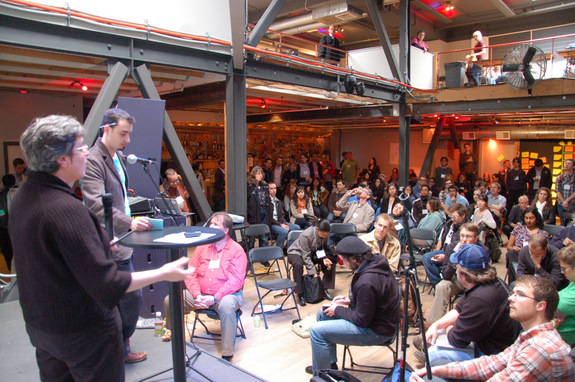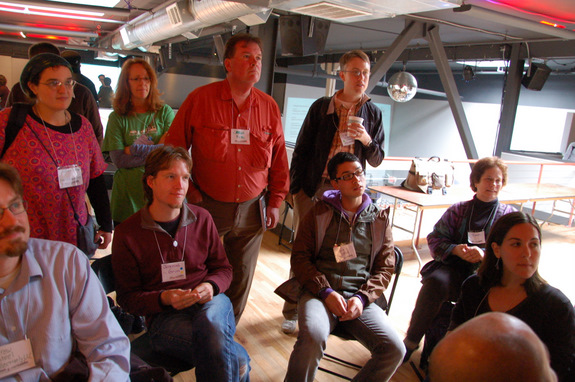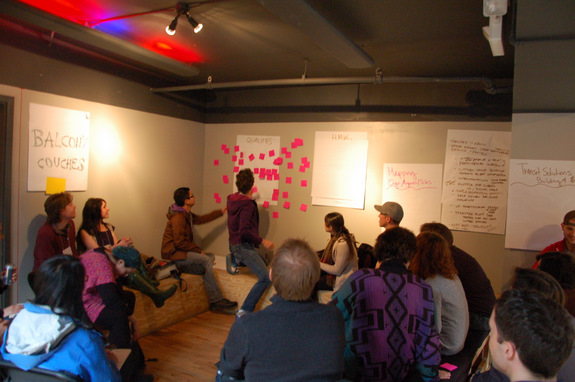 Aaron was the editor of Streetsblog San Francisco from January 2012 until October 2015. He joined Streetsblog in 2010 after studying rhetoric and political communication at SF State University and spending a semester in Denmark.
Stay in touch
Sign up for our free newsletter