America's Cup
'People Plan' Could Speed Bike, Ped, Transit Improvements on Embarcadero
1:57 PM PDT on April 1, 2011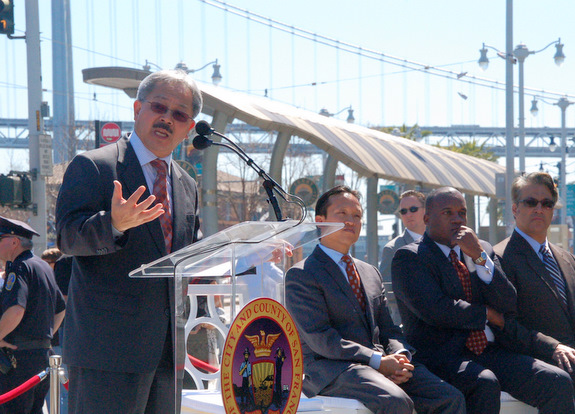 San Francisco Mayor Ed Lee has unveiled the People Plan [pdf], a document laying out strategies to meet the quickly approaching challenges of bringing hundreds of thousands of visitors to the city's waterfront for the 2013 America's Cup yacht race.
Transit advocates see it as an opportunity to boost sustainable transportation and build out some long-term improvements that will benefit transit and bike riders and pedestrians on the Embarcadero.
"Whatever we do, whatever we build, whatever we improve, has got to be an improvement that benefits all San Franciscans for future generations to come," said Mayor Lee. "We're looking at transportation and the infrastructure that we invest in with a future that will not only handle the 200,000 people a day, the millions of people that come here, but will benefit our city in the long run."
A new sense of urgency should compel city agencies to implement changes prioritizing transit, bicycle, and pedestrian trips to the Embarcadero if the city is to avoid inundating the streets with gridlocked private automobiles during the series of events. The initial draft of the People Plan outlines how that could be done.
It recommends fast-tracking improvements such as an extension of the F-line to Fort Mason, the creation of a bike sharing system and secure parking stations, the transformation of Fisherman's Wharf with the Public Realm Plan, and new wayfinding signs for biking and walking routes. An evaluation of bike lane improvements along the Embarcadero, as well as prioritizing other projects in the Bike Plan, are also listed.
"This event is not only going to have a big impact on the waterfront, but we've also got to make sure roads going to and from the waterfront are inviting, comfortable, and convenient for people on bike, on foot, and on transit," said Andy Thornley, program director of the San Francisco Bicycle Coalition. He noted that much of the bike improvement suggestions came from the Mayor's Office without any urging from advocates.
Short-term strategies include increasing Muni frequency along key routes as well as restricting automobile access to create temporary bus-only lanes. The city could get a taste of bus rapid transit with protected transit lanes and limited stop service along the Van Ness corridor.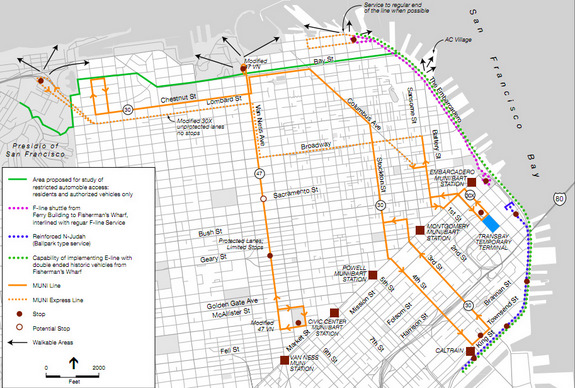 Gabriel Metcalf, the executive director of the San Francisco Planning and Urban Research Association (SPUR), has urged the city to take full advantage of the opportunities presented by the America's Cup. Among SPUR's recommendations is a two-way bikeway proposal called "Embikeadero."
"The [People Plan is] a good start, but I hope by the end of the process we find a way to get some more long-term public transit benefits as a result of this effort," said Metcalf. "I hope we come up with a way to run real E-line service along the whole Embarcadero, not just temporary service. I also hope we extend the E/F-line to Fort Mason and leave a legacy from this event that will benefit us for generations."
On top of improving the main connections for bike access to the waterfront on Market and Polk Streets, Thornley highlighted the need to look at new possibilities for expansion of the city's bicycle network. "Battery and Sansome are very exciting opportunities to make wonderful bikeways to bring people from Market Street to the waterfront and back," he said. "A little bit of effort there, and we could have some really great bike corridors."
Although the main America's Cup events will take place in 2013, a series of initial races will start in 2012, raising the level of urgency and providing opportunities to experiment with traffic changes, noted Thornley.
"Right now, we've already sort of begun having these kinds of trials with Sunday Streets," he said.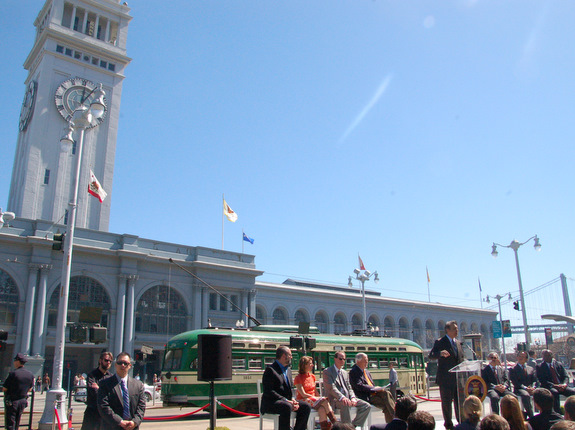 Aaron was the editor of Streetsblog San Francisco from January 2012 until October 2015. He joined Streetsblog in 2010 after studying rhetoric and political communication at SF State University and spending a semester in Denmark.
Stay in touch
Sign up for our free newsletter