Pedestrian Safety
SFMTA "Daylights" Crosswalks to Improve Pedestrian Visibility
3:09 PM PDT on May 16, 2011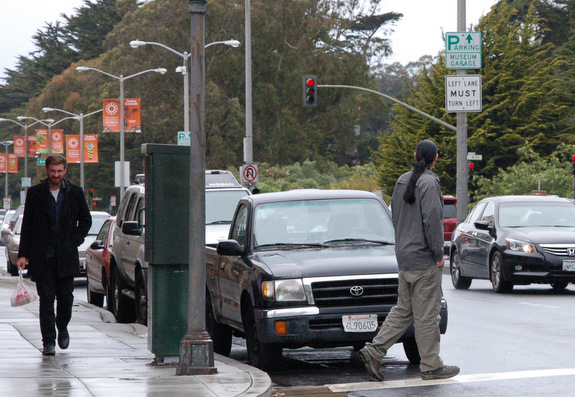 Making eye contact with a driver while walking across an intersection is important, but what if a driver's line of vision is obscured by cars parked within a few feet of a crosswalk?
"There have been times when people make the turn really quickly and they don't see you and don't have enough time to stop," said Ryan, an Upper Haight resident, as he walked home along Lincoln Way from his job in the Inner Sunset.
"I see street corners all the time that are blocked by cars that make it really hard for folks to know if they can cross safely," said Walk SF Executive Director Elizabeth Stampe. "It also makes it hard for drivers to know if there are pedestrians waiting to cross."
The conditions are common at many San Francisco intersections but the San Francisco Municipal Transportation Agency is trying to change that with a relatively simple solution known in the transportation world as "daylighting". The pedestrian safety measure involves removing the most hazardous car parking spaces closest to crosswalks.
"Daylighting is an excellent low-cost strategy to help drivers and pedestrians see each other and make our intersections safer," said Stampe. As one of the lowest-hanging fruits in the toolkit for safer streets, it requires only the funds and local outreach needed to paint parking-prohibited red curbs.
The city's Better Streets Plan (BSP), adopted last year, states that parking should be prohibited at a minimum of 10 feet from crosswalks, and the California Manual on Uniform Traffic Control Devices includes similar recommendations. However, outdated and short-sighted practices have left street users exposed to the dangers of allowing stored private automobiles to block visibility at intersections.
"In San Francisco, due to limited on-street parking supply and high demand, the practice has been to allow parking up to intersections unless there are location-specific grounds for parking removal," says the BSP.
"The new 10-foot minimum guideline will be implemented on a case-by-case basis as resources allow. Priority should be given to intersections with safety issues, existing project locations, and locations where staff is conducting safety reviews," it says.
SFMTA spokesperson Paul Rose provided a list showing 61 intersections where the SFMTA's Livable Streets Divison has made improvements "in addition to the red zones and crosswalk enhancements that SFMTA's Traffic Operations group routinely installs in response to public requests and engineering surveys."
The list primarily includes dangerous expressways like Lincoln Way and Fulton Street bordering Golden Gate Park, Geary Boulevard, Alemany Boulevard, as well as Taraval and Noriega Streets in the Sunset and Mission Street.
"These locations were prioritized because they are on multi-lane or arterial streets, and may have speed limits of 30 mph or more," said Rose.
"For most locations, we have also converted the existing marked crosswalks to continental or 'ladder style' and added yield markings and signage to further enhance pedestrian visibility and motorist yielding," he added.
The projects could remove the dangerous element of surprise that's so often present crossing the streets by any mode of transport.
"Let's get them out there, and let's get them out there quickly," said Stampe, highlighting the possibility for the valuable space at street corners to be used for other amenities. "Could we see planters, bike corrals and other traffic calming measures on these corners in a way that doesn't clutter the sidewalk further?"
Without such additions, daylighting can actually backfire if not planned carefully.
"The whole idea of effective traffic calming means narrowing a street," said Stampe. "I want to make sure that we make it safer and not more dangerous in some ways. Sometimes after clearing away these obstacles, people think they can drive faster, and that would be counterproductive."
Aaron was the editor of Streetsblog San Francisco from January 2012 until October 2015. He joined Streetsblog in 2010 after studying rhetoric and political communication at SF State University and spending a semester in Denmark.
Stay in touch
Sign up for our free newsletter