San Franciscans are dreaming big as Market Street's transformation approaches in 2015, when the city's most important street is scheduled to be redesigned and repaved. City planners are engaging with citizens to answer a century-old question: How can we make Market Street the glorious thoroughfare that it needs to be?
Better Market Street, a collaborative project of five city agencies, has held public meetings and webinars the past two weeks to field input from people who walk, bike, ride transit, and even drive along the street. The effort is being informed by a large swath of research brought to the table by city staffers, which is now available on the Better Market Street website.
"Market Street is San Francisco's civic backbone, connecting water to hills, businesses to neighborhoods, cultural centers to recreational opportunities," the site's about page states. "The movement of people and goods, from the very earliest times, has dominated its design and use. But Market Street needs to be more than a transportation route. It needs to be the city's most vibrant public space and many San Franciscans feel it falls far short of this ideal."
Block-by-block, hour-by-hour data documenting the urban environment were collected by researchers to help inform input from attendees at recent workshops. Researchers note everything from fluctuations in pedestrian and bicycle traffic along the street, to the conditions plaguing its extremely high volume of transit trips, to the placement of trees and how the usage of plazas is impacted by the sun and wind. Comparisons and best practices from major streets abroad help put it all in perspective.
"The BMS Project is expected, at a minimum, to result in a major revitalization effort, with plans for a number of strategic and significant public space improvements," the project materials explain. "These improvements will be supported by sustainable urban design and mobility principles that facilitate promenading opportunities and an enlivened sidewalk life; reliable and efficient transit service; and a safe, comfortable and appealing bicycle facility along its entire length."
The project is an effort led by the Department of Public Works along with the SF Municipal Transportation Agency, the Planning Department, and the Office of Economic and Workforce Development, among others.
One of its highest priorities is to make Lower Market more inviting to people who will want to spend more time along all of the street throughout the entire day.
Walking is already the predominant use of the street, making up nearly half of all trips, according to the research. But pedestrian volumes were found to vary drastically throughout different areas, different times of day, and for different seasons. While the mornings and afternoons see commuters fill sidewalks in the Financial District and weekend shoppers swarm the retail district, they stay relatively empty west of Seventh Street.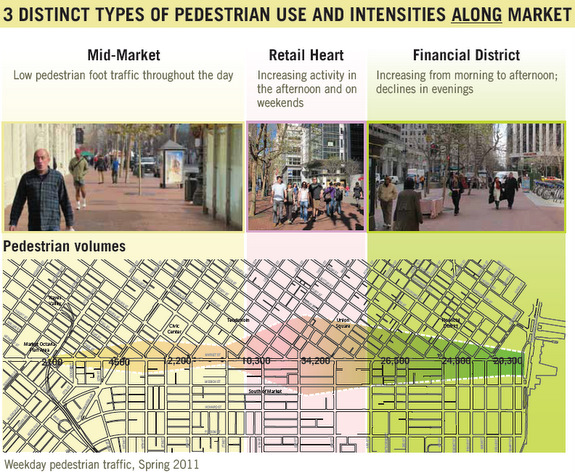 That low level of activity can inhibit a sense of "urbanity" and contribute to a feeling of insecurity, researchers found. Most people who do walk or linger on Market are just passing through or waiting for a bus.
The public spaces along Market lack certain features needed to promote healthy pedestrian activity, and "gathering spaces and edges that activate the street" such as cafes, public seating, and storefronts within a comfortable distance of pedestrians, are key to reaching that goal, say researchers.
In many of the open space destinations along Market, lingering is limited to weekends and events, according to the research, and Market Street is the city's regularly chosen stage for civic parades and celebrations. But on most days, many of its public plazas suffer from design flaws such as a "lack of differentiation from the street" and "visual and physical barriers to the majority of the occupiable space".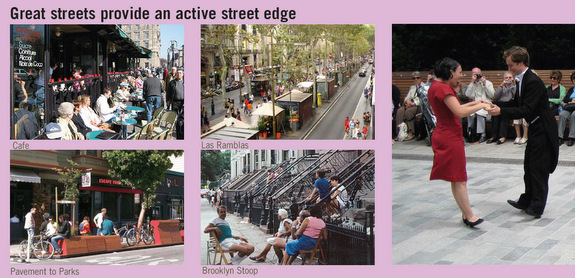 Much of the pedestrian activity that does happen seems to be connected with transit use. Of all transit boardings in San Francisco, Market Street hosts nearly a quarter, carrying one-third of all Muni lines and most BART lines for a total of 250,000 daily boardings. On the surface of the street, buses and streetcars pass at an average of every 40 seconds at peak times, yet they travel "relatively slowly" at 4 to 8 mph despite the traffic lights being timed for an optimal 11 mph.
The thoroughfare has seen a sharp growth in bike usage over the past few years, notes the research, with bikes outnumbering cars three to one at rush hour. But project members say they would like to see that ridership grow beyond the predominantly male, commute-based traffic.
The growth seems to have partly resulted from a "safety in numbers" snowball effect, although separated green bike lanes west of Eighth Street seem to help. But hazards like neglected pavement, turning motor traffic and incomplete bike lanes are well-documented deterrents, and a continuous separated bikeway was a markedly high priority in workshop attendee responses.
The disproportionate impact of private autos on all uses of Market Street has been a concern shared by many, but the data makes a strong case for doing away with cars on Lower Market altogether.
Up to 85 percent of the car traffic at intersections is crossing Market Street, rather than traveling along it, according to the research. The majority of the relatively few cars that do use Market are traveling only two blocks "circling around looking for parking." Meanwhile, the 30,000 spots provided to store automobiles in garages and parking lots within one-quarter of a mile of the street sit underused: city-owned garages average 45 to 73 percent of their capacity.
Going car-free could be crucial in designing a truly unique grand boulevard for the city that invites people from all over to experience it every day.
The Better Market Street Project is accepting community input via a survey on its website. Two more workshops are expected to be held in September and November 2011.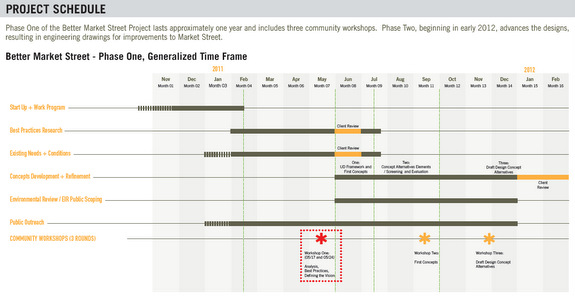 Aaron was the editor of Streetsblog San Francisco from January 2012 until October 2015. He joined Streetsblog in 2010 after studying rhetoric and political communication at SF State University and spending a semester in Denmark.
Stay in touch
Sign up for our free newsletter