Bicycle Safety
Mayor, SFMTA, Walk SF Announce First 15 MPH School Zone
12:15 PM PDT on August 18, 2011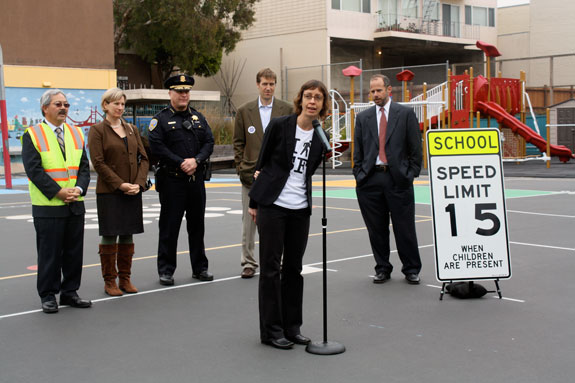 San Francisco became the first large California city to implement a 15 mph speed zone around a school this morning, as SFMTA workers installed one of four signs that will go up around George Peabody Elementary School on 7th Avenue in the Richmond District. It's part of a groundbreaking citywide initiative pushed by walking advocates to implement safe speed zones around 200 schools, and comes right as the school year is beginning this week.
"It's really a very simple issue. Kids need to be able to get to school, to leave school and to have any other interface between the school and the street happen safely," said SFMTA Chief Ed Reiskin, who started his job as the head of the agency on Monday. He was joined by Mayor Ed Lee, SFPD Chief Greg Suhr, Supervisor Eric Mar, walking and biking advocates, SFMTA officials, San Francisco Unified School District officials and others.
"It's verified that the streets and areas around our schools are dangerous, that they need to be slowed down," said Lee. "It's been shown in study after study, and the last one that we looked at was in London, and it showed that when you slow down, even a fraction of the speed, you can get a high increase in safety and a reduction in the amount of fatalities that result from a car collision."
Lee said the signs, funded by $361,700 in Prop K sales tax funds from the San Francisco County Transportation Authority, should be in place at all schools in San Francisco by early 2012.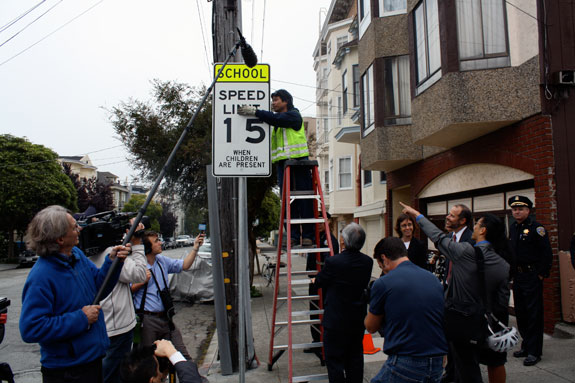 The 15 mph campaign is a victory for the pedestrian advocacy group Walk San Francisco, which has been relentlessly pushing the issue for some time.
"We're here today to establish these speed limits because the thing is, speed kills. If you're hit by a car that's going 30 miles an hour you're six times more likely to be killed than if that car is going just 10 miles an hour less, 20 miles an hour," said Walk SF executive director Elizabeth Stampe. "Establishing these safe speed zones around our schools will make it safer not only for kids to walk to school, but for everybody."
Stampe said the new speed zones will help make the streets safer for children at a time when the SFUSD has been forced to cut its transportation budget by 44 percent and significantly scale back yellow school bus service. More and more parents, she said, will need to find alternate transportation for their kids. In addition, new school reassignments will have more children going to neighborhood schools, which means they are close enough to walk, or bike.
SFUSD officials said they are working on boosting programs to get more kids to walk and bike to school as part of the Safe Routes to Schools program. Lee said the safe speed zone program will include education for drivers and stepped up enforcement by the SFPD.
"A couple of weeks ago, I was present when the young Phillies fan was hit by a car. Nothing impacts a person more than an injured child, especially as serious as that was, and it was so unnecessary," said Suhr. "This speed limit will go a long way toward keeping the kids safe, and the enforcement will be strict. It's a very expensive citation, but it's one that if you're putting the kids in jeopardy will be well deserved and will be given. Please, slow down around schools, no electric devices, no texting, avoid the ticket."
The SFMTA recently legislated the first batch of 15 mph school zones, and another list is scheduled to go before an SFMTA engineering hearing tomorrow prior to proceeding to the SFMTA Board in the next few weeks.
"I think these signs and the community education that the police department and all of the city family will be working on in the 200 different schools and sites will help save lives," said District 1 Supervisor Mar.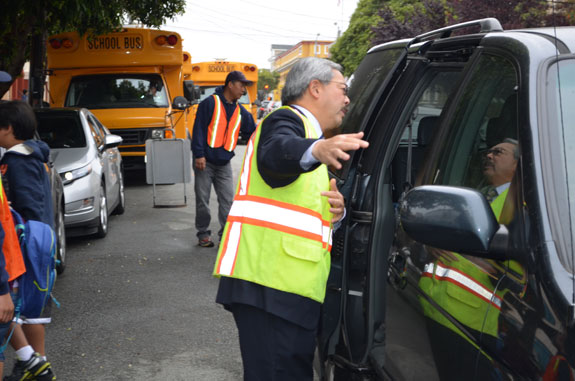 Bryan Goebel is a reporter at KQED Public Radio in San Francisco. A veteran journalist and writer, he helped launch Streetsblog SF in 2009 and served as editor for three years. He lives car-free in the Castro District.
Stay in touch
Sign up for our free newsletter