Muni
SFMTA Board Approves Two-Way Haight Street Project
9:55 AM PDT on October 19, 2011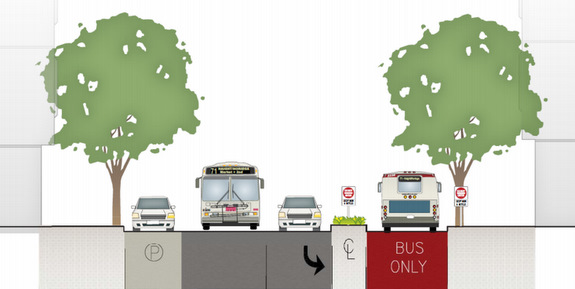 The San Francisco Municipal Transportation Agency (SFMTA) Board of Directors yesterday unanimously gave the green light to a project that will convert the easternmost block of Haight Street to two-way bus operation.
When constructed in 2014, the project is expected to improve transit reliability for the roughly 20,000 daily riders on the 6 and 71 Muni lines by eliminating unnecessary detours that delay buses behind congested car traffic.
The current experience on the 71, said SFMTA Director Joél Ramos, is a "long and painful ride."
"I take offense at people who have guffawed at the 3-minute savings," he said. "When you've got a bus load of people, that's 60 people times 3 minutes each. That turns into hours which quickly turns into days of time for people that are late to work, away from their families, and these are people that are doing the right thing by not driving and getting out of our cars in this transit-first city."
Britt Tanner, the head of the project for the SFMTA, addressed fears voiced at the hearing by several committed detractors of the project who live on the affected blocks. They contended that the change will add danger to the intersection of Market, Haight, and Gough Streets, which buses will cross in the opposite direction under the redesign.
"This project actually has many safety improvements included in it," said Tanner, citing sidewalk bulbs, pedestrian signals, pedestrian refuge islands, and crosswalk realignments. She also noted that vehicle crashes at the intersection have dropped 75 percent in recent years after traffic signal improvements were made.
The redesign will convert a car parking lane on the south side of the easternmost block of Haight to an eastbound bus-only lane. That arrangement was based on community concerns raised at workshops over inviting unwanted vehicle traffic to use the new cut-through to Market Street.
But removing one of the westbound traffic lanes instead would further improve safety, said Livable City Director Tom Radulovich and Walk SF Executive Director Elizabeth Stampe, who otherwise voiced their support for the project.
"The street actually has effectively been widened," said Stampe. "It's an interesting idea that that could be changed back - having parking along the south side can provide a buffer for pedestrians from moving traffic."
Aaron was the editor of Streetsblog San Francisco from January 2012 until October 2015. He joined Streetsblog in 2010 after studying rhetoric and political communication at SF State University and spending a semester in Denmark.
Stay in touch
Sign up for our free newsletter