George Gascon
Will DA Gascón Reform the Double Standard for Drivers Who Kill?
4:37 PM PST on December 20, 2011
At least 13 pedestrians have been killed on San Francisco streets this year, all but one of them by motor vehicle drivers. The toll is all too typical for the city, as is the fact that most of those drivers won't face prosecution.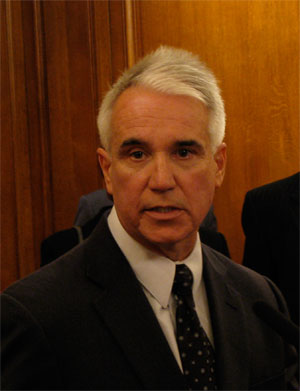 Last month, District Attorney George Gascón seemed to employ a tough new standard when he filed misdemeanor vehicular manslaughter charges against Randolph Ang, the first bicycle rider to kill a pedestrian in the Bay Area in at least five years. The exceedingly rare event drew a tidal wave of media attention and calls for stricter traffic enforcement of people on bikes, and it was followed by targeted police stings on Market Street.
Ang, who hit and killed 68-year-old Dionette Cherney in July when he ran a red light on the Embarcadero at Mission Street, now faces up to a year in jail due to "ordinary negligence that resulted in the tragic death of a pedestrian," according to the DA's office.
"The District Attorney's Office takes seriously any case where criminal conduct is the cause of an injury or fatality," read the statement. "Before our office files charges on any cases, we need all the evidence and information regarding criminal conduct to build a strong prosecutable case."
However, the DA does not usually seem to take "ordinary negligence" seriously when it's careless driving that causes a pedestrian fatality. The vast majority of the drivers who killed pedestrians this year -- 11 of 12 -- have not been known to face any charges, though there are signs that could begin to change.
Gascón, who was appointed DA in January, indicated late last month that his prosecution of Ang might be followed by stronger policies to hold deadly drivers accountable. He announced that three drivers could be prosecuted for recent pedestrian deaths, and he's followed through with one of them so far. Gregg Wilcox, the driver who killed William Cox at 14th an Noe Streets in September, was charged last week with misdemeanor vehicular manslaughter because he was driving while wearing a leg cast, said DA spokesperson Stephanie Ong Stillman.
The Muni driver who killed 23-year-old Emily Dunn in the Castro could also still face charges along with the UCSF shuttle driver who caused the death of Dr. Kevin Mack, a passenger who was killed in a crash with a big rig the day before Ang's crash, Stillman said.
Shaana Rahman, a lawyer who represents victims of traffic crashes in civil court, explained that injuring or killing a pedestrian due to negligence has traditionally been categorized as a civil offense rather than a criminal offense, which requires "intent to harm."
"What I have seen in my practice is unless there's an issue where a driver or cyclist is under the influence of drugs or alcohol or driving recklessly and willfully, such as drag racing or something of that nature, by and large there are no criminal charges filed against folks who injure other people in those situations," she said. Regarding the criminal charges against Ang, she added, "In this situation, with this particular bicyclist where you don't have those aggravating circumstances, it seemed unusual to me."
When it comes to protecting pedestrians in San Francisco, the DA's decision to prosecute Ang, but not most drivers who kill, doesn't square with the gravest risks out on the streets. While 811 people were injured by drivers last year, just 18 were injured by bicyclists, according to police records. Only 7.4 percent of crashes involving bicycles in the last five years have involved pedestrians, according to the Bay Citizen.
A 2010 SFMTA report [PDF] found that the largest cause of pedestrian injury in 2008 was failure by drivers to yield to pedestrian right-of-way, accounting for 41 percent of cases.
"There's basically been no penalty for endangering others when you drive," said Walk SF Executive Director Elizabeth Stampe. "That's what we're hoping to see change."
Gascón's announcement that he will look into prosecuting dangerous drivers could be a step in that direction. For now, though, charging drivers who kill (at least those who aren't intoxicated, flee the scene, or claim they didn't see the pedestrian) remains about as rare as a bicycle rider killing a pedestrian.
The DA's office could not provide data on how often drivers are prosecuted for killing pedestrians, but a quick glance at cases from earlier this year reveals the type of deadly negligence that typically carries no consequences. The DA did not file charges that we know of in these cases despite reports that indicate that each driver failed to yield to a pedestrian in a crosswalk:
The crane driver who killed 71-year-old Lourdes Richman at 2nd and Townsend Streets in March
The driver who killed 87-year-old Aurora Venida the same week, while she was crossing Geary Boulevard at Arguello
The driver who critically injured a woman in her 50's at Park Presidio and Anza in February
"We think it's clear that these crashes could've been prevented," said Stampe. "We think it should go through the process of the police and the DA's office looking at what happened, and deciding to charge on a case-by-case basis."
Is Gascón getting serious about driver recklessness and negligence? Rahman thinks the DA's recent pronouncements could indicate "a fundamental shift in the punishment aspect of drivers who, in all other circumstances, would be seen as negligent drivers."
"Criminal charges are important to deter certain behavior," she said, and with so many cases of negligent drivers who kill or injure other people, "he's going to have his hands full."
Edited at 9:18 pm to show that the total number of pedestrian deaths reported this year is 13.
Aaron was the editor of Streetsblog San Francisco from January 2012 until October 2015. He joined Streetsblog in 2010 after studying rhetoric and political communication at SF State University and spending a semester in Denmark.
Stay in touch
Sign up for our free newsletter