Bicycle Infrastructure
SFMTA Delays Fell and Oak Bikeways to Spring 2013 to Create More Parking
1:43 PM PST on January 20, 2012
Separated bikeways on Fell and Oak Streets won't come until spring 2013 at the earliest, nearly a year later than originally proposed, the SFMTA told Streetsblog today.
SFMTA planner Dustin White said the delay largely comes from opposition from some car owners to the removal of curbside parking, which is leading staff to create more parking spaces on nearby streets as it plans the bikeways.
"We have started to receive feedback opposing the parking removal, and I anticipate that developing parking mitigations will be one of the most difficult aspects of building community support for the project," said White. Before presenting a proposed design this spring, staff will be "working on refining intersection design options and seeking mitigations to the proposed parking loss" and fielding input from bicycle, pedestrian, and disability advisory committees, he said.
Although SFMTA Sustainable Streets Division Planner Mike Sallaberry said last June that the project could be fast-tracked as a trial and be on the ground as early as this June, White claimed the project was actually ahead of an original target of fall 2013 officially set in a funding grant document approved by the SF County Transportation Authority (SFCTA) [PDF]. "We don't think the environmental review process will take as long" as originally envisioned in the SFCTA document, he said.
On top of environmental review, staff must complete detailed design, legislation, and acquire funding for construction before implementation, said White.
The bikeways, which would vastly improve a vital bicycling link on three blocks between the Wiggle route and the Panhandle, would replace up to 80 parking spaces depending on which design alternative is chosen. However, about 120 paid parking spaces were opened to the public last year at the adjacent lot at the Department of Motor Vehicles, and the city has a nearly forty-year-old Transit First Policy which generally says safe bicycle access should take precedence over car storage.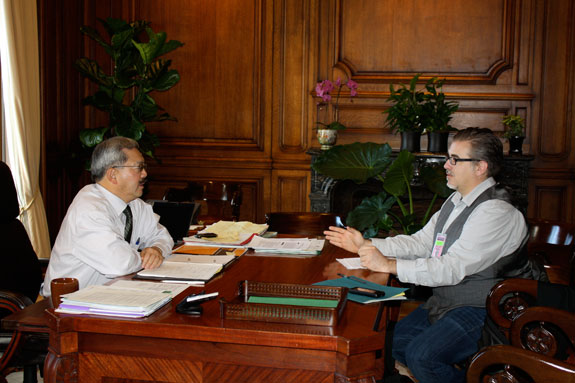 While Mayor Ed Lee's administration continues to let complaints from car owners impede safety improvements to city streets, San Francisco is falling farther behind cities like New York and Chicago when it comes to 21st Century bike infrastructure. New York has implemented about twenty miles of on-street protected bikeways in recent years; in no instance has the city delayed a project to make up for the loss of on-street parking. In Chicago, Mayor Rahm Emanuel installed the Kinzie Street protected bikeway just days after entering office and plans to add 100 miles of protected bike lanes within four years.
The San Francisco Bicycle Coalition is urging supporters to call on Lee and SFMTA Director Ed Reiskin to take a stand behind the long-overdue project and implement it with haste in pursuit of the city's official goal of reaching 20 percent of trips by bike by 2020.
"A safe separated bikeway on this key biking corridor can't wait," said SFBC Executive Director Leah Shahum. "We are urging the city to move this project forward more quickly, and ensure the safety of the thousands of San Franciscans who use this crosstown route daily."
Aaron was the editor of Streetsblog San Francisco from January 2012 until October 2015. He joined Streetsblog in 2010 after studying rhetoric and political communication at SF State University and spending a semester in Denmark.
Stay in touch
Sign up for our free newsletter