Embarcadero
Planning Commission OKs Parking-Saturated Condo Project at Embarcadero
3:47 PM PDT on March 23, 2012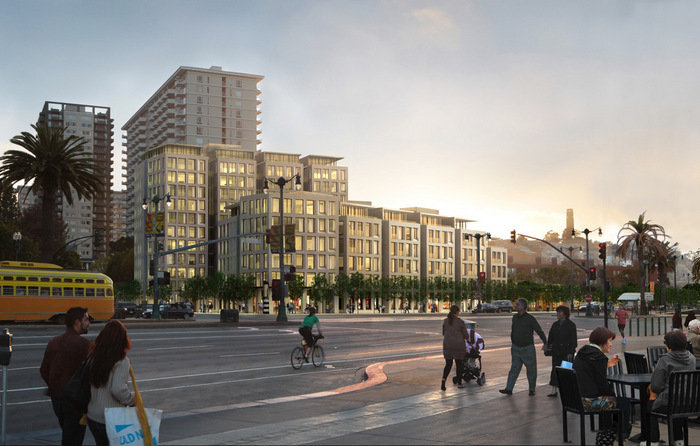 A luxury waterfront condo and parking garage development is on its way to the central Embarcadero, even though it would add three times the number of residential parking spaces allowed by law, plus 255 public spaces, to one of San Francisco's most transit-rich destinations.
The SF Planning Commission approved the environmental impact report for the 8 Washington Street project in a 4-2 vote yesterday after a joint hearing with the Recreation and Parks Commission that lasted seven hours. The project must still be approved by the Board of Supervisors.
The garage would include a parking spot for each of the 145 units (three times what the planning code permits) and 255 public spaces, which the Port claims are needed to replace other nearby parking being removed. The project would bring some park space and pedestrian enhancements, but the enormous underground public parking garage will wipe out any benefit by serving as a magnet for car traffic in an area that already caters too much to the automobile, even after its revitalization following the removal of a freeway.
"We think it's a terrible idea," said Livable City Director Tom Radulovich, who argues the area already accommodates excessive amounts of car parking given its proximity to multiple downtown transit options. "With the exception, maybe, of Midtown Manhattan and the Chicago Loop, I can't think of a place in the United States that has got more transit service."
8 Washington will be located within walking distance of numerous neighborhood amenities and transit lines, including Muni light rail and BART stations. Radulovich also noted that future transit projects like high-speed rail are poised to make it an even more ideal spot for reliable car-free travel.
Jonathan Stern, the Port's director for waterfront development, argued to the Planning Commission that the parking is needed for Ferry Building customers who drive to "carry large objects" and who compete with driving commuters for spots, also noting that the underground garage will be "out of sight." The Port says that 961 parking spaces within a 15-minute walk of the building, including the 105-space parking lot currently located on the 8 Washington site, have recently been removed or will be removed in coming years.
Advocates who've looked at the numbers say the Port's parking supply analysis is severely flawed. Existing parking garages and lots in the area are poorly utilized, according to Radulovich, who says that more than enough parking would be provided by converting underused commuter parking spaces to short-term parking for Ferry Building visitors who drive, though that could be challenging to do in private garages.
"The Port's taken this position that the high watermark of parking, the maximum number of historic parking spaces, is the natural or logical number of parking spaces," said Radulovich. "We think that's kind of a bogus approach."
A 2005 study [PDF] by the SF County Transportation Authority found that despite "a perceived shortage" of parking in the area, off-street lots and garages were occupied at a rate of just 21 percent and on-street parking 70 percent. "This could be because some garages are less visible or in areas that less familiar to tourists," the study says, "which implies that better driver information systems, even just better signage, would improve the parking situation today." It also noted that luring drivers into garages with comparatively lower prices, as the SFPark program is currently doing, would help optimize use of the existing parking.
As for 8 Washington's residential parking, the developers argue that building nearly three times as many spaces as permitted is justifiable because the parking ratio is similar to the regulations for a nearby district. They propose to mitigate the impacts with public realm improvements like park space and new pedestrian connections to the waterfront. City agencies like the Port will also benefit from substantial fees and taxes on the property.
Planning Department staff seems willing to let the exception slide, recommending only to reduce the number of spots to 126. But there was some dissent on the Planning Commission: Cindy Wu and Hisashi Sugaya voted against approving the EIR.
"The question is, 'Why? What is the overriding public good?" said Wu. "I know there is a park, or an open space considered on part of the site, and that they're paying into the fees of the city, but I feel like what is being asked and what kind of public good is being given -- they don't match for me."
"If it's so transit-rich as [the sponsors] are trying to present to us," said Sugaya, "then why are we having one-to-one parking?"
Radulovich also pointed out that the walkability of the neighborhood around 8 Washington is a huge part of what makes it such an attractive site, even to the very rich who can afford the new condos and who the Port assumes will need to store their cars on-site. "The fact that it's luxury housing doesn't necessarily mean we have to throw out our goals around sustainability and around transit-first," he said. "[In] Midtown Manhattan, not everyone who lives on Park Avenue has to own their own car."
"I think a lot of people would take issue with [the notion] that if it's housing for the super-rich, there ought to be a different set of rules," he added. "No, there shouldn't be."
Aaron was the editor of Streetsblog San Francisco from January 2012 until October 2015. He joined Streetsblog in 2010 after studying rhetoric and political communication at SF State University and spending a semester in Denmark.
Stay in touch
Sign up for our free newsletter