Pedestrian Safety
DA Gascón Erroneously Blames the Victim in Most Pedestrian Fatalities
2:55 PM PDT on June 21, 2012
SF District Attorney George Gascón told reporters today that the reason so few drivers are charged in pedestrian injuries and fatalities is that "in the majority of those cases, unfortunately, the pedestrian has been the one deemed to be at fault."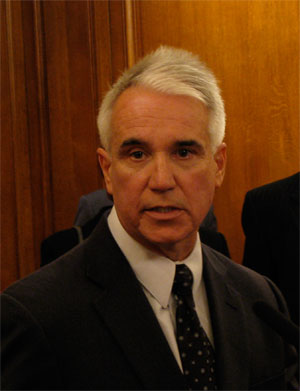 "That's why I keep saying, and I will keep saying it again, and again, and again: The rules of the road apply equally to everyone, whether you're driving a car, riding a bicycle, walking, or riding a skateboard -- it doesn't matter, a red light means that you stop," said Gascón.
However, according to a 2009 SFMTA collision report [PDF], the most recent one available, pedestrian violations "were determined to be the cause of about a third of the total vehicle-pedestrian collisions" in 2008, while "the plurality (42 percent) was caused by a violation of the pedestrian right-of-way on the part of the motorist."
The report also noted that "while driving at unsafe speeds is not a frequently listed primary collision cause for vehicle-pedestrian collisions, it can be a contributing factor both in causing collisions and in increasing their severity."
Even Chronicle columnist and former pedestrian victim-blamer C.W. Nevius recently conceded that "it is pretty hard to escape the conclusion -- it's the drivers' fault."
Furthermore, street safety advocates question the readiness to hold pedestrians to the same standard as the operators of fast, multi-ton vehicles. (As Peter Norton documented in his book Fighting Traffic, public attitudes toward pedestrian fatalities used to hold motorists accountable for such violence on crowded city streets; it was not until the 1930's that the concept of "jaywalking" was invented.)
"I guarantee you that we review every case closely, and if a motorist is wrong and they're violating the law, they will be prosecuted," Gascón said of the 876 pedestrians reported injured and the 17 killed in San Francisco last year. "We are prosecuting motorists that were not drunk, that were negligent, and that resulted in a death."
Gascón did recently break a longstanding pattern in San Francisco of not charging drivers who weren't drunk or caught fleeing the scene. He prosecuted three drivers and a bicyclist for lethal negligence in 2011 traffic fatalities. All of those charges were misdemeanors. Yesterday the DA filed felony manslaughter charges against Chris Bucchere for biking into and killing Sutchi Hui, but Gascón could not say whether any drivers might be charged in the other known deaths of six pedestrians and a bicyclist this year.
When asked specifically about the cases of Sena Putra and Robert Yegge -- both killed within the last month by truck drivers whom police deemed to be at fault -- Gascón said he wasn't aware of them. The difference between the Bucchere/Hui case is stark. Within three weeks of Hui's death, Gascón told the media that he "definitely" planned to file manslaughter charges against Bucchere.
The DA's office says they only prosecute cases handed off to the them by SFPD. On Monday Streetsblog asked for a list of pedestrian fatality cases presented to Gascón this year. The DA's office said it may take a few more days to complete in order to ensure accuracy.
Aaron was the editor of Streetsblog San Francisco from January 2012 until October 2015. He joined Streetsblog in 2010 after studying rhetoric and political communication at SF State University and spending a semester in Denmark.
Stay in touch
Sign up for our free newsletter