Bicycle Infrastructure
On the Horizon: A Car-Free Market Street With Raised, Protected Bike Lanes
10:37 AM PDT on June 21, 2012
Note: The Better Market Street Project will hold two public workshops on July 17 and 21, where you can provide feedback on the proposed concepts.
The future of lower Market Street seems more likely than ever to be unencumbered by cars, freeing up space for effective transit and raised, protected bicycle lanes.
The latest update [PDF] on the Better Market Street Project includes three possible scenarios to lessen the impact of private automobiles on Market, Department of Public Works Project Manager Kris Opbroek told the SF Municipal Transportation Agency Board of Directors this week. The proposals range from banning cars east of Franklin Street to using more forced turns to reduce through traffic. The scenarios that do allow cars could include car-free zones on pedestrian heavy blocks like the one between Fourth and Fifth Streets, Opbroek said.
The plan is being developed by a team of city agencies and design consultants who are drawing inspiration from the world's most celebrated streets. Among the design features under consideration, Opbroek said, are bike lanes separated from motor vehicles by a raised curb, which have been employed to great effect in the world's most successful cycling cities. (SF's first raised bike lanes are included in the plan for Masonic Avenue.)
The raised bike lanes were praised by board members, including Joél Ramos, who recently visited Copenhagen with SFMTA staff on a trip funded by the Bikes Belong Foundation. On Nørrebrogade, which Copenhagen claims as the busiest bicycling street in the Western world, Ramos said he saw how the lanes "work as a phenomenal placemaking opportunity" to help make the street "a thriving corridor."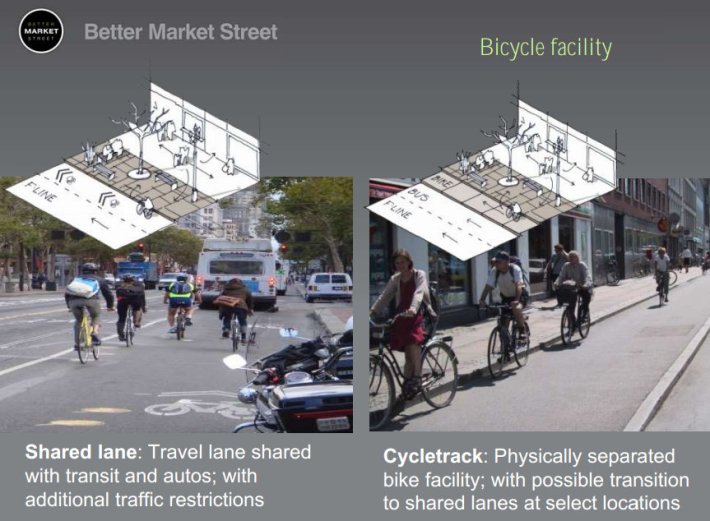 The need for protected bike lanes on Market was also stressed by D6 Supervisor Jane Kim at a meeting of the SF County Transportation Authority Plans and Programs Committee just a few hours before the SFMTA Board meeting. Kim opposed an option to retain the current lanes shared with Muni buses, which Opbroek said would yield more pedestrian space. "I know for a number of bikers, especially female bikers, they are fearful of being in bike lanes with Muni buses," she said.
Going by board discussions so far, all SFMTA directors seem to be on board with a car-free Market, noted Director Malcolm Heinicke. Newly inaugurated board member Christina Rubke, who previously sat on the Better Market Street Citizens Advisory Council, agreed. "I think this is a project that we need to push further," said Heinicke.
Echoing Kim's sentiments about the often harrowing experience of bicycling with cars and buses on Market, Director Cheryl Brinkman said she doesn't want to have wait until the project's construction, currently scheduled from 2015 to 2016, for a safer street.
"In the last month, I've been bullied twice by people in very expensive cars on my way up or down Market Street," said Brinkman. "One woman in a convertible buzzed me so close that if I... had worse bike handling skills, I'd have fallen. I mean, I would've been so startled, I would've gone off."
Although momentum to get cars off of Market ahead of the street redesign has grown, SFMTA Director of Transportation Ed Reiskin said that implementing more pilot projects to restrict car access could interfere with the environmental review process for the redesign. SFMTA staff have also said the ongoing construction of the Central Subway makes such experiments difficult.
"We'll need to be cautious about how much we're doing under the guise of a pilot. We don't want to risk the overall movement of the project," said Reiskin. He also called the current project schedule "aspirational," given uncertainties with funding, but did note that the project's environmental review process could possibly benefit from coming bureaucratic reforms under the Transportation Sustainability Project.
Opbroek said that funds for re-paving are already secured, and that much of the other funding could come from the Federal Transit Administration.
Aaron was the editor of Streetsblog San Francisco from January 2012 until October 2015. He joined Streetsblog in 2010 after studying rhetoric and political communication at SF State University and spending a semester in Denmark.
Read More:
Stay in touch
Sign up for our free newsletter