Bus Bulbs
Forget Parking: N-Judah Detours Show How Much Merchants Rely on Muni
4:05 PM PDT on August 2, 2012
When the SF Municipal Transportation Agency proposed widening sidewalks at two stops on Carl Street in Cole Valley to improve conditions for nearly 6,000 daily passenger boardings on Muni's N-Judah line, some vociferous merchants and residents complained about the loss of nine car parking spaces it would require. But with ongoing project construction detouring the N-Judah for several weekends this year, some merchants may be discovering the hard way what really brings business to the neighborhood: Muni.
Some business owners estimate their business has dropped 30 percent as a result of street closures on Carl for work on the rail replacement project, according to Juliet Pries, the owner of Ice Cream Bar on Cole Street. (Pries, who opened her shop after the project was planned, was not an opponent.) During the closures, the two N-Judah stops on Carl at Cole and Stanyan Streets are moved to Frederick Street, which runs one block to the north, just off the neighborhood's commercial strip. Trains are also replaced with shuttle buses, which are slower and carry fewer people, and many riders who are aware of the construction may avoid using the line. On an average day, the stop at Carl and Cole serves over 4,300 boardings alone, according to Transit Effectiveness Project data collected in 2007.
"A lot of people get off that train and walk right past my business," said Pries. "It's definitely one of the reasons for choosing this location."
Of course, the noise and visual impacts of the construction itself may contribute to the drop, and roughly a few dozen street parking spaces are also temporarily removed during the closures. But studies in other dense, transit-oriented neighborhoods have found that merchants frequently overestimate how many of their customers drive, fueling opposition to improvements for walking, biking, and transit that have been shown to benefit businesses time and time again.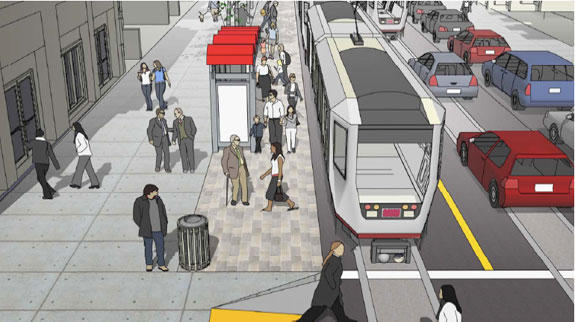 "The Carl and Cole commercial district was built because of the streetcar stop," said Katherine Roberts, a transit advocate who lives in Cole Valley. "The commercial strip here is completely dependent on the N-Judah streetcar for its very existence, and I don't think the merchants really appreciate the transit accessibility of the neighborhood quite enough."
Bowing to complaints about parking loss, planners on the Carl Street project shortened the length of a bus bulb-out at Carl and Cole from 165 feet to 113 feet (a two-car train is 150 feet long), saving one parking space. The remaining bulb-outs would allow passengers to board Muni's busiest line directly from the curb rather than squeeze between parked cars onto the road as they do now. One of the bus bulbs, on the outbound corner next to the entrance of the Sunset tunnel, should also be more effective at deterring drivers who illegally park in a spot where they cause train collisions and delays.
A bulb-out slated for Carl and Stanyan Street was also apparently shortened from the originally proposed length of 168 feet to 59 feet [PDF] to avoid encroaching on private driveways. "That's really telling about what actually determines city policy about things like this," said Roberts.
Still, she said, "These bulb-outs are such a blessing. It's been really dangerous getting on and off the trains at those stops. You really feel like a second-class citizen even though hundreds and hundreds of people are taking the trains everyday, and really only a small handful of people are able to use those spots for parking."
Pries said she sees the bulb-outs as "kind of a toss-up. You want as many people to use Muni as possible, but a lot of people say parking's so bad. But I'd say more people are served by Muni, probably."
Carl Street is set to close for the weekend once again on Friday at 7 p.m. The SFMTA says there will be one more weekend closure later this summer, and the project is expected to be completed next spring.
Aaron was the editor of Streetsblog San Francisco from January 2012 until October 2015. He joined Streetsblog in 2010 after studying rhetoric and political communication at SF State University and spending a semester in Denmark.
Read More:
Stay in touch
Sign up for our free newsletter