Bicycle Safety
Advocates: San Mateo County Needs Full-Time Bike/Ped Coordinator
4:36 PM PDT on November 1, 2012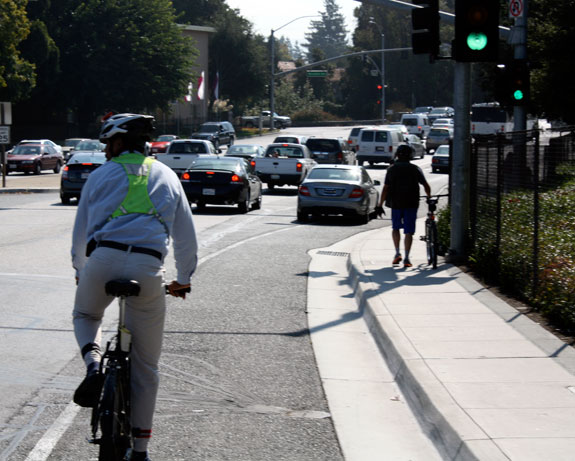 Margaret Pye has been bike commuting from San Carlos to her job at a law firm in Palo Alto for the past 10 years. Pedaling home on Middlefield Road through Menlo Park and Atherton, there are bike lanes, but when she gets to North Fair Oaks in unincorporated San Mateo County, the bike lanes suddenly end with no signs indicating where bike riders should go.
"It's kind of strange," said Pye, 58. "When you proceed north and get into Redwood City, which is near the Costco, suddenly they've put things back in. It's this little chunk where you're left out in the middle of nowhere."
Those kinds of connectivity issues are common in San Mateo County, where riding a bike from city to city can be a confusing and dangerous venture.
According to the San Mateo County Comprehensive Bicycle and Pedestrian Plan, "between 2004 and 2008, bicyclist fatalities accounted for 8 percent of all traffic fatalities and pedestrian fatalities accounted for 27 percent" in San Mateo County.
While the plan, approved a year ago, envisions a connected network, bike and pedestrian advocates say it has no teeth, "especially in terms of reporting and monitoring," said Gladwyn d'Souza, a pedestrian advocate and Belmont planning commissioner.
"It doesn't have a system that says, you know, 'We're going to do this over the next 15 years,'" he told Streetsblog.
What's really needed, according to advocates we interviewed, is a full-time bike and pedestrian coordinator who can work with San Mateo County's 20 cities.
"There is no leadership, as far as I'm concerned, working to coordinate these different projects," said Colin Heyne, deputy director of the Silicon Valley Bicycle Coalition.
"You may have two very complementary projects," he continued, "but there's nobody to make those connections on paper or in reality to say that Town A's bike path would feed really well into this bike lane across the border and so these projects should maybe be built at the same time, and make sure that they connect well, that there's smooth transition. There's just nothing to make that happen right now."
One important function of a bicycle and pedestrian coordinator in cities and counties across the country is to make sure that bicycle and pedestrian concerns are being addressed in every transportation project.
"The integration of biking and walking in a transportation department can really be helped by a dedicated staff person," said Darren Flusche, the policy director for the League of American Bicyclists. "What a dedicated bike and pedestrian staff person can really do is make sure that bicycling and walking issues are always on the table."
Last year, the League published a short paper titled "Why Communities and States Need Dedicated Bicycle Staff." And the SVBC has published a paper pointing out best practices in the Bay Area, "Bicycle Infrastructure Planning and Funding in San Mateo County: A Regional Comparison and Analysis."
Casey Hildreth, a consultant with Alta Planning + Design, which produced San Mateo County's bike plan, said having dedicated staff time to implement the plan and track key projects would be helpful. In an email, he wrote:
One of the key strategies to improve ped/bike conditions for San Mateo is to integrate improvements with larger roadway and corridor projects that are funded throughout the County for safety and reducing vehicle congestion. These projects typically include multiple jurisdictions and/or coordination with Caltrans, and often the devil is in the details whether the project scope achieves the goal of meaningful change for walkers and bike riders.

Absent strong local advocacy or 'mode-specific' expertise and planning capacity, like a bicycle and pedestrian coordinator would provide, success is ultimately dependent on individual project managers and often under-staffed local planners. In reality, the best practice is to have each of these components (perhaps not the "understaffed" part of the local planner) moving in sync together so that at all project levels someone is always looking for more ways to include multi-modal priorities and leverage opportunities. This is in my mind what Complete Streets is all about.
The City/County Association of Governments, which we've been writing about this week, would probably be the best agency to house a bike and pedestrian coordinator, according to advocates we spoke to, considering it oversees the Bicycle and Pedestrian Advisory Committee. Rich Napier, C/CAG's outgoing executive director, said the agency currently has a half-time coordinator, something advocates say isn't enough.
The idea is gaining political steam. Adrienne Tissier, the San Mateo County supervisor who chairs the Caltrain board and the Metropolitan Transportation Commission, said she would like to convene a group to assess the need for a full-time bike/ped coordinator.
"I would suggest that maybe the county put some money toward making it a full-time position if the need is there," she told Streetsblog. "I don't want to create something just to create it if we're not going to do anything differently, if we're able to do it with a half-time person. But I'd just like to understand a little bit better."
Tissier said she wants to meet with C/CAG's half-time coordinator and get together with bike and pedestrian advocates to learn more about the need.
Menlo Park Mayor Kirsten Keith, who sits on the C/CAG board, expressed similar support. "I think that could be helpful. I do. I don't know if it has to be a full-time person, or somebody on a contract basis to get some sort of unity on certain issues," Keith said.
For Margaret Pye, fixing the gaps with improved coordination would help her commute. Sometimes, she says, she wants to take a bus home because she's tired, but because of inconsistent transit schedules it's quicker to ride her bike. She would also like to see the counties coordinate.
"As much as I would like one overarching person to be in charge of all bicycle things in San Mateo County, I think it would be nice to have some coordination between the counties because that's part of what affects me."
Bryan Goebel is a reporter at KQED Public Radio in San Francisco. A veteran journalist and writer, he helped launch Streetsblog SF in 2009 and served as editor for three years. He lives car-free in the Castro District.
Stay in touch
Sign up for our free newsletter