Bicycle Infrastructure
SFMTA Report: JFK Protected Bike Lanes Have Calmed Park Traffic
6:58 PM PST on November 27, 2012

John F. Kennedy Drive in Golden Gate Park is a bit calmer since it was reconfigured for San Francisco's first parking-protected bike lane -- and a majority of people like the change, according to a preliminary report [PDF] recently released by the SF Municipal Transportation Agency.
Since JFK was redesigned, average speeds are down by two to three MPH for both bikes and cars, the report says. The perception of safety for bicycling and driving went up significantly, though for walking, it went down a few percentage points.
"It's having a calming effect in Golden Gate Park overall," said Leah Shahum, executive director of the SF Bicycle Coalition. "Given the environment of a park, that's a good thing to see."
The bike lanes are the first in the city to be placed between the curb and parked cars, separated by a buffer zone -- a configuration that other cities have employed to help more people feel safe riding bikes. Although traffic counts won't be reported until the release of the SFMTA's final report early next year, they're expected to show a significant jump in bicycle ridership. Shahum said the SFBC has heard strong anecdotal evidence that the lanes are attracting new riders who didn't feel comfortable riding between parked cars and moving cars under the old configuration.
"If anything, Golden Gate Park should be the ideal location for people who are new to bicycling or who want to build up their comfort level," said Shahum. "I think it's really great to see that the JFK Drive bikeway is having that positive, intended impact."
When the redesign was first implemented, it saw its share of complaints, especially as drivers adjusted to the novelty of parking away from the curb. In the SFMTA's survey, conducted through interviews in the park and online submissions, 87 percent of respondents now say they understood the configuration.
"I think we've learned from other cities that when you try something new, there is a period of adjustment," said Shahum. "It's encouraging to see that people who are moving through the park in all different ways -- biking, walking, or driving -- were showing greater and greater understanding and support for the new design."
One of the most common complaints in the survey was from pedestrians who were uncomfortable crossing the bike lane between the parking lane and the curb. Although there haven't been any known collisions in the bike lane, respondents said crossing it was the least "acceptable" feature of the design, followed by the width of the parking lane and the buffer zones.
Sixty-one percent of respondents said they liked the configuration, though approval varied depending on where the respondent lived and the mode of travel by which they arrived at the park. About 62 percent of San Francisco residents liked it, while 65 percent of out of town visitors and Bay Area residents liked it. The lowest approval came from nearby neighborhood residents, just under half of whom liked it.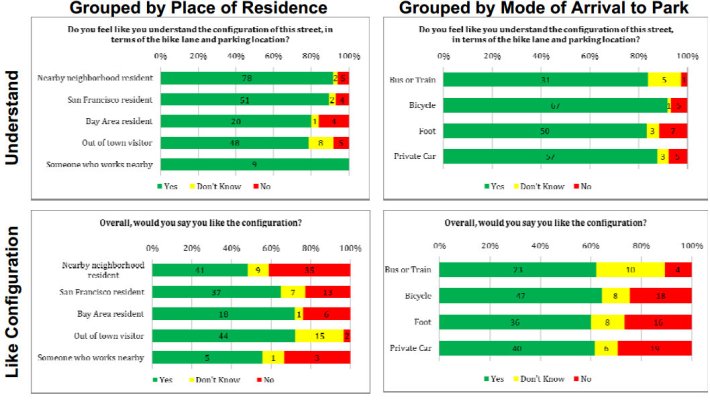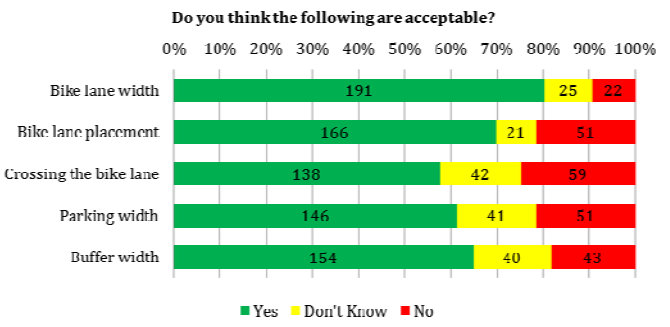 Another finding worth noting: Despite the roughly 80 car parking spots removed in the reconfiguration, the perception of parking availability actually improved: the number of respondents who drove and found parking to be at least "somewhat good" increased from 50 percent to 65 percent. The report doesn't offer any explanation.
Shahum noted that some cyclists, many of whom used JFK's previous configuration, complained about slower cyclists being in the way, but said that's a part of adjusting streets to be accessible to a broader demographic. "I think in the end, we're really thinking about how do we make our city really friendly for people ages 8 to 80 biking, and especially in those areas that are especially important to families, like parks? And that's really been a successful effort," she said.
The SFMTA says its final report will include design observations and recommendations for future protected bike lanes. Shahum says that while other minor improvements could be made to JFK's design, the SFMTA's next steps should focus on creating more bike-friendly connections to Golden Gate Park, including safety enhancements to intersections on traffic-heavy streets that border the park like Stanyan, Lincoln Way, and Fulton. The new Fell Street separated bike lane, which improves the connection from JFK to the Wiggle via the Panhandle, is a major step in the right direction, she said.
"There are more challenging intersections than there are welcoming intersections along the periphery of the park," said Shahum. "Now, we've got to step back and think, what are the other gaps that need to be filled?"
JFK serves as an early learning experience when it comes to implementing future protected bike lanes throughout the city, she said, which is crucial in make bicycling more accessible. "That's the way we're really going to be bringing the next generation out on bikes and helping prove that biking really is equal opportunity for people of all ages and speeds."
Aaron was the editor of Streetsblog San Francisco from January 2012 until October 2015. He joined Streetsblog in 2010 after studying rhetoric and political communication at SF State University and spending a semester in Denmark.
Stay in touch
Sign up for our free newsletter