Bicycle Safety
Camera Enforcement for Illegal Turns at Market/Octavia Gets Green Light
4:57 PM PST on January 7, 2013
Dangerous, illegal right turns from Market Street onto the freeway at the intersection with Octavia Boulevard -- the location with the most pedestrian and bicycle crashes in the city -- may become less frequent after a long-awaited state decision that allows the city to use camera enforcement. The decision was announced by California Attorney General Kamala Harris last week.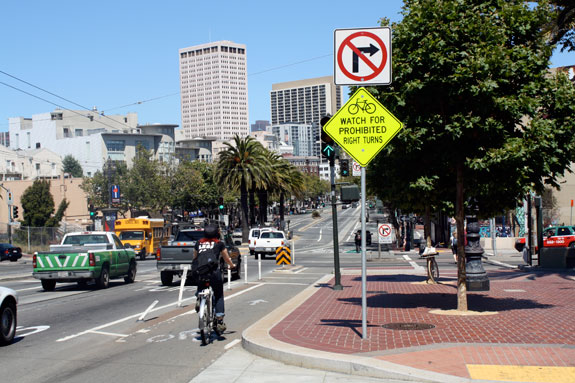 The SF Bicycle Coalition has pushed for camera enforcement  to reduce injuries at this location since 2007. "We are excited about this long-awaited decision that will make San Francisco's most dangerous intersection safer," said SFBC Executive Director Leah Shahum in a statement. "Over the past ten years, more than 50 people walking and biking have been injured at Market and Octavia. We urge the city to install the crucial safety improvement quickly and help ensure the safety of people walking and biking through this intersection."
Injuries at Market and Octavia have increased drastically since the Central Freeway opened in 2005. Drivers making illegal right turns from eastbound Market on to the freeway across a bike lane and crosswalk are the primary cause, according to the SF Municipal Transportation Agency's 2009-2011 Collision Report [PDF]. Thirty people were injured from 2009 to 2011, the report says, and violations continued even after a concrete barrier and extra signage were installed to deter violators.
"There have been some physical improvements to Market and Octavia, but this enforcement mechanism will really make people think twice about making that illegal turn," Shahum told the SF Examiner yesterday.
Until now, camera enforcement could only be used for red light violations -- at least in the legal opinion of the City Attorney's office. To explicitly allow photo enforcement against illegal right turns, there were two attempts to pass legislation in the State Assembly, but both failed. A 2007 bill proposed by Assemblymember Fiona Ma died in Assembly, and a 2010 bill from Assemblymember Tom Ammiano passed the legislature, but was vetoed by then-Governor Arnold Schwarzenegger on the grounds that such use of photo enforcement was already legal under the law. Ammiano then passed the question on to Attorney General Harris, who finally confirmed that it is legal to use photo enforcement against prohibited turns like the one at Market and Octavia.
"This is great news for safer walking on Market Street," said Walk SF Executive Director Elizabeth Stampe on the SFBC's website. "This sets a good precedent for smart, targeted enforcement of traffic laws in the city's most dangerous locations, to prevent more people from getting hit by cars and seriously hurt or even killed."
In August 2011, John Billovits, a senior planner at the Planning Department, was struck by a driver who illegally turned right at the Market/Octavia intersection while biking to work. Billovits was sent to the hospital with non-serious injuries, and although it was clear the driver made an illegal turn when he hit Billovits in the bike lane, he wasn't cited by police.
Billovits, who worked on the Market-Octavia Plan, fought against a Market Street touchdown for the freeway, and against allowing drivers to turn to and from it. Following his crash, he told Streetsblog, "It's just so ironic after all the stuff we've been through with that, to be lying there and lying under the (no right turn) sign, more or less."
According to the Examiner, SFMTA spokesperson Paul Rose said the agency couldn't pinpoint a timeline for installing the cameras, and that it must first find funding sources, determine the project's scope, and put a contract out to bid.
Aaron was the editor of Streetsblog San Francisco from January 2012 until October 2015. He joined Streetsblog in 2010 after studying rhetoric and political communication at SF State University and spending a semester in Denmark.
Stay in touch
Sign up for our free newsletter