Board of Supervisors
Mark Farrell Suddenly "Strongly Opposed" to Expanding Parking Meters
4:44 PM PST on February 14, 2013
Somewhat inexplicably, D2 Supervisor Mark Farrell has suddenly come out as "strongly opposed" to the expansion of parking meters. At a Board of Supervisors meeting Tuesday, he called for a hearing to scrutinize the SF Municipal Transportation Agency's parking meter expansion plans, apparently concerned about new meters that will create parking turnover in his district, even though, as Bay City News confirmed, the agency says it has no such plans.
"If the SFMTA plans to expand parking meters into our truly residential areas, I do have serious concerns about what the implementation looks like and the rationale behind those decisions, and I believe that the policy discussion regarding any proposed parking meter expansion plans should start here in City Hall," said Farrell. "Specifically, I'm requesting information on the statistics driving this expansion, the revenues anticipated from these expansions, the policy rationale for the expansions, as well as an update on future plans to go into different neighborhoods throughout our city. This hearing, I hope, will begin to start the public dialogue about these proposed plans."
On top of the lack of evidence of plans to expand parking meters in District 2 neighborhoods like the Marina, Pacific Heights, and Seacliff, Farrell's sudden focus on parking meters is strange for a few reasons. The timing, for one, is odd given that the SFMTA abandoned its scheduled approval of parking meter expansions in the eastern neighborhoods a year ago, and is now working through a far slower and more detailed public process in each of those three neighborhoods. So there's nothing particularly new to raise concerns around parking meters, except for the implementation of Sunday enforcement last month, which he didn't protest when it came up for approval by the board as part of the SFMTA's budget, even as Supervisor Scott Wiener did.
And Farrell has not been known to take an active interest in transportation issues during his two years in office, except for a few times when he's raised flags because he doesn't seem to like a project or understand an issue. His record on transportation is pretty much as follows: He held up Van Ness BRT for a month so planners could explain the proposed design to him. He piped up to criticize the design of a parklet made out of a van in the Marina. And now, he's called a hearing for city staffers to educate him on parking policy.
While the rationale behind putting a price on parking may be old hat for Streetsblog readers, and the SFMTA actually published a document to spell it all out, we'll do Farrell a favor and provide a quick run-down to help him with his homework: Free parking encourages car owners to occupy valuable parking spaces all day, leaving other drivers to circle the block for a spot, increasing traffic on streets, wear on the roads, illegal parking, air pollution, wasted gas, delays for Muni, and fewer customers for businesses. Metered parking, when priced according to demand (the goal of SFPark), makes the best use of a limited supply by keeping a spot open on each block. Furthermore, why should parking be free on Sundays when Muni isn't?
Essentially, Farrell should be asking for parking meters in his district on streets where spaces are all filled up.
So, what's gotten Farrell jittery enough about parking meters to now "strongly oppose" them, as he posted on his Facebook? It could be that he's taking up the cause for politically-connected constituents who are making a racket, given his mention at the board of "concerns from District 2 residents."
But it's hard not to wonder if it has something to do with this tweet he sent out on Sunday: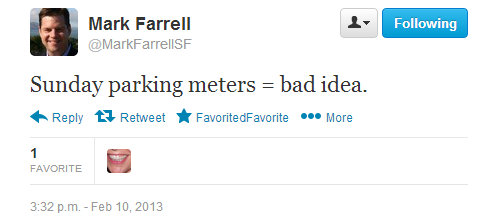 To which another Twitter user asked, "Did you get a ticket?"
Aaron was the editor of Streetsblog San Francisco from January 2012 until October 2015. He joined Streetsblog in 2010 after studying rhetoric and political communication at SF State University and spending a semester in Denmark.
Stay in touch
Sign up for our free newsletter