Board of Supervisors
Neglecting Muni Costs the Economy at Least $50 Million Per Year
5:13 PM PDT on May 29, 2013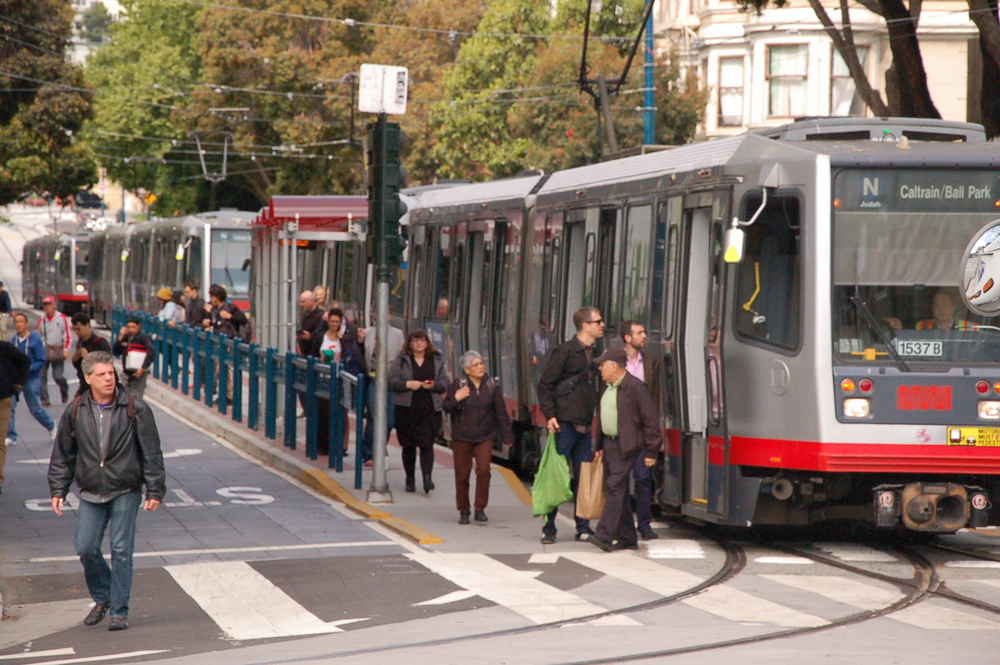 Every time a Muni train breaks down or a bus is stuck in car traffic, San Francisco pays big time.
City staffers are beginning to tally up the economic toll of Muni delays, and presented [PDF] some alarming figures at a hearing yesterday called by Supervisor Scott Wiener.
In April, riders were delayed a cumulative 86,000 hours, or, as SF Weekly calculated, 19 years and eight months. That amounts to an economic loss of $4.2 million, or $50 million per year, according to the City Controller's Office. And that's a conservative estimate -- it doesn't account for delays outside of rush hours or the loss of potential customers who might otherwise use Muni to shop if the system were more reliable, a Controller's Office staffer said.
"The system's struggles have real-life consequences for our city," said Wiener. "When service is unreliable, people are delayed and frustrated in getting where they're going, leading to negative economic impacts and reduced quality of life."
Last week, the N-Judah -- Muni's busiest line -- shut down twice in two days due to damaged overhead wire equipment, leaving trains sitting on the street for most of a 24-hour period. Such meltdowns not only have internal costs for Muni, like overtime labor to run shuttle buses as a substitute for train service and the cost of repairing equipment. They also cost commuters time, and repeated delays lead them to consider other ways of getting around -- or to question whether to make a trip at all.
"The bottom line," said SFMTA Director Ed Reiskin, "is the transportation system matters to people when they're choosing where to live, where they work, what modes of travel they're going to use, and how they're going to allocate their household budget between housing and transportation."
With Muni being deprived of funding for decades -- a situation that's only getting worse -- the system's outlook is grim. Here are the stats, as reported by Muni and summed up by SF Weekly, since July:
Muni vehicles have only logged a 58.7 percent on-time performance. Perhaps worse yet, nearly 20 percent of all vehicles are showing up with "gaps" of five minutes or more than the scheduled time between buses or trains;
The system has had enough electric buses to meet peak weekday service only 64 percent of the time. It has had enough trains to do so only 33 percent of the time. In April, Muni only had enough trains to meet peak weekday service 9 percent of the time. That'd be two of the 22 weekdays in April;
There have been 216 line delays of 10 minutes or greater (and God knows how many of up to nine minutes). On any given day, an average of 181 vehicles are unavailable to carry passengers. Last month, those passengers experienced 172,195 hours of delays. So, yes, in April, Muni riders cooled their heels for a cumulative 19 years and eight months.

Hope you brought a magazine. But we haven't even gotten to the financial angle yet:

Muni faces a $320 million annual structural budget deficit. This includes $70 million in unaccounted-for operating needs and $260 million which would be required to keep equipment and infrastructure in a "state of good repair";
As of three years ago, an estimated $680 million in maintenance costs had been deferred;
Maintenance meltdowns resulted in an estimated $4.2 million hit to the city economy in April, which extrapolates to some $50 million a year.
As Wiener pointed out, declining Muni service only leads to a downward spiral. "When service degrades, people choose other modes of transportation, particularly the private automobile. Congestion and pollution thus increase, traffic and pedestrian safety decrease." Meanwhile, "Public confidence in the system goes down, making it harder to convince our city to invest in the system."
SF Weekly reporter Joe Eskanazi, who posted his article on the report just as the hearing began, wondered if officials would bring up the Central Subway, which he pointed out "is currently pegged to eat $15.2 million from the agency's Operation and Maintenance budget -- and any cost overruns for the $1.6 billion endeavor will be bled from local funds that could otherwise make vehicles go or fix them up." Officials didn't mention it.
While riders often tend to point the finger at poor management as the source of Muni's woes, Wiener said the greater fault lies with the failure of city leadership to provide Muni the funding it needs to maintain its vehicles and infrastructure. "We've allowed the system to deteriorate over time, physically, by systematically under-investing for decades in its infrastructure," he said.
"Sometimes I hear from people, 'Muni doesn't need any more money, Muni just needs to run the system better,'" he said. "Of course Muni needs to continue its process of reform... but I think it's not reality to suggest that the system has every penny it needs."
"Ultimately, the MTA has to do its job, but we at the Board of Supervisors have to do our job of showing a good financial commitment to the agency, and we have not done that."
Aaron was the editor of Streetsblog San Francisco from January 2012 until October 2015. He joined Streetsblog in 2010 after studying rhetoric and political communication at SF State University and spending a semester in Denmark.
Stay in touch
Sign up for our free newsletter