CAHSRA
A Straighter Extension of Caltrain/HSR Into Downtown SF: Is It Worth It?
5:18 PM PDT on June 27, 2013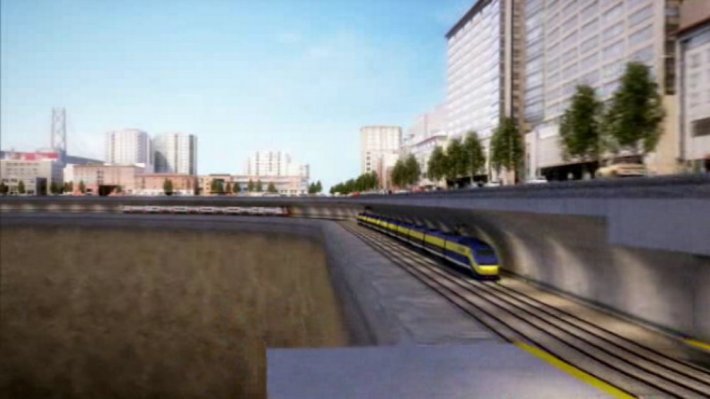 By 2029, San Francisco's Transbay Transit Center -- which has been called the "Grand Central of the West" -- will allow people to hop on an electrified Caltrain to San Jose and high-speed rail down to Southern California from the same platform. That's the vision, at least, of planners working on the extension of Caltrain from the current terminus at 4th and King Streets to the massive transit hub under construction in SF's downtown core.
But some advocates and planners say the planned rail alignment for the downtown extension of Caltrain and California High-Speed Rail, which will share tracks along the Peninsula, needs to be revisited because it includes too many sharp turns, which they say could slow the trains down and create a bottleneck. Planners at the Transbay Joint Powers Authority, however, say any increase in speeds would be minimal, and that embarking on a planning process for a different alignment could delay construction by at least a decade. Currently, the extension is expected to be built some time before high-speed rail is completed in 2029.
"Are we sure a new alignment will be better? Definitely not, we just think it's worth asking the question again at this stage," said Gabriel Metcalf, the executive director of SPUR, who was appointed to the TJPA Board by Mayor Ed Lee. "From my perspective, the DTX (downtown extension) is now the highest priority transportation project in San Francisco, and it should be the focus of a lot of attention until it is underway. We think that at this stage it's a good idea to take some time to explore alternative alignments and ways of phasing the project."
Brian Stokle, who writes the blog Urban Life Signs, wrote a post in March about "uncrooking San Francisco's crookedest tunnel" in which he laid out the conceptual differences between a few different alignment options. Some alignments could alleviate engineering obstacles, while causing other complications to arise. One of them would allow riders to transfer to the Central Subway station under construction at Moscone Center. Altogether, there's no clear winner.
"Whatever tunnel and stations get built, we should be considering what we're asking for and what's most important," Stokle wrote. "Simply stating this is a tunnel to get to the Transbay Center is missing the point. We're creating a valuable piece of infrastructure that should work for at least a century into the future and work for not just Caltrain, HSR, and downtown, but benefit the entire region, including other transit operators, residents and commuters."
But changing the alignment could set the DTX back by decades, according to Scott Boule, the TJPA's community outreach manager.
The DTX is relying on a major grant from the Federal Transit Administration's New Starts program that's expected to come through in 2022. It takes about a decade to get a New Starts grant, from the application to the time the grant is issued, said Boule. And agencies can't apply until a project's environmental review process is completed. Environmental review for the current alignment began in 1987 and was cleared in 2005, he said.
"It doesn't hurt to study anything, but something to take into account is how long is takes to get those environmental clearances," said Boule.
Since trains can't pick up much speed in the downtown stretch of tracks, where stations are relatively close together, they wouldn't get much of a speed boost by straightening out the curves, said Robert Beck, the TJPA's senior program manager, at a recent forum at SPUR. "The curves, from our analysis, are not a significant constraint on the throughput of the system," he said. "There are greater constraints along the Peninsula with various passing tracks, and so forth."
"We may conclude at the end of the process that it's best to stick with the current alignment," Metcalf conceded. "But there are compelling reasons to at least take a look -- potential ways to save money on construction, potential improvements to operations once the DTX opens, and potential benefits to the city fabric surrounding the project."
Minor tweaks could be made to the alignment without re-doing the entire review process, said the SF Planning Department's Greg Riessen, who pointed to changes made during the planning of the Central Subway.
There's also a strong sense of urgency among transit advocates and San Francisco officials to get the DTX completed. The project is already tied to big, complex ventures like tearing down of a section of highway 280 and moving Caltrain's 4th and King railyard to make room for redevelopment.
Adina Levin, an organizer for the advocacy group Friends of Caltrain, cited a city study that found the extension will triple the number of people coming into downtown SF. "We could use that connection as soon as possible, before high-speed rail gets here," she said at the SPUR forum.
"It's entirely possible that everything just ends at 4th and King unless San Francisco gets its act together," said Gillian Gillett, Mayor Lee's transportation policy director. "We have been trying to extend Caltrain into downtown, where the ridership is, since 1900."
Aaron was the editor of Streetsblog San Francisco from January 2012 until October 2015. He joined Streetsblog in 2010 after studying rhetoric and political communication at SF State University and spending a semester in Denmark.
Stay in touch
Sign up for our free newsletter