SFCTA
Advocates: Next SFCTA Chief Needs to Collaborate for a Sustainable Future
2:10 PM PDT on July 3, 2013
Some time this month, a new executive director is expected to be chosen to head the SF County Transportation Authority, filling the shoes of José Luis Moscovich, who resigned from the position late last year citing health reasons. In selecting a new leader, sustainable transportation advocates say, the Board of Supervisors should seek a candidate who can improve the agency's collaboration with other city and regional planning agencies.
The SFCTA plays a key role in determining whether the city moves towards a future that's more livable, or continues the car-dependent status quo. The agency manages San Francisco's transportation finances, including revenue from the Prop K local transportation sales tax, and it oversees long-range transportation plans and major projects like the bus rapid transit lines on Van Ness Avenue and Geary Boulevard. The SFCTA would also administer any potential congestion pricing scheme.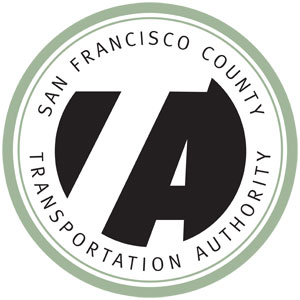 "It's really critical that the TA director can get the city agencies to cost-effectively change people's travel behavior, and encourage walking, cycling, and transit with new development so we don't go backwards in terms of pedestrian safety, congestion, and pollution," said Tom Radulovich, executive director of Livable City.
Radulovich says a lack of coordination between agencies like the SFCTA, the SF Municipal Transportation Agency, the Planning Department, and the Department of Public Works often stymies the city's progress on livability and transit improvements. He pointed out, for example, that when re-paving streets, DPW often doesn't implement pedestrian safety improvements that are called for in the city's street design standards, meaning money doled out by the SFCTA for street rehabs goes wasted.
"They're rebuilding dangerous, ugly, deadly traffic sewer streets as traffic sewers," said Radulovich. "As we're spending these hundreds of millions of dollars to rebuild streets, to see them rebuilt better, safer, and re-balancing the modes towards walking, cycling, and transit is really important. The TA could be doing a better job of coordination, funding, and making sure that standards are understood and adhered to."
Supervisor John Avalos, who chairs the SFCTA Board, said the need for the next leader to collaborate better is "a really good point."
"I believe on the staff level, there is that cooperation," he said. "And that's going to be a central part that we're going to want to see, working with other departments and regional bodies, that we're going to have a director who's going to have that collaborative spirit."
In response to the suggestion that improved collaboration should be a goal for the next agency head, Maria Lombardo, the SFCTA's interim executive director, wrote in an email that the agency has "a proven track record in these areas that reflects our ability to partner with the community and other agencies and which draws from our knowledge, responsiveness and technical competencies."
"In the transportation sector, it is essential for the head of any agency to be able to work effectively with the public and a wide range of local, regional, state and federal agencies," she wrote. "At the staff level, we are continually striving to improve in all areas and welcome the public's input and board guidance as the board selects a permanent executive director."
But Prop K sales tax revenue isn't always divvied up to transit projects appropriately, leaving Muni short of the funds for capital projects that it's initially slated to receive, said Thea Selby, a transit activist. In the most recent five-year funding cycle, she said, the gap was over $40 million.
"I don't want a TA director who shrugs her shoulders and says the gap can't be closed. I want one who sees the gap as what it is — not using tax dollars when and how they are supposed to be used," said Selby. "I assume that better coordination between SFMTA and the TA would help close that gap."
Selby, who sits on the Geary BRT Citizens Advisory Committee -- which recently lost a member who resigned out of frustration at the project's snail-like pace -- also noted that "we began talking about a bus rapid transit network over a decade ago, and we still don't have one BRT project built."
"I want a TA Director with a broad vision, and the strength and political savvy to take that pro-transportation vision and make it a reality," she said.
"The Transportation Authority does a lot of good work and has a lot of smart people working there," said Elizabeth Stampe, executive director of Walk SF. "I'd like to see the new TA director and SFMTA Transportation Director Ed Reiskin build a more collaborative relationship between their agencies."
"Together, they could bring more funds, deliver more projects faster, and really improve the city they share. The new TA director, with the support of the supervisors in their role as TA commissioners, could help San Francisco lead the nation in sustainable transportation."
Aaron was the editor of Streetsblog San Francisco from January 2012 until October 2015. He joined Streetsblog in 2010 after studying rhetoric and political communication at SF State University and spending a semester in Denmark.
Stay in touch
Sign up for our free newsletter