Bicycling
On the Peninsula, Demand Could Overwhelm Limited Bike-Share Launch
4:18 PM PDT on July 18, 2013
All the way down the Peninsula, excitement around the pilot launch of Bay Area Bike Share comes tempered with a dose of concern about the small number of bikes that will be clustered around Caltrain stations in five cities.
Bay Area Bike Share's meager scale at the time it launches is sure to limit its usefulness. Half of the system's 70 stations -- holding ten bikes each -- will be placed in downtown San Francisco, and the other half distributed among participating cities down to San Jose, which will get 15 stations. Redwood City will get just seven stations, Palo Alto six, and Mountain View seven.
"That's the big concern," said Adina Levin, co-founder of Friends of Caltrain. "A lot of current and potential Caltrain riders I talk to are excited about being able to use bike-share in theory, but it's not serving where they need to go."
Nonetheless, advocates say the launch of bike-share is overdue.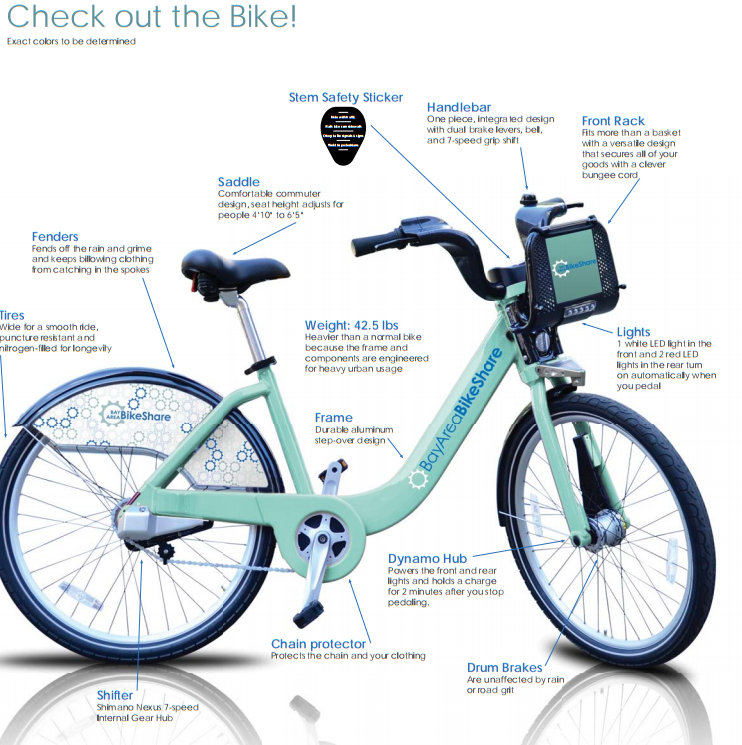 "Bike-share is going to make it easier for everybody to ride a bike more often, whether for work, shopping, or quick trips during lunch break," said Colin Heyne, deputy director of the Silicon Valley Bicycle Coalition. "Data from other bike-share systems show not only increased rates of bicycling, but also decreased rates of driving and car ownership, so it can contribute to reducing traffic congestion and improving safety for pedestrians and bicyclists."
Hundreds have already signed up for Bay Area Bike Share since membership sales opened on Monday. For $88 per year, members can rent sturdy new celeste-colored city bikes for up to 30 minutes at a time for free, with surcharges for trips longer than that.
The system is set to arrive at a time when both transit and bicycle commuting are surging. Caltrain ridership has increased 80 percent over the past decade, and the number of commuters bringing bikes on board has tripled, according to the agency's stats. With commuters who are able to use the shared bikes instead of hauling their own bikes aboard, bike-share could free up some much-needed bike storage space on the train.
Mike Sonn, who relies on Caltrain and his bike to commute from North Beach in San Francisco to Redwood City, looks forward to using bike-share. "Caltrain is already at capacity for bikes, so that's a 20 to 30 minute delay if I get bumped to the next train," he said. "If I take Muni to get to the Caltrain station, I have to allot an extra 15 to 20 minutes to make sure that I don't miss the train. Bike-share solves both of those problems, because I could ride a bike to Caltrain without having to bring it on board."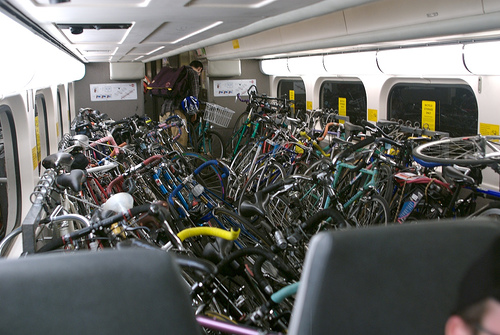 This is a big part of bike-share's promise -- that it will provide a convenient solution to the "first- and last-mile problem" for people connecting to transit on the Peninsula. Because of its narrow geography, most commuters live or work within three miles of a Caltrain station or a bus stop along El Camino Real. But low-density, suburban sprawl development patterns mean far fewer people live or work within a typical walking distance of half a mile or less.
"That's why shuttles and bicycles are popular here," said Levin. "What bike-share does is close that last mile gap for commuters who currently don't use transit because it doesn't stop close enough to work. It also allows people to run errands or go out to lunch during the workday without driving."
The pilot launch will only cover a limited area within each city, and residents are expected to clamor for a rapid expansion of bike-share once they get a taste, said Heyne.
"This is a pilot project, so it's not as robust as an ideal bike-share program," he said. "But as soon as people start using the bikes, we think there's going to be a clear demand for more bikes in more locations. That will drive the political will for a broader implementation of bike-sharing in the Bay Area."
The initial 700-bike system should be expanded to 1,000 bikes in early 2014, according to the Bay Area Air Quality Management District, which oversees the program. But further expansion depends on funding that local agencies have yet to identify.
Unlike some other American bike-share programs -- like New York City's recently-launched Citi Bike, the nation's largest system -- Bay Area Bike Share currently has no corporate sponsor to help defray capital and maintenance costs, though BAAQMD says it's looking for one.
But one Peninsula city is getting a head start in hopes of joining in. San Mateo recently commissioned a feasibility study from Alta Planning + Design to show that the city's demographic and commuting characteristics would support bike-share. Alta is also the vendor of Bay Area Bike Share and a number of other major bike-share systems in the United States.
Kenneth Chin, project manager for the San Mateo Public Works Department, said the agency is partnering with the San Mateo Health System to fund a three-station pilot within the city at the Hillsdale Caltrain station and two medical campuses. The Health System has already committed to fund two-thirds of the pilot program's cost, and the San Mateo City Council is expected to consider funding the remainder in October.
"It's cost prohibitive for San Mateo to launch a bike-share program on its own," said Chin. "We're envious of the other cities and would love to participate in Bay Area Bike Share. San Mateo is the next logical expansion."
Andrew Boone covers the Livable Streets Movements for Streetsblog in San Mateo and Santa Clara counties. Andrew's claim to fame is once having bicycled more than 12,000 miles of smiles in one year. nauboone@gmail.com
Read More:
Stay in touch
Sign up for our free newsletter