SFMTA
Despite Evidence, SFMTA Denies It Increased Speed Limits in Forest Hill
5:29 PM PDT on August 15, 2013
The speed limit on Woodside Avenue was recently raised from 30 miles per hour to 35 MPH, according to Mark Dreger, who's lived in the neighborhood his whole life. Dreger posted a photo in the Streetsblog comments section of a 30 MPH sign on Woodside, with a 35 MPH sign seen right behind it, in what appeared to be slip up by the crews who switched them out.
But those speed limit increases never appeared on the agenda for the SFMTA's bi-weekly engineering hearings, which are required for such changes, as far as we can tell. When we asked the SFMTA about it, however, spokesperson Paul Rose said the agency had no record of a 30 MPH speed limit on those streets.
"There has not been a change in speed at this location, as it was always legislated for 35 MPH," said Rose. "We do not have records of installation of a 30 MPH sign at Woodside/Laguna Honda, so we removed that sign."
The response is especially perplexing since images from Google Street View, dated March 2011, clearly show the 30 MPH sign seen in Dreger's photo, while the 35 MPH sign is nowhere to be found.
When that was explained to Rose, he still shrugged his shoulders. "Yeah, it was legislated for 35 MPH and we have no record of a 30 MPH sign installation. According to records, the 35 MPH sign was down and was recently repaired."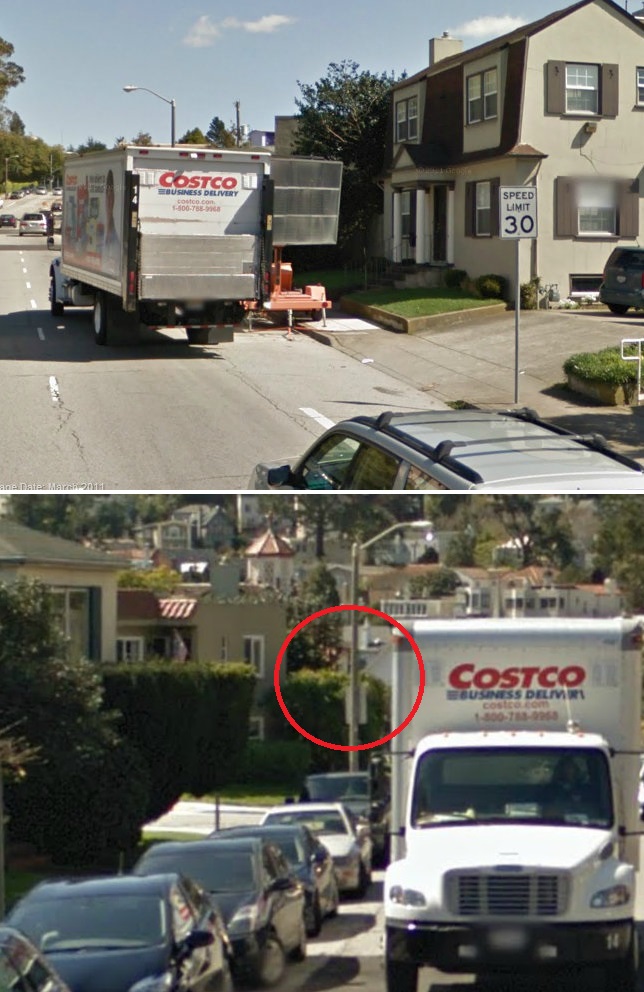 "It's a little disheartening that the city doesn't have a record of this," said Dreger. "A month ago they installed 35 MPH signs along Laguna Honda from 7th to Woodside, and just last week they did the same on Woodside up to Portola. So, clearly a work order was put out."
The last known speed limit increase in San Francisco took place on Winston Drive next to SF State University last summer. That change was approved at an SFMTA engineering hearing and subsequently by the SFMTA Board of Directors. At the time, Rose explained that the 5 MPH increase was necessary to comply with a hidebound state "speed trap" law which says that for a speed limit to be "legally defensible," 85 percent of drivers must obey it. If too many drivers speed, the city must raise the limit if police want to issue tickets.
In response to our follow-up question about whether this is just a records snafu, or if there's any other explanation, Rose said, "We are not saying the 30 mph sign wasn't there, we are saying we have no record of a 30 mph sign being installed by this agency."
"Something smells fishy," said Dreger. "That 30 MPH sign has been there as long as I've lived in the area."
Aaron was the editor of Streetsblog San Francisco from January 2012 until October 2015. He joined Streetsblog in 2010 after studying rhetoric and political communication at SF State University and spending a semester in Denmark.
Stay in touch
Sign up for our free newsletter