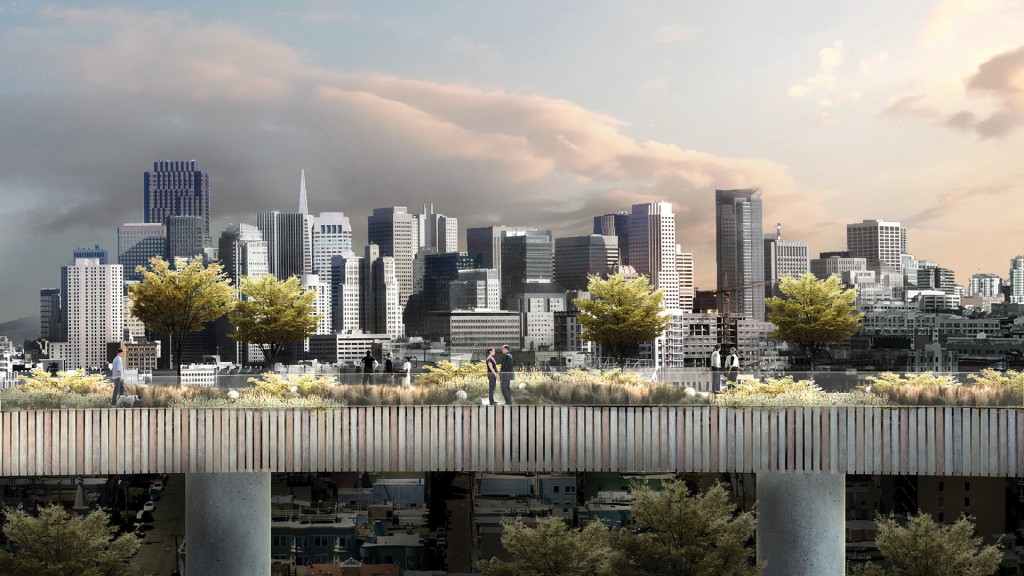 San Francisco is considered one of the leading American cities in the growing movement to tear down freeways. Fortunately, San Franciscans got a head start by averting the freeway-riddled fate of most other American cities in the 20th century by successfully protesting the construction of most of the proposed structures, which would have torn apart some of the city's most livable neighborhoods.
But John Norquist, president of the Congress for the New Urbanism, wonders why SF doesn't just go all the way and take down the few that were raised. "If you didn't want them to build the ones they didn't build, then why do you want to keep the ones that did get built?" says Norquist. "It's time to start talking about a freeway-free San Francisco."
Norquist, the former Milwaukee mayor who took a freeway down in his tenure, flew into SF for a panel discussion held last night called "Freeways Without Futures," where he made the case that freeways have only degraded the value of cities where they've been built, and that cities that have removed or avoided building the structures have generally thrived because of it.
With Mayor Ed Lee's office pushing for the removal of the northern spur of highway 280, replacing the elevated structure with a boulevard and opening up room for housing development seems like a no-brainer. It would be the city's third freeway removal, and the first one prompted not by damage from an earthquake, but by the benefits it would bring to the economy (as well as the engineering solutions it would open up for the construction of high-speed rail).
Norquist pointed to Vancouver as a city on the North American west coast that never built freeways near its downtown, has decreased car traffic even as its population grows, and which has "the best appreciation of real estate value in North America over the last 20 years." By contrast, Detroit has gone bankrupt trying to expand freeways in its never-ending quest to eliminate car congestion.
The fatal flaw in the rationale behind freeways is the mistaken belief that building separated structures for cars can effectively whisk traffic through dense urban areas, says Norquist. The actual result is that freeways clog up with traffic "when they're needed most," he said.
Meanwhile, building street-level boulevards and allowing traffic to distribute through a street grid allows travelers more choices in the routes they take and the modes of transport they use, resulting in far less congestion while preserving the livability and economic value of urban neighborhoods.
Some amount of car traffic is also induced by the construction of freeways and seemingly disappears when they're gone. A 1998 study of international cities found that amount to be between 14 and 25 percent, on average.
Essentially, urban freeways just don't solve the problems they set out to address, and often make them worse, while costing a lot of money and doing damage to a city's livability and economic vitality. "The freeway is a rural form. It doesn't belong in the city," said Norquist. "It concentrates traffic and creates congestion at the nodes."
Just imagine if San Francisco had built freeways over the Panhandle, through the Mission, and over the Marina -- all of which were proposed. By tearing down highways 101 and 280, SF could "re-insert the urban complexity," as Norquist called it.
"You can change history," he said. "Things can go really rotten, or things can go better."
To hear more from Norquist on freeway removal, take a moment to revisit a chapter from our Streetfilms series "Moving Beyond the Automobile":
Aaron was the editor of Streetsblog San Francisco from January 2012 until October 2015. He joined Streetsblog in 2010 after studying rhetoric and political communication at SF State University and spending a semester in Denmark.
Read More:
Stay in touch
Sign up for our free newsletter