Bicycle Safety
Gov. Brown Finally Signs Bill Requiring Drivers to Give 3 Feet to Bike Riders
5:10 PM PDT on September 24, 2013
Looks like bicycle riders who get brushed by passing drivers can no longer call it getting "Jerry Browned."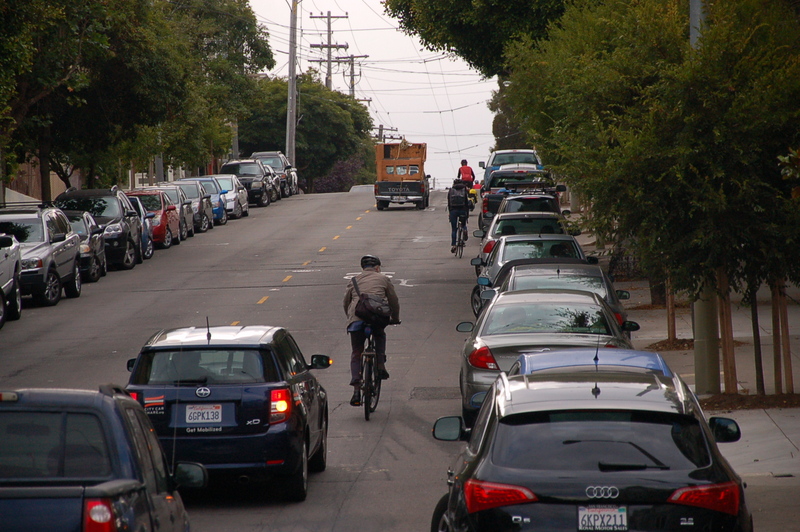 Yesterday, the governor at last signed AB 1371, which will require drivers to provide at least three feet of leeway when passing people on bikes in California. It was the third time the legislature sent the bill to his desk -- he vetoed the other two -- but this time around, the governor was apparently fine with the fine-tuned language. The bill goes into effect in September 2014.
The law, as passed, will allow drivers who can't find an opportunity to provide a 3-foot gap to "slow to a speed that is reasonable and prudent, and may pass only when doing so would not endanger the safety of the operator of the bicycle, taking into account the size and speed of the motor vehicle and bicycle, traffic conditions, weather, visibility, and surface and width of the highway."
"Bicycling is safer than most people think, but obviously it's not safe enough," said California Bicycle Coalition Executive Director Dave Snyder in a statement. "Governor Brown has taken a big step toward improving safety on our roadways by signing this bill."
Even though 21 other states already have 3-foot passing laws, Brown vetoed the first two attempts, apparently convinced by the California Highway Patrol that the language of the bills would lead to congestion and mayhem. Brown joined Rick Perry of Texas in being the only governors to veto such a bill -- twice. The previous two versions of the bill would have allowed drivers to cross double-yellow lines and require drivers who are forced to with less than three feet to do so at 15 mph or less.
According to a news release from CalBike, which rallied support for each iteration of the 3-foot law, more than 4,600 Californians sent messages to Brown asking him to sign AB 1373. "Collisions from behind are the cause of 40% of all fatal crashes between a bicyclist and a motorist and a terrifying deterrent to more bicycling, despite the joy, health and economy that people enjoy when they bike," the organization said:
Now that Governor Brown has signed this bill, motorists who violate its provisions will be committing an infraction and subject to the same fine for illegal passing, equal to a $35 base fine plus the fee which brings the total to $233. The base fine would increase to $220 if a collision occurs, causing bodily harm to the person riding the bicycle and the driver is found in violation of the provisions. The provisions will be made operative by the bill on September 16, 2014.
The SF Bay Guardian's Steve Jones noted that while the provision that leaves it up to police and drivers to interpret "reasonable and prudent" passing may not be perfect, "at least it's finally becoming illegal for cars to zip closely past cyclists, a dangerous, unnerving, and unfortunately too common practice."
Critics have said the law might go largely unenforced, but as Snyder told the Bay Guardian, "The main benefit is educational, just getting people who drive to give people on bikes plenty of space. I don't expect much enforcement."
"There's a heckuva lot more that we need to do to make California bicyclists safer," he said.
Assemblymember Steven Bradford of Los Angeles, who introduced AB 1373, said in a statement that the bill's passage represents an affirmation of "our commitment to reducing congestion and pollution, making our communities more livable, and increasing our alternative transportation options."
"Bicycle advocates, neighborhood groups, and ordinary community members spoke loud and clear in support of safer streets for cyclists, and I thank them for their voice and efforts in making this law a reality," he said.
Aaron was the editor of Streetsblog San Francisco from January 2012 until October 2015. He joined Streetsblog in 2010 after studying rhetoric and political communication at SF State University and spending a semester in Denmark.
Stay in touch
Sign up for our free newsletter