Bike Lanes
SFMTA Shops Folsom Buffered Bike Lane at Crowded Community Meeting
4:57 PM PDT on October 24, 2013
The SFMTA's proposal to widen the Folsom Street bike lane with a buffer zone and remove a general traffic lane drew significant turnout at a community meeting in SoMa yesterday evening. The project, set to be installed by the end of the year, seems to have strong support from residents and livable streets advocates as a short-term measure to make Folsom safer.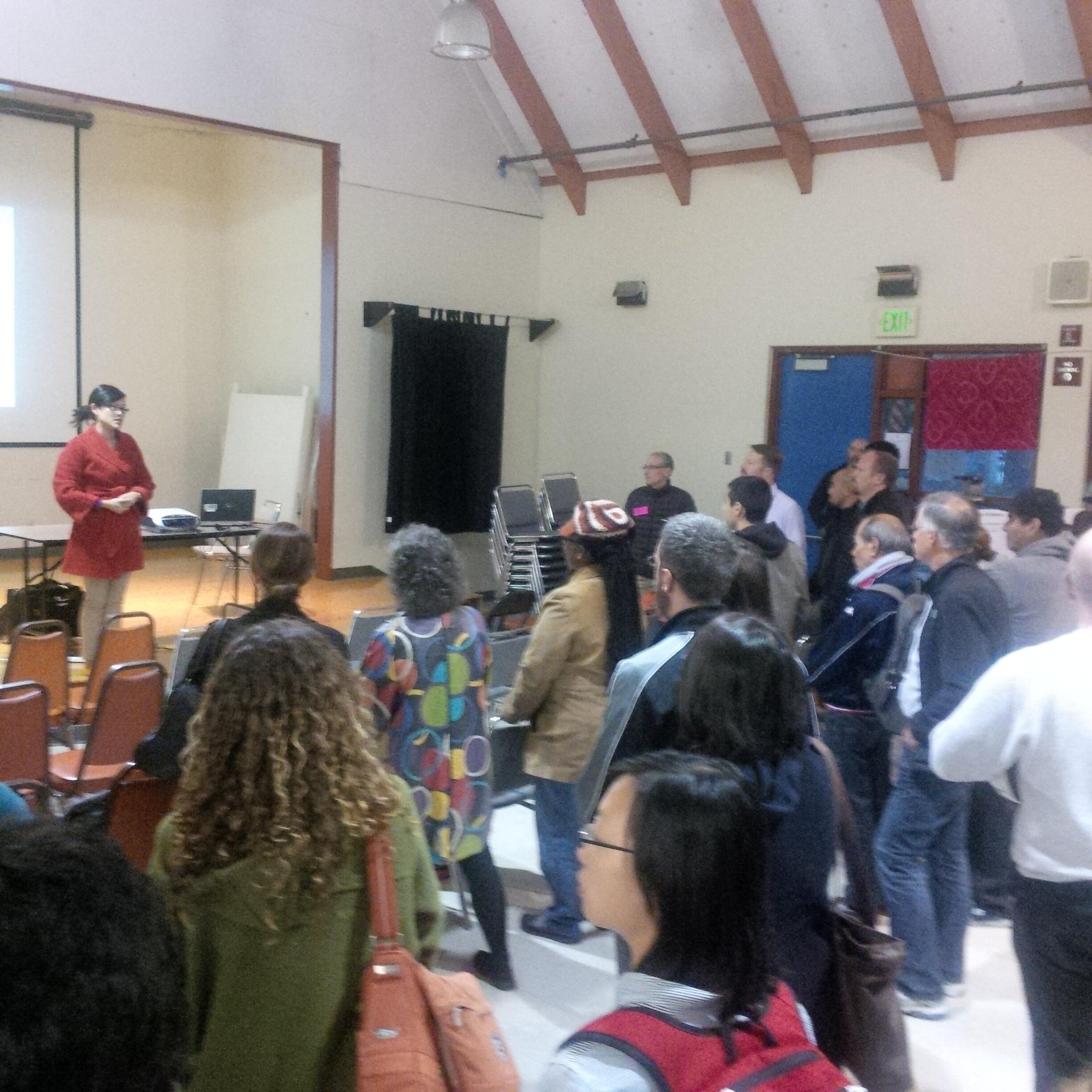 Angelica Cabande, executive director of the South of Market Community Action Network, helped bring its members out to the meeting. The organization hasn't taken a stance on the project yet, but she said the neighborhood has a dire need to make streets safer for families and elderly residents to walk on.
"A lot of cars, after they exit the freeway, they're flying through Seventh Street," said Cabande, who noted the danger is especially apparent outside Bessie Carmichael Elementary, located at Seventh and Folsom. "The school had put a crossing guard there, but a lot of drivers are not adhering to them. If anything, they actually cuss at the crossing guard and yell at families and honk at them to hurry up so they can make that turn right away."
The SFMTA announced the pilot project on October 1 as a way to expedite safety improvements after 24-year-old Amelie Le Moullac was killed on her bike by a truck driver who police determined made an illegal right turn at Folsom and Sixth Streets. The city has also proposed redesigning the one-way SoMa stretch of Folsom for two-way traffic with a parking-protected, two-way bikeway, but that plan may not be built for several years.
"We're really pleased to see that the city acted quickly, though unfortunately, ideas of reforming Folsom Street have been in the works for more than a decade," said SF Bicycle Coalition Communications Director Kristin Smith.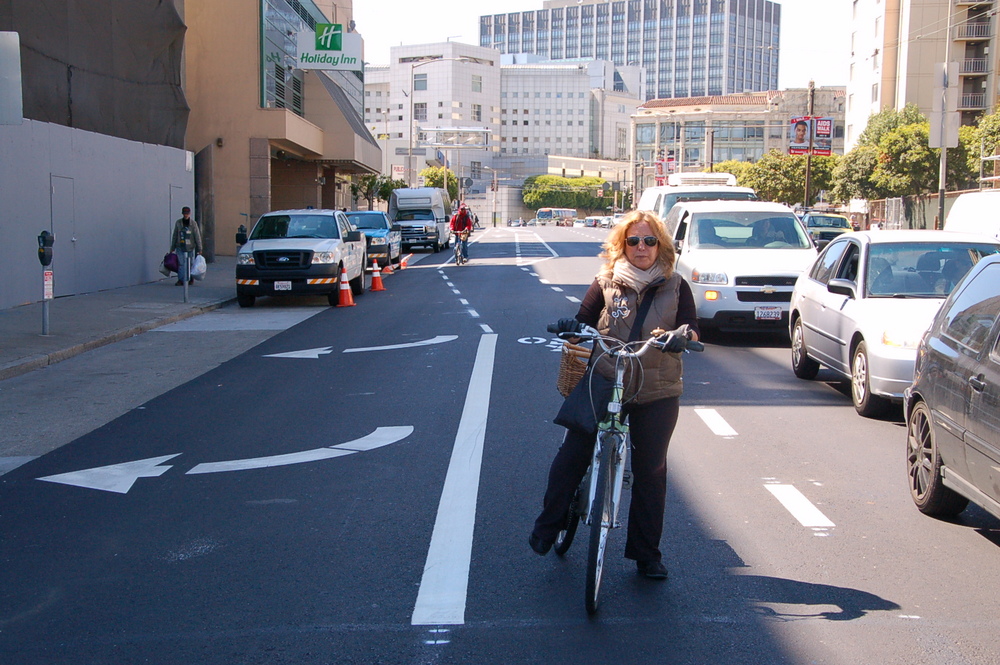 The SFMTA has yet to set a firm installation date for the project, but staffers say it will go in by the end of the year.  The pilot project is set to last 18 months, after which it may require re-approval. The SFMTA has said converting a general traffic lane for a buffered but un-protected bike lane, which will include green paint at merging points, is much simpler to engineer than a parking-protected bike lane. The broader overhaul plan is currently undergoing environmental review, which is expected to be completed in 2015.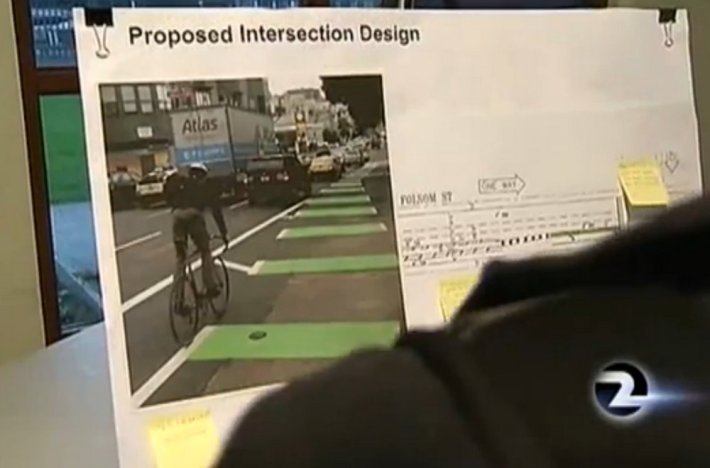 "We know [the pilot] may not be everything everyone may want," Mike Sallaberry, a planner at the SFMTA's Sustainable Streets Division, told the crowd at the beginning of the meeting.
D6 Supervisor Jane Kim, who lives at Folsom and Sixth, said she "campaigned on a two-way Folsom" when she ran for office. "Folsom would be the perfect site for a central boulevard where bikes, buses, and pedestrians will be the central features of the corridor," she said. "I just started biking myself -- bike safety is incredibly important to me because that's my commitment to a greener, healthier city that's less congested."
"We want to encourage more people to do that as well, and we can only do that if people feel safe walking and biking."
"These are the most dangerous streets in the city," said Nicole Schneider, executive director of Walk SF. "We want to make sure people have fewer lanes to cross, more visible crosswalks, and slower traffic."
The dangers on Folsom and other nearby streets are easy to spot. When I arrived at the meeting at the SoMa Rec Center at Folsom and Sixth, where Le Moullac was killed, a cement truck driver was stopped at a red light outside of the bike lane with his right-turn signal on, apparently preparing to perform the same illegal maneuver that caused her death -- in the exact same spot. (Drivers are required by law to merge into the bike lane when making a right turn.)
Smith said the SFBC hopes to see the SFMTA bring swift safety measures on other SoMa streets beyond Folsom, "Not just waiting until after somebody gets hit and killed on the street, but taking a proactive look at making the street safer."
"Thousands of people are biking unprotected from fast-moving construction vehicles and trucks," she said.
See more from the meeting in the latter part of this KTVU segment about the death of 78-year-old Cheng Jin Lai at Bryant and Division Streets last Friday. (Note: KTVU erroneously states that the pilot will include a two-way bikeway.)
Aaron was the editor of Streetsblog San Francisco from January 2012 until October 2015. He joined Streetsblog in 2010 after studying rhetoric and political communication at SF State University and spending a semester in Denmark.
Stay in touch
Sign up for our free newsletter