Carnage
SFPD Arrests Two Drivers After Holiday Spate of Pedestrian Deaths
5:14 PM PST on January 2, 2014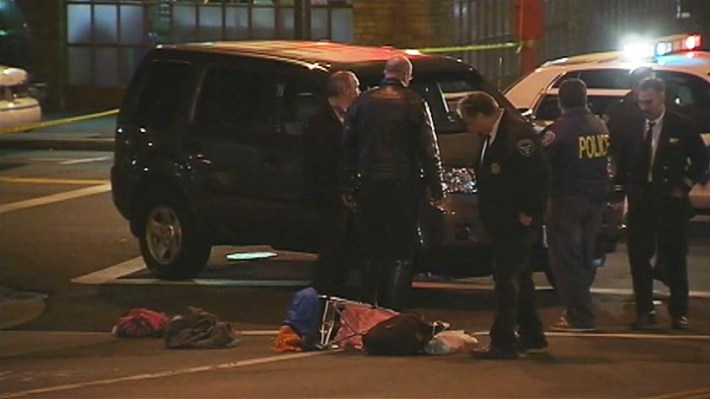 In what could be a departure from the SF Police Department's usual failure to penalize reckless driving, officers have arrested two of the five motorists who have killed people on San Francisco streets since December 20.
In the last hours of 2013, the year's pedestrian death toll increased to 20. Both of the crashes in which the drivers were arrested took place on New Year's Eve, and appear to be the fault of motorists who failed to yield to people in a crosswalk. Last year, none of the other sober drivers who killed pedestrians without fleeing the scene are known to have been charged.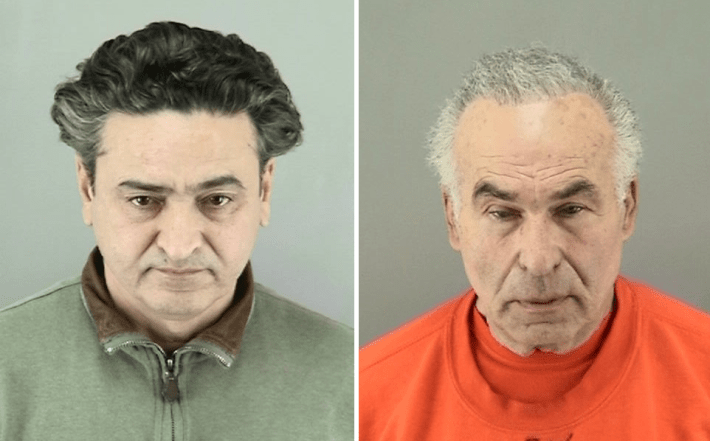 In one incident, at about 3:30 p.m., 86-year-old Zhen Guang Ng was run down in a crosswalk at Naples and Rolph Streets in Crocker-Amazon by 69-year-old Giampaolo Boschetti, who was booked on charges of vehicular manslaughter with gross negligence and failure to stop at a stop sign, according to police.
In a later crash at 8 p.m. in the Tenderloin, an Uber ride-share driver, 57-year-old Syed Muzzafar of Union City, ran over a mother and her two children in a crosswalk as he turned right at Polk and Ellis Streets, according to reports. All three were hospitalized, and six-year-old Sofia Liu died from her injuries. The SFPD said Muzzafar was arrested on charges of vehicular manslaughter with gross negligence and failure to yield to pedestrians in a crosswalk.
Before the arrests were announced, SFPD Traffic Company Commander Mikail Ali told the SF Examiner that he mainly attributed the recent rise in pedestrian deaths -- a six-year high -- to the increased walking and driving that comes with job growth. He also appeared, however, to take a more serious tone towards "grossly negligent" drivers than the department has conveyed in the past.
"We're bringing more and more people into our city and with that is a challenge of managing and getting better behavior on the part of our drivers and in some cases on the part of pedestrians," Ali told the Examiner. "When you behave in such a grossly negligent way, you're going to find yourself unfortunately going to jail when you take someone's life on the roadway."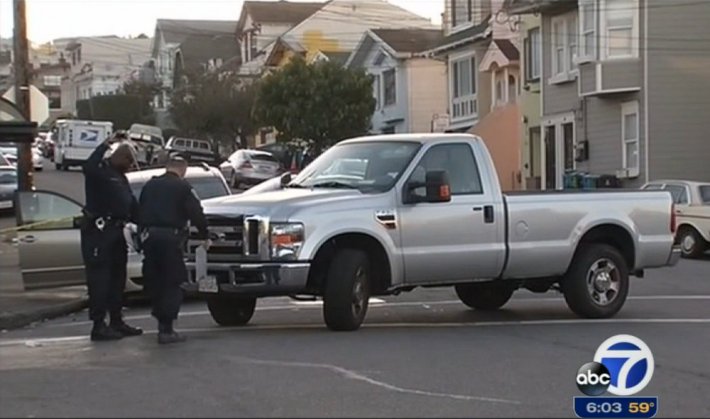 Historically, the SFPD has been reluctant to arrest, charge, or even cite drivers who kill pedestrians, even when presented with strong evidence of the motorist's error. In 2012, the department only issued a citation to a shuttle driver who ran over a man with a cane in a crosswalk -- and that only happened after the event was shown on video, eliciting an outcry from pedestrian safety advocates. Throughout the Bay Area, 60 percent of the 238 drivers found to be at fault in pedestrian deaths between 2007 and 2011 faced no criminal charges, according to a report from the Center for Investigative Reporting last April.
Nicole Schneider, executive director of Walk SF, said that this week's arrests "give us hope for a different approach by the police department."
In speaking with Schneider recently, SFPD officials "were very clear that they're not taking these traffic crimes lightly," she said. "They're calling them traffic crimes." That represents real progress from the department's traditional preference for the term "accident."
As the Examiner reported, the SFPD had an exceptionally low staff of 1,600 officers as of last June, and expects to see its force grow from the current 1,700, given the number of recruits in line. Ali said the SFPD hopes that will result in "a marked increase in traffic enforcement" this year. Schneider said Walk SF and the SF Bicycle Coalition are helping the SFPD produce a video to help train all officers in pedestrian and bicycle crash investigations.
There's still no word on any arrests or citations issued for the three other pedestrian deaths that have occurred in the past two weeks. On the morning of December 20, a 76-year-old female driver was reportedly parking her car near Jackson and Stockton Streets in Chinatown when she suddenly accelerated, striking a parked car, a utility pole, and two people. All three were hospitalized, and 84-year-old Isabel Huie died from her injuries. Police say they're still investigating the crash.
That same morning, the driver of a Recology garbage truck backed over and killed 49-year-old Donald Yazzie on Jones at Antonio Street. Police told KTVU they have video footage of the crash, but have not announced any arrests.
On December 29 at about 2:35 a.m., 47-year-old Michael Gutierrez was killed by a driver near the Fourth Street on-ramp to I-80 in SoMa. The California Highway Patrol is investigating the crash and has reported no further details.
The morning of New Year's Eve, a hit-and-run driver also seriously injured a woman at Turk and Leavenworth Streets in the Tenderloin. Schneider said the SFPD has since reported arresting the driver.
After the death of six-year-old Liu, D6 Supervisor Jane Kim issued this statement:
There are no words to express the deep sadness and grief felt for the death of young San Francisco resident, Sofia Liu, our second pedestrian death in the Tenderloin in the month of December and the 20th pedestrian fatality in San Francisco, the highest in 6 years. A disproportionate number of these fatalities occurred in the Tenderloin and SOMA neighborhoods, which continue to present the highest number of traffic collisions in San Francisco.

It appears to have been 100% avoidable by driver compliance with basic traffic laws, specifically yielding to the pedestrian right of way. Unfortunately this is one of the top five driver violations that lead to pedestrian injuries and deaths, along with speeding, running red lights and stop signs and turning violations. According to the SFPD's own collision reports, an average of 2 to 3 pedestrians are hit by drivers every day in San Francisco, a staggering statistic that has elevated the need for improved traffic enforcement in our known high-injury corridors.

In addition, the driver was a non-taxi, for-pay driver. Certainly this incident raises questions regarding the driver training and selection process for the increasing number of ride share drivers on our city streets. While emerging driver service apps fulfill an important need for flexible on-demand transportation in San Francisco, we must examine a universal baseline of scrutiny and safety oversight for these services.
In addition to data-driven traffic enforcement, Schneider said it's crucial that city officials act quickly to ensure safety improvements on streets like Polk, where Liu was killed. The SFMTA is expected to approve a plan for Polk in the coming months that has been fought by merchants who want to preserve car parking.
"We've gotten to a crisis point with the number of people that have died in our city," said Schneider. "We're beginning to see the attention of city leaders, and it's them that make the ultimate call on projects like Polk Street and funding priorities."
Aaron was the editor of Streetsblog San Francisco from January 2012 until October 2015. He joined Streetsblog in 2010 after studying rhetoric and political communication at SF State University and spending a semester in Denmark.
Stay in touch
Sign up for our free newsletter