Bicycle Safety
Highway Safety Projects Ineligible for Highway Funds in San Mateo County
3:54 PM PDT on April 11, 2014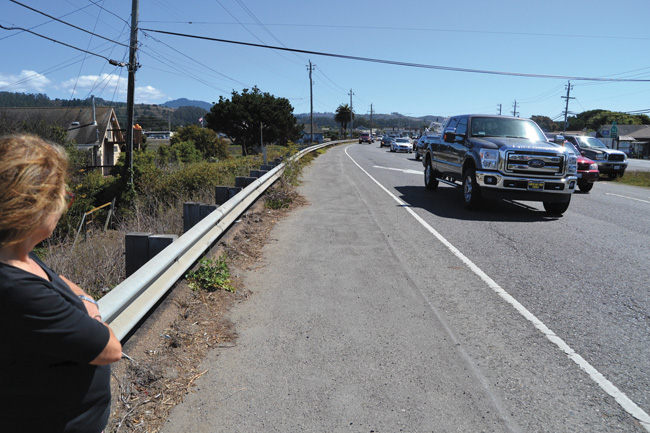 San Mateo County's Mid-Coast Multi-Modal Trail just barely made it into the list of Pedestrian and Bicycle Program projects approved for funding by the Transportation Authority (TA)'s Board of Directors last Thursday. Despite this step forward, building the trail will be difficult thanks in large part to restrictions on how TA funds can be spent, which hamper walking and biking projects.
The $165,000 allocated to the mid-coast trail will only pay for the engineering design and environmental review of the first of four phases, from Half Moon Bay to El Granada. Funds to actually construct the trail and design the three remaining sections to the north, from El Granada to Montara, haven't yet been identified.
"The coast-side trail is among the most important projects to my constituents since I've been elected," said Supervisor Don Horsley in March. "And this is the first opportunity we've had to apply for funding."
This trail has been recommended by several transportation planning studies over the past ten years, most recently by the 2010 Highway 1 Safety and Mobility Improvement Study, which cites improved safety for people walking and bicycling and a reduction of traffic on Highway 1 among its benefits.
During its March 4 review of the Pedestrian and Bicycle Program projects, the TA's Citizen's Advisory Committee (CAC) "noted concerns regarding safety, traffic congestion, access to schools, and access for people who don't have cars as strong reasons in support of the Mid-Coast Multi-Modal Trail."
But this type of project -- infrastructure that reduces highway congestion by providing safe alternatives to driving -- is surprisingly difficult to fund in San Mateo County.

The TA's Highway Program, which spent $82 million in 2012, only accepts projects that increase highway capacity for cars, despite its stated intent to "reduce commute corridor congestion." Improving transit service and creating safe street networks for walking and bicycling can also reduce highway traffic and congestion, but these types of projects are automatically disqualified.
"The program intent is to reduce congestion on commute corridors," wrote Project Manager Aiden Hughes in September 2012, to explain why the Alpine Road & Highway 280 striping project (which includes bike lanes) and the Ralston Corridor Study (which includes better walking and biking safety among its goals) weren't recommended for funding from the Highway Program. "There is no defined relationship to bicycles, pedestrians, or Complete Streets," he wrote.
But just months later in early January 2013, the county's Board of Supervisors unanimously adopted a Complete Streets Policy, which does define the relationship of the county's existing transportation programs to bicycles and pedestrians. The new policy directs "all relevant departments" to include feasible infrastructure in all street construction projects in the county to "enable improved travel" for all users, stating:
Complete Streets infrastructure sufficient to enable improved travel along and across the right-of-way for each category of users shall be considered, where feasible, into all planning, funding, design, approval, and implementation processes for construction, reconstruction, retrofit, alteration, or repair of streets.
The TA's Highway Program is required to include in its projects infrastructure that also makes walking and bicycling safe, where applicable and feasible. But the TA still disqualifies projects from the program that improve safety while at the same time reducing vehicle traffic congestion.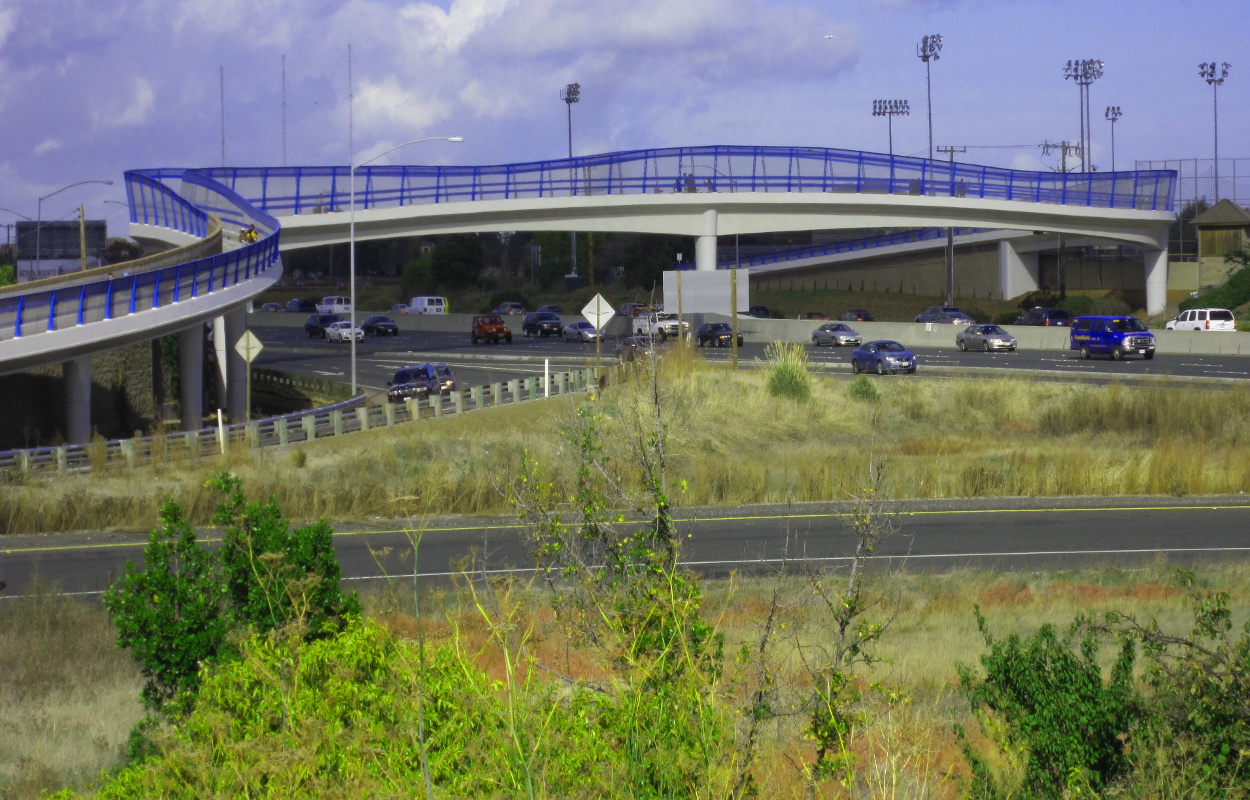 The Mid-Coast Multi-Modal Trail, for example, would be immediately adjacent to Highway 1 on its east side, allowing some shorter vehicle trips to be directly substituted with walking or bicycling trips, thus reducing car traffic and congestion on the highway.
Multi-use paths -- even ones located within the highway's right-of-way like the mid-coast trail -- do too much to improve safety for people walking and bicycling and are therefore exclusively considered "pedestrian and bicycle projects," not "highway projects." As a result they qualify for only one-tenth of the funds available for highway expansion projects.
Belmont's Ralston Corridor Study, being finalized this month by consultants, will recommend changes on Ralston Avenue to speed up commutes for drivers travelling between Highways 280 and 101, as well as new sidewalks, crosswalks, and bike lanes to improve safety. This study was rejected for Highway Program funding in 2012 after scoring poorly compared to other highway projects, because it "emphasized support for bicycle and pedestrian movement along with the overall improvement to the Ralston Corridor," according to TA staff.
Rejecting projects because they include ped/bike safety improvements is exactly the opposite of what the county's Complete Streets Policy requires -- that infrastructure improvements to make walking and bicycling safer are considered and included in every project, where feasible.
"Complete Streets is an emerging policy issue that addresses overall movement of people including autos, transit, bicycles, and pedestrians. Staff will return to the Board to discuss the need for policy change regarding this issue," wrote TA staff in October 2012.
18 months later, no clear guidance has been provided regarding Complete Streets policy, and traffic safety projects continue to be penalized in the agency's funding programs.
Andrew Boone covers the Livable Streets Movements for Streetsblog in San Mateo and Santa Clara counties. Andrew's claim to fame is once having bicycled more than 12,000 miles of smiles in one year. nauboone@gmail.com
Stay in touch
Sign up for our free newsletter