Bicycling
Bike to Work Day at City Hall: Who Really Gets the Need for Safer Streets?
5:38 PM PDT on May 8, 2014
Another year, another Bike to Work Day press conference at City Hall. As city officials ride to the podium, the event serves as a bellwether of the city's political commitment to making city streets safe enough for everyone to bicycle, regardless of age or experience.
The mayor, most of the supervisors, and the heads of SFMTA, SFPD, and the Department of Public Works generally stuck to the usual pro-bike rallying calls, endorsements of Vision Zero, and talking up the importance of the transportation funding measures headed to the ballot. But Supervisors Scott Wiener and Jane Kim stood out with some more concrete and thoughtful remarks on the state of cycling.
Wiener gave the most frank assessment of the sorry state of many San Francisco streets, city officials' role in fixing them, and the press conference ritual itself:
We gather here once a year, all of us elected officials and department heads, we get up here and we talk about what's gonna happen and how we need to make this city safer, the streets safer, better for biking and walking and uses by everyone. But you know, it's not about the words everyone says. It's about the actions. And the actions are really, really hard sometimes. And it's up to you, the residents of this city, to hold all of us elected leaders and our departments accountable to make sure that we're not just saying things at press conferences, but actually doing the hard things.
D6 Supervisor Kim elicited applause when she called for protected bike lanes on dangerous street in her district: the length of Polk, Second, Sixth, Folsom, Howard, and Turk Streets, and Golden Gate Avenue. Kim said she wants to see them within the next ten years.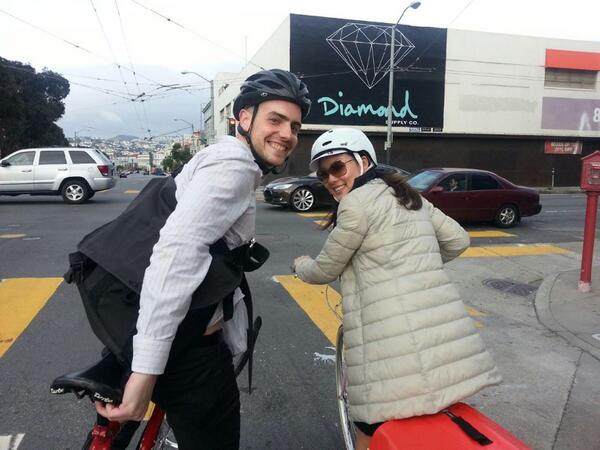 "Folks like me are not gonna get on their bike unless they know they're going to be able to do that safely," Kim said, recounting her recent experience of learning to bike in her district. "As we think about what urban planning means, as we think about what it means to grow smart-growth neighborhoods, we have to figure out how to get people out of their cars and onto their bike. For me, that is my commitment to my city and my district, to be one less vehicle on the road."
Compared to 20 years ago, when Bike to Work Day started, bike advocates have come a long way in winning political support. Last week, city officials unveiled the new contra-flow protected bike lane on two blocks of Polk Street, connecting Market Street to City Hall -- arguably the highest-quality piece of bike infrastructure in the city, despite its short length. As the Bay Guardian's Steve Jones wrote this week, "Building high-profile, separated cycletracks to the steps of City Hall seems to symbolically mark the arrival of cyclists into the political mainstream."
"Twenty years ago, bicycling was honestly an afterthought in our transportation system," said SF Bicycle Coalition Executive Director Leah Shahum, noting this year's long-overdue victories like BART's lifting of bike bans and the launch of Bay Area Bike Share. "Today, our city leaders know that growing biking is essential to keeping San Francisco accessible, safe, affordable, and healthy."
Still, San Francisco has yet to see much in the way of a truly connected, all-ages cycling network, and the daily riding experience can still be very stressful even for long-time riders. The Polk contra-flow lane is emblematic of the slow pace of change. It was proposed 10 years ago, then sped up by DPW after the SFBC applied pressure to get it done.
Wiener noted that Mayor Ed Lee rode to City Hall from his home in Glen Park by taking San Jose Avenue -- a.k.a. the Bernal Cut -- where, after neighbors pushed Caltrans for 20 years, a traffic lane will soon be removed and the northbound bike lane will be extended. It's another example of the often agonizingly slow roll-out of safer bike lanes in SF, Wiener said:
Anyone who goes on a bike on northbound San Jose Avenue, it is a disaster for traffic, for biking, and we're finally going to be making some changes there, but I'll tell you, it took us years just to get through the process to be able to do that. And it is way, way too hard in terms of the bureaucratic process of actually moving these projects forward to make our streets safer, and it is politically hard. And we need to just push and get it done.
In addition to the roll-out of safer bike lanes, Wiener called out two citywide issues for bicycling that are "not changing fast enough" -- the near non-existent enforcement of double-parking in bike lanes, and the hazardous state of street pavement:
There were a whole bunch of double-parked cars blocking bike lanes. And I'll tell ya, we've been trying to work on this, and the police department and the MTA, we all need to just stop this. We need to start enforcing double parking. It is terrible for traffic, terrible for bikes, terrible for Muni, and we need to just [say] no more of this just double parking your car in the middle of the street, which is what people are doing.
Wiener tied the vehicle license fee increase, planned for the ballot this November, to fixing SF's pothole-filled streets. "We know, when you're on a bike, it's worse than for anyone," he said. "There are still way too many streets that are just rough, that are dangerous, and we need sustainable funding, and if we pass the VLF, we will have permanent sustainable funding for road resurfacing and we will never go back to the bad old days."
Mayor Lee, who basically said in February of last year that he didn't see a need to pursue more funding for the SFMTA's Bicycle Strategy, did say that the city is building "innovative bikeways like the new contra-flow bike lane on lower Polk Street that connects Market Street to the Tenderloin and City Hall," but that "in order to do even more to make our streets safe, we must invest in our aging transportation infrastructure."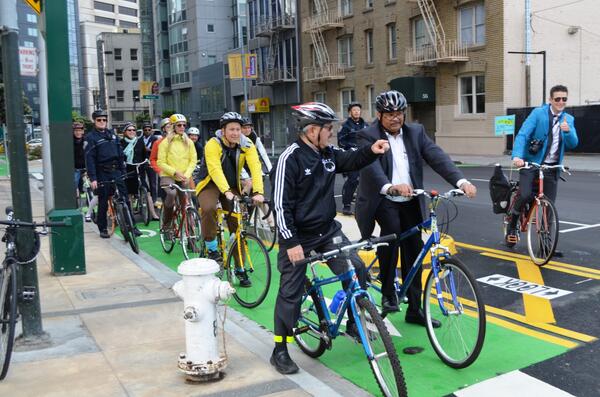 Aaron was the editor of Streetsblog San Francisco from January 2012 until October 2015. He joined Streetsblog in 2010 after studying rhetoric and political communication at SF State University and spending a semester in Denmark.
Stay in touch
Sign up for our free newsletter