Bus Rapid Transit
SFMTA Says Van Ness BRT Can't Have High Platforms for Level Boarding
5:50 PM PDT on July 18, 2014
The SFMTA says it's impossible for stations on the coming Van Ness Bus Rapid Transit route to have one of the key recommended features of BRT: High platforms, at the same level as bus floors, that allow passengers to quickly step onto the bus. SFMTA planners say that complications with the design of Muni's buses mean there's no practical way to make high platforms work, at least without adding high costs associated with new equipment.
Platform-level boarding is on the list of "BRT Basics" included in the Institute for Transportation and Development Policy's BRT "Scorecard":
Having the bus-station platform level with the bus floor is one of the most important ways of reducing boarding and alighting times per passenger. Passengers climbing even relatively minor steps can mean significant delay, particularly for the elderly, disabled, or people with suitcases or strollers. The reduction or elimination of the vehicle-to-platform gap is also key to customer safety and comfort.
But according to an SFMTA report [PDF], a 14-inch high platform, matching the height of a Muni bus floor, "increases capital and operational costs, reduces operational reliability and passenger comfort, and provides no discernable benefit." Instead, SFMTA planners recommend 6-inch high platforms, the same as those on Market Street.
High platforms would be scratched by the "wheel lugs" that stick out from the side of bus wheel wells, the report says. The Americans with Disabilities Act apparently requires buses to stop with no more than a three-inch gap between the bus and platform. Otherwise, a "bridge plate" must be deployed from the side of the bus to the platform for wheelchair users. The wheel lugs apparently stick out five inches.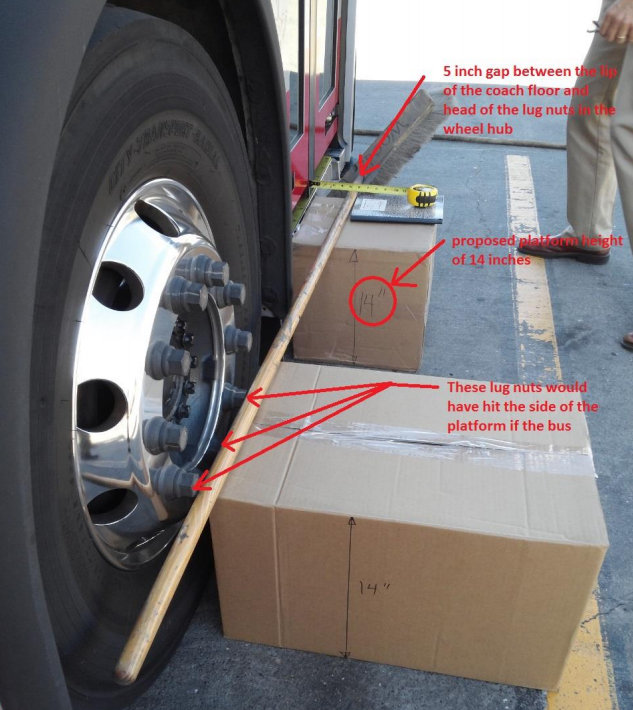 The SFMTA wrote that no other BRT system in North America has solved this problem without installing bridge plates, which are used on the EmX BRT system in Eugene, Oregon, and are planned for East Bay BRT. However, that approach presents complications, because Van Ness BRT buses would also serve non-BRT stops, the SFMTA report says:
[W]heelchair using passengers boarding outside the BRT corridor would board at the front door. Then they would have to maneuver through the bus to the middle door where the bridge plate would be available to alight in the BRT corridor... Requiring a passenger in a wheelchair to maneuver from one part of the coach to another would be difficult for all customers on board and increase in dwell time.

In addition, using bridge plates would require having them installed on the entire SFMTA rubber tired fleet or having a limited subset of vehicles which could operate on BRT corridor.
SFMTA's litany of reasons also included the difficulty 14-inch-high platforms would pose for passengers stepping off to load bikes onto a bus's front bike rack, since the platforms are twice as high as the seven-inch height of a typical step. High platforms would also be incompatible with Golden Gate Transit's high-floor buses, which would also use the corridor, the report says.
The ITDP scorecard notes that "there are a range of measures to achieve gaps of less than 5 cm (2 in.), including guided busways at stations, alignment markers, Kassel curbs, and boarding bridges." The SFMTA report says that "no docking technology or driver skill can guarantee a docking that is within the ADA limits 100 percent of the time," and that bus floors can often be as low as 13 inches, rendering wheelchair ramps "unusable."
Livable City Executive Director Tom Radulovich, a member of the BART Board of Directors, said he's "not convinced that the costs of level boarding are too high, but I'm also not convinced that the solution the MTA is proposing is necessarily a bad one."
Radulovich said the need to build infrastructure that's "backwards compatible" with Muni's existing vehicles is "understandable," but that it puts Muni in a "trap" if they never undertake an upgrade of its existing transit platforms.
"They don't want to have two different types of vehicles -- so we'll always keep this obsolete standard, so they're compatible with the older vehicles," he said. "You can never get out of that."
Aaron was the editor of Streetsblog San Francisco from January 2012 until October 2015. He joined Streetsblog in 2010 after studying rhetoric and political communication at SF State University and spending a semester in Denmark.
Read More:
Stay in touch
Sign up for our free newsletter