Bicycling
Open House Tomorrow Examines Protected Bikeway Along the Embarcadero
4:25 PM PDT on July 23, 2014
The SFMTA and other city agencies will hold an open house tomorrow to kick off planning for a protected bikeway on the Embarcadero.
No specific proposals have been put forth yet, but a report [PDF] on the SFMTA website promises that the agency will "develop a conceptual design and cost estimate" for a "a bicycle facility that is physically separated from moving or parked vehicles and pedestrians." Options for the project are expected to include a two-way protected bikeway on the north side of the street, and a pair of one-way protected bike lanes on either side of the street.
"What we're hearing and observing everyday — hearing from the port, primarily — is that the status quo is no longer sustainable," SFMTA Senior Transportation Planner Patrick Golier told SFBay.
Port Planning Director Diane Oshima praised the idea of "allocating space and increasing predictability, so that people start to adopt a culture of understanding [of] what acceptable behaviors are," SFBay reported.
The effort comes nearly a year after a wildly popular temporary protected bikeway was tested along a short stretch of the Embarcadero, to encourage visitors to bike to the America's Cup yacht races. Last July, the SFMTA added green paint to the existing bike lanes, making them more visible to drivers and discouraging them from blocking the lanes. Despite the paint, the street remains both one of the city's most fearsome, and yet most popular, bicycle routes.
As SFBC community organizer Janice Li wrote in a recent blog post: "Even with the bike lane, the fast-moving traffic and lack of physical protection or separation makes it an unwelcoming ride for even the experienced. Vehicles regularly park in the bike lane, forcing bicycles into fast-moving traffic."
People are allowed to bike on the Embarcadero's northern sidewalk, but it's typically crowded and can be difficult to share.
"These conditions have led to some collisions, many close calls, and detract from the comfort of all users," the SFMTA's report says.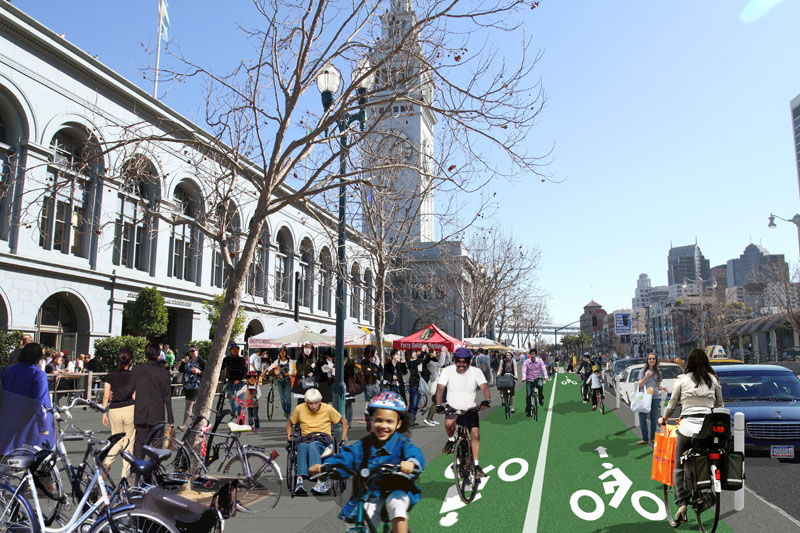 Aaron Naparstek, who founded Streetsblog in New York City, had a chance to weigh in on the experience of biking on the Embarcadero on a visit last week. As relayed on BFF.FM, he told SF Examiner reporter Jessica Kwong that "something like a really nice two-way protected bike lane seems natural."
"It's San Francisco's waterfront, there's a lot of tourists, a lot of activity," he said, comparing it to waterfronts in Chicago and New York which have protected bikeways. "I could see the Embarcadero being the equivalent of those two places, except San Francisco is an even more beautiful city and it could be nicer."
According to the SFMTA report, bicycle counts conducted last year found between 800 to 1,000 bike commuters using the Embarcadero on weekdays during the two hours between 4:30 p.m. and 6:30 p.m.
SFPD data shows that between 2006 and 2011, 84 people were injured on the Embarcadero while walking and biking, including "two pedestrians that were fatally injured, four pedestrians that were severely injured, and three cyclists that were severely injured," the report says. "Approximately 75 percent of the [Embarcadero] is categorized as a Cycling High Injury Corridor," which are the six percent of city streets where 60 percent of injuries occur.
The SFMTA report says planners have been studying the existing conditions on the Embarcadero since the temporary trial last September. Golier told SFBay that the project will be funded by a grant from the Metropolitan Transportation Commission and has a budget of $500,000. There's no timeline for construction yet, but the SFMTA expects to have a final design developed by fall of 2015.
Aaron was the editor of Streetsblog San Francisco from January 2012 until October 2015. He joined Streetsblog in 2010 after studying rhetoric and political communication at SF State University and spending a semester in Denmark.
Stay in touch
Sign up for our free newsletter