Bicycle Safety
San Jose Candidates Campaign, Pitch Public Safety at SJ Bike Party
5:22 PM PDT on July 25, 2014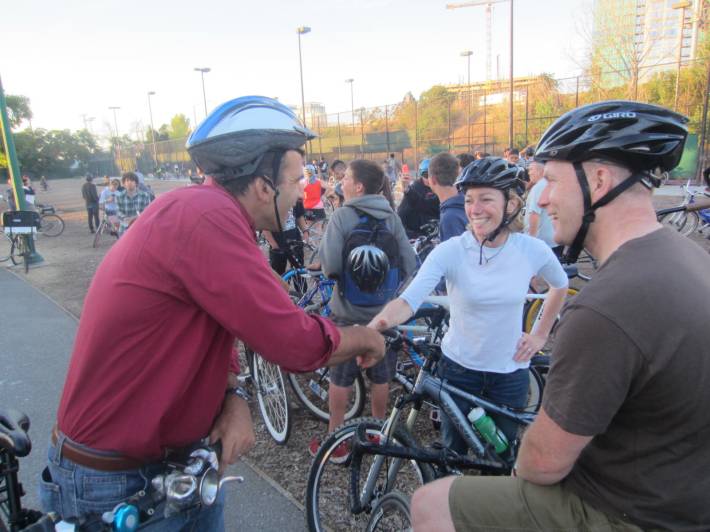 San Jose Mayor or City Council candidates Sam Liccardo, Raul Peralez, and Don Gagliardi all made appearances at last Friday's San Jose Bike Party, pitching improvements to bicycling conditions on the city's streets as integral to public safety. An estimated 2,500 Bike Partiers rolled out from Arena Green Park in downtown San Jose on the 18-mile, patriotically-themed "Stars & Stripes Ride" through the city's East Side.
The June 3 primary election narrowed the field of 30 candidates down to eight candidates, competing for four seats on San Jose's City Council: Mayor and Districts 1, 3, and, 7. Council races for Districts 5 and 9 were determined on June 3: Challenger Magdalenda Carrasco received 53 percent of the votes cast in District 5 (eastern San Jose), and incumbent Donald Rocha won 74 percent of the votes cast in District 9 (south San Jose), each above the 50 percent threshold to avoid a runoff election on November 4.
"I look forward to bringing back our public services that we've lost over the years -- bring back our public safety," announced Peralez, the District 3 Council candidate who finished first in the June 3 primary with 28 percent of the votes cast. Peralez touted his position as a San Jose police officer, and his work "with our youth at Juvenile Hall to try to help better them."
https://youtube.com/watch?v=_bxg_2gzHno
Peralez's opponent, attorney Don Gagliardi, who took second on June 3 with 24 percent of the votes, claimed to be "the candidate for making San Jose a bicycle Mecca," and applauded Bike Party attendees "for being out here tonight and working on that task." He also pitched History San Jose's free exhibit on the city's bicycling history, which opens this Sunday, July 27. Gagliardi, who campaigns at San Jose Bike Party each month with a lawn sign mounted on the rear of his bike, has been promoting the exhibit for several months.
Mayoral candidate Sam Liccardo pointed to some major improvements he has supported as a councilman since 2006, when he was elected to represent downtown's District 3.
"Many of you have been pushing with me to get more buffered bike lanes out there, to get bike-share out there and expand it throughout the city, to get trails extended just as we got Guadalupe [River Trail] all the way to Alviso," said Liccardo. "We're going to retrofit a city that's been built for cars, into a city that's built for people."
Santa Clara County Supervisor Dave Cortese, who finished first among candidates for Mayor in the June 3 primary election, was represented at Bike Party by his campaign staff, along with a crew of cheering volunteers -- the largest in support of any candidate at the bike ride. Cortese spoke at San Jose Bike Party on May 16, along with several other candidates.
Volunteers also organized a "Bike Polo Exhibition" on one of the tennis courts in Arena Green Park, demonstrating the sport to ride attendees. Bike polo has attracted a small but dedicated community, meeting at the park on most Wednesdays and Sundays. Organizers hope the city will create "multi-use courts" suitable for both tennis and bike polo, with some minor modifications to the courts.
"From San Jose Bike Party to San Jose Bike Polo, the number of rides and other bike activities has skyrocketed," said volunteer organizer Carlos Babcock about the candidates' election-year interest in courting the cycling community. "Our elected officials are aware of this, and see that we have the same interest in improving bicycling in San Jose."
Andrew Boone covers the Livable Streets Movements for Streetsblog in San Mateo and Santa Clara counties. Andrew's claim to fame is once having bicycled more than 12,000 miles of smiles in one year. nauboone@gmail.com
Stay in touch
Sign up for our free newsletter