Muni
Commentary: Why This Senior and Transit Advocate Blocked a Google Bus
5:43 PM PDT on August 4, 2014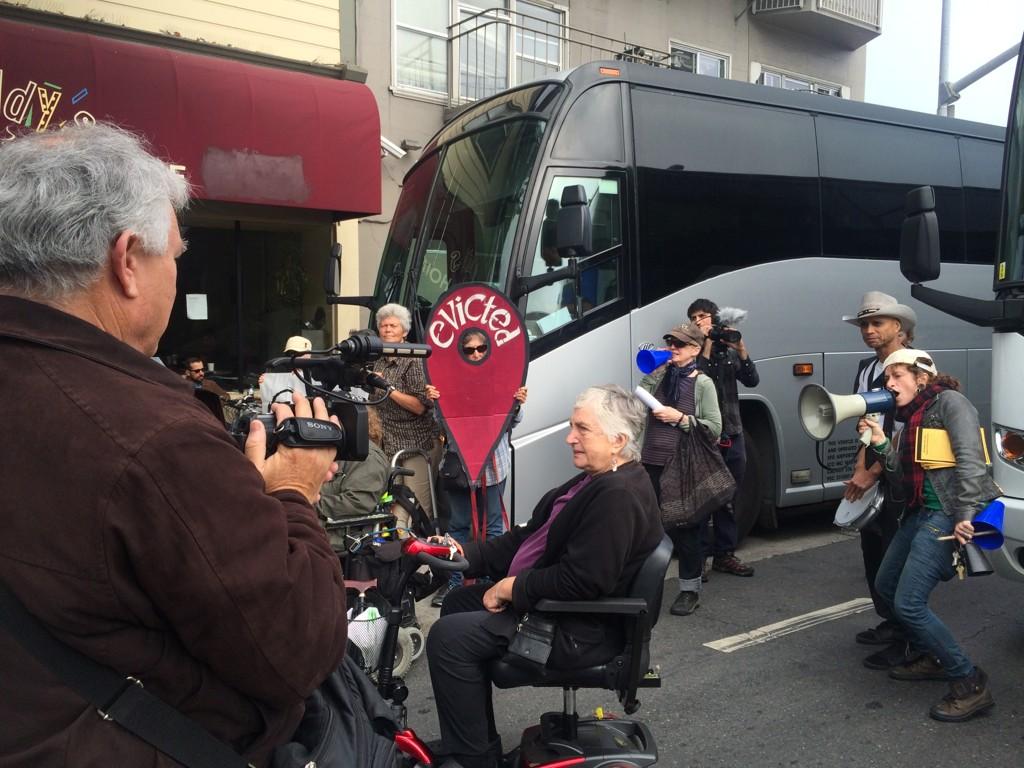 Editor's note: This is a guest op-ed that does not represent the views of Streetsblog.
Buses good, cars bad. I get it.
Corporate shuttles replace thousands of cars -- so why would someone who's spent hours pounding the podium at Muni hearings, and campaigning for cyclists and pedestrians, join a blockade of seniors and disabled people protesting tech buses? Over time, I've gone from considering the buses positive, to understanding their destructive role in San Francisco's displacement crisis.
Housing-war history, generational conflicts, and the consequences of growing inequality all churn the current debate over who can live in San Francisco. Getting stuck in a simplistic "buses good, cars bad" formula can keep sustainable transportation advocates from appreciating all this context. I've been dismayed at some comments on Streetsblog about "those idiot Google bus blockaders." One commenter even claimed that the backers of the pro-car "Restore Transportation Balance" ballot measure must be the same as those blocking the buses.
This defies belief! Tenant advocates have been the driving force behind recent antidisplacement actions, including the bus blockades, and as someone who's worked with the San Francisco Tenants Union for decades, I can testify that it's always a struggle to find someone with a car to haul campaign literature or conduct a carpool. The Restore Transportation Balance backers, in contrast, are largely Republicans and homeowners. The same right-wingers who wail, "The bike coalition runs this town" also say "The tenants union runs this town."
My thinking on the corporate shuttles changed when I began making connections between transportation justice and economic equity. Streetsblog readers understand automobile domination, the bullying assumption that cars have the right of way, and pedestrians and cyclists should flutter aside like pigeons. Similarly, corporate domination runs right over vulnerable populations. The two issues often converge, as when our puppet mayor takes orders from his venture capital bosses and, like a vending machine, spits out the repeal of Sunday parking meter enforcement, a bait and switch on vehicle license fee increases, and tepid lip service on Vision Zero.
Streetsblog readers also understand induced demand: Build garages and widen roads, and people will drive more. The principle works for housing as well. Make it easy to live in San Francisco and commute to lucrative work on the Peninsula, and more people with lots of cash will move here. Unfortunately, they often seek housing already occupied by tenants who had no plans to leave and who find themselves forced out of the city by a scorched-earth real estate assault.
Seniors make up a disproportionate slice of those being evicted, as we often live on fixed incomes and pay relatively low rent because we've lived in our apartments so long. According to the Anti-Eviction Mapping Project, 72 percent of Ellis Act evictions between 2011 and 2013 involved seniors. Retired teachers, librarians, or hotel or healthcare workers who never earned big salaries but expected to live out their remaining years in their community added stability and collective memory to their neighborhoods. Now they're packing U-Hauls.
The seniors I joined to blockade a corporate shuttle on August 1, the first day of San Francisco's pilot program seeking token payment for public space, all have their stories. Younger readers may not appreciate how much of what they take for granted comes thanks to our rebellious generation. We're used to fighting back and not letting big money dictate to us.
I was too young and brainwashed to participate in the Civil Rights Movement, but some of my fellow blockaders were there. My introduction to activism happened in spring 1968 when the Columbia campus exploded against the Vietnam War and racist expansions by the university into nearby Harlem. After that came the women's movement, union organizing, and grunt work in tenant campaigns. When I began to focus on transportation issues more than 20 years ago, all of these earlier political involvements helped me understand transportation advocacy as a social justice movement that can't flourish in isolation, ignorant of class, race, and history.
Housing that follows transit with no regard for affordability defeats the purpose, as wealthier residents who move into cities wind up driving more than the poorer people they displace. I'm not unaware of the trends showing younger people driving less, and this is a hopeful development. But forcing seniors and low-income workers out into the suburbs, where transit is lacking, means someone else may have to drive to a job in the city, in a hotel or hospital, or for medical services that may now be a short walk or bus ride away. Where is the gain?
Any rant by an older person risks coming across as the "I walked 10 miles through the snow to school" wheeze about how much harder we had it than you whippersnappers. Actually, I think young people today have it a lot tougher than my peers and I did. When I graduated from college in 1971, if you fogged a mirror, you could get a job; housing was cheap and easy to find; and student debt was nowhere near the crisis it is today. (Of course, the military draft was in effect, "help wanted" ads were still segregated by sex, and racial oppression was much more blatant — all things my fellow blockaders and I fought to change.)
Young people today are groaning under income inequality that started with the Reagan era. It may be hard to believe, but homelessness was not a major problem in San Francisco before the 1980s, when the Reagan administration gutted housing funding.
So why the bus? My longtime neighbors disappear one at a time, forced out by eviction or harassment. Beloved local stores, laundromats, and family restaurants vanish without warning. I've participated in many pickets and rallies against such individual losses, but these actions are mostly ignored. Meanwhile, the massive buses trundle by in pods, day after day. They always remind me of the chapter in Moby-Dick, "The Whiteness of the Whale," which certainly reflects the latest workforce diversity figures from Yahoo, Google, and Facebook. The buses have become a symbol of the razing of a community into a monoculture.
Monocultures serve no one, including those whose culture takes over. When I hear poet Nikki Giovanni say, "I can't imagine not having old people in my life," I wonder how many workers at the big tech companies have gray hair. And I wonder who wants to live in a community where everyone is like them.
I appreciate that young people are so nonchalant about same-sex marriage, transgender friends, and mixed-race couples and children — issues that sent earlier generations into a frenzy. But it's not enough. Too many young people, especially those with money to burn, go along with that program started under Reagan and blame those less wealthy for their own problems. Without an anchor of social justice and awareness of one's own privilege -- and the very different reality others face -- they can be manipulated by their corporate masters into thinking the whole world revolves around the latest app, falling for amenities instead of rights. What's the overtime pay on the Peninsula, and when did being ultracool replace sticking up for yourself?
Our city's tattered public transit runs parallel with luxury liners on wheels, a two-tiered system that smacks of apartheid. Meanwhile, 69 percent of all no-fault evictions between 2011 and 2013 took place within four blocks of a corporate shuttle stop. San Francisco has always been a magnet for outsiders: beatniks, gays, hippies, refugees from vicious dictators in Central and South America. The people who came here in these earlier migrations came for freedom and community, not to make money and sneer at the poorer people already here.
When cities were out of favor and the middle class fled to the suburbs, the weirdos, the pinkos, and the poor kept the flame alive. Now that cities are the place to be, the people who never gave up on them are — pardon the cliché — being thrown under the bus.
Fran Taylor is a retired medical editor. She's cochair of CC Puede, recipient of a 2013 Golden Wheel award for work on Cesar Chavez Street, and a longtime member of Walk SF and the San Francisco Bicycle Coalition.
Stay in touch
Sign up for our free newsletter