BART
Costly New Parking Garages Still Gobbling Up Land at BART Stations
5:44 PM PDT on September 12, 2014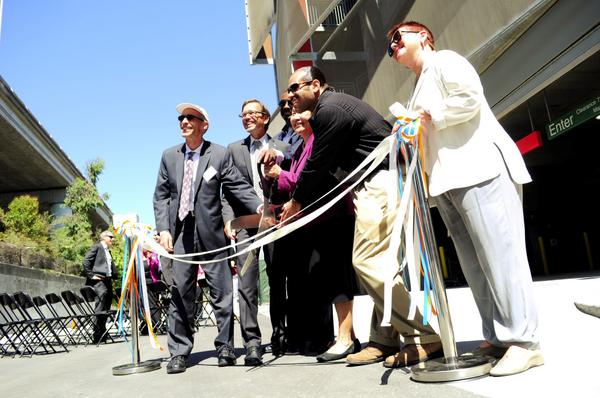 BART continues to encourage the construction of multi-story parking garages at its stations, despite the exorbitant costs and lost potential for valuable land that could be put to better use.
On Monday, Oakland and BART officials held a press conference and ribbon-cutting ceremony to tout the opening of a 481-space parking structure at MacArthur BART station. The structure was built at a cost of $15,371,000, or about $32,000 per space (based on a 2012 figure), and is part of a "transit village" housing and retail development. But like most park-and-ride fortresses, it will mostly sit empty when commuters aren't using it to store cars, which is most of the time.
The only media coverage of the MacArthur press conference was a San Jose Mercury News photo slideshow showing Oakland Mayor Jean Quan, two BART board members, an Oakland council member, and a developer rep cutting the ribbon, before heading up to the empty rooftop to take in the views.
Livable City Executive Director Tom Radulovich, who sits on the BART board, said he's "appalled that we wasted tens of millions of dollars building a commuter garage at an urban station like MacArthur."
"Ridership kept growing at that station despite the reduction in parking during construction, which demonstrates that we could have done perfectly well without it," he said. "Many of our highest-ridership stations -- Balboa Park, Berkeley, 19th, 16th, 24th, Glen Park -- have little or no commuter parking. At stations like MacArthur, Ashby, West Oakland, and Lake Merritt, we should be phasing out parking as we build transit villages, and enhance walking, cycling, and local transit access instead of building structured parking."
Only 10 percent of people using MacArthur station drive there, the Mercury News reported in 2011, and five shuttles operate in the station area.
New parking garages are also planned at stations being built for the BART Silicon Valley extension. Santa Clara County's Valley Transportation Authority issued an $85 million contract this year to build structures [PDF] with 1,200 spaces at Milpitas Station and 1,150 at Berryessa, with plans to eventually expand it to 2,000. The garages will be built at a cost of about $35,000 per space.
Radulovich noted that at such "further out" stations, "an argument can be made for parking lots as a land-banking strategy until the appetite for transit village development matures and sustainable access options increase." Developing them with parking structures, however, is a losing strategy.
A 2012 report [PDF] conducted by transportation consulting firm Nelson/Nygaard, commissioned by the Metropolitan Transportation Commission, recommended that BART and other Bay Area agencies think through the implications of building parking near transit stations.
The full costs of parking construction often aren't considered, the report says. "Parking structures are far more than their 'hard' construction costs, but also include 'soft' design and planning costs, ongoing operating costs, and environmental costs."
The report analyzed sites like MacArthur station, and found that building parking is the most expensive strategy, by far, to facilitate access to transit. The "daily cost per trip per structure space was $7.65," the report said. "By contrast, the relative per trip costs related to the implementation of transportation demand management (TDM) programs or investments in transit, bicycle, and pedestrian facilities can be much lower."
TDM programs are typically financial incentives to encourage commuters to travel by modes other than driving, including subsidized transit passes. In other words, it's far cheaper to pay people not to drive than to build parking for them.
The report also noted that garages induce more driving, attracting car traffic that makes the area surrounding transit stations more dangerous and congested for those coming by other modes:
Parking structures can impact the surrounding streets and existing transportation network in a manner that increases congestion for transit vehicles and creates additional conflicts with pedestrians and bicyclists. The end result is a transportation network that prioritizes automobile travel over other modes. Second, although financing for parking structures is often independent of other modes, millions of dollars spent on planning, designing, and building a parking structure can exhaust an agency's resources for transit, bicycle, and pedestrian access improvements.
The report also pointed out the economic pitfalls of letting parking consume valuable land near transit hubs, which could be used for more productive uses like housing and businesses. "The issue of land costs underscores the fact that there are definitive tradeoffs in choosing to construct a parking structure -- land devoted to parking prevents that land from being used for housing, commercial, or office uses," the report says. "The higher the land costs the greater the potential opportunity costs and tradeoffs."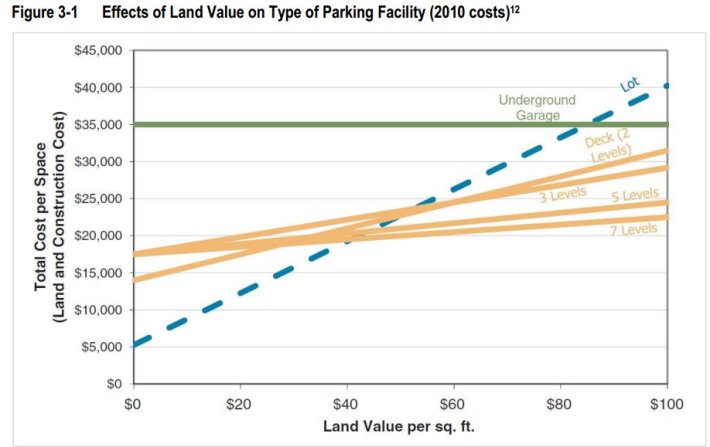 Although the report notes that building multi-story structures uses less land for the same number of surface parking spaces, each space tends to cost about seven times as much. And when compared to other strategies to spur transit use and reduce greenhouse gas emissions, building parking in general is "by far" the most costly:
The construction of structured parking, for example, shows moderate potential to reduce GHG by virtue of facilitating access to transit and reducing VMT. However, the cost for structured parking was estimated to be between $1,300 and $5,500 per metric ton, by far the highest per unit cost. By contrast, strategies that include fare incentives, marketing, and feeder shuttle service shows the potential for a competitive level of cost-effectiveness, as these strategies range in cost between $80 and $200 per ton.
The report noted that while "the challenges and tradeoffs associated with providing parking at transit stations are not lost on transit agencies... [they] often 'default' to such policies with limited analysis of the tradeoffs."
Aaron was the editor of Streetsblog San Francisco from January 2012 until October 2015. He joined Streetsblog in 2010 after studying rhetoric and political communication at SF State University and spending a semester in Denmark.
Stay in touch
Sign up for our free newsletter